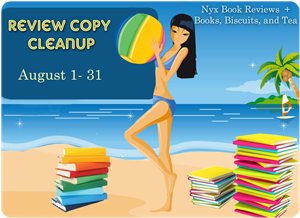 The Review Copy Cleanup is back! For the entire month of August, I will be joining fellow bloggers in attacking our review piles to get them under some control. I've been starting to drown in all the review copies I have, so when I saw this - I thought "Perfect!" There is still plenty of time to sign up to participate. The Cleanup begins on August 1st and runs until the end of the month - August 31st. It's being hosted by Nyx Book Reviews and Books, Biscuits, and Tea.
Click here to get more info on the cleanup and to sign up! All the rules and requirements are listed there too - so make sure you check it out before the cleanup starts! I hope to see you all during the event as we blitz our review piles!
Like I mentioned, I'm practically drowning in review copies, so I haven't decided which ones I'm going to read or what my goals are. Gladly, I have a little while to decide, so watch for updates!