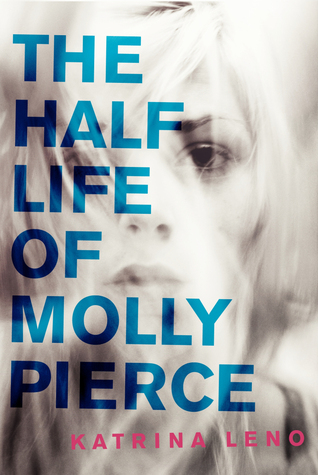 The Half Life of Molly Pierce
Author: Katrina Leno
Release Date: July 8, 2014
Publisher: HarperTeen
Rate: 3.5 Stars

Synopsis:
You take it for granted. Waking up. Going to school, talking to your friends. Watching a show on television or reading a book or going out to lunch.
You take for granted going to sleep at night, getting up the next day, and remembering everything that happened to you before you closed your eyes.
You live and you remember.
But now—now I am remembering.
For all of her seventeen years, Molly feels like she's missed bits and pieces of her life. Now, she's figuring out why. Now, she's remembering her own secrets. And in doing so, Molly uncovers the separate life she seems to have led…and the love that she can't let go.
The Half Life of Molly Pierce is a suspenseful, evocative psychological mystery about uncovering the secrets of our pasts, facing the unknowns of our futures, and accepting our whole selves.
The Half Life of Molly Pierce
is a thought provoking look at mental illness and the different forms it can take. After reading about a chapter of the book, I knew immediately what was happening - without reading the description or any other clues. I know part of the story was meant to be a kind of mystery about what's happening to Molly - why she's having blackouts and what happens when they occur, but having read books dealing with the same concepts before, I was aware early on. I liked Molly as a main character - she's a typical teenage girl dealing with school, friends, family - normal things in life. But she also has depression, which she sees a therapist for. On top of that, she has the dark secret that she doesn't share with anyone - that she's losing chunks of time and she can't remember what happens. Molly was a unique character with obvious depth and flaws, but that made her all the more realistic to me. I really liked that the author included the fact that Molly had depression in the story - it draws attention to both disorders and helps to provide useful information about them through the story line. Although I knew what was happening with Molly, I enjoyed reading about her life and seeing her piece together the parts of her life that had been missing. The story was a fast read - I actually read it all in one sitting. The writing was well done and had great details and descriptions, which helped with immersing myself into the story alongside Molly. Definitely recommended for fans of the genre and those who like a good contemporary story that deals with mental illness.
"A smart, seductive page turner, deeply felt and full of surprises." (Madeleine George, author of The Difference Between You and Me)
"Unfolds its careful origami slowly and hypnotically, taking on one shape after another before finally revealing itself as something stranger and more beautiful than I'd anticipated. A moving, expertly wrought story that will keep surprising you past the last page." (Bennet Madison, author of September Girls)
"A Tilt-A-Whirl of a first novel, a breathtaking thrill ride that takes you in one direction and then spins you off in another, over and over, keeping you guessing with every turn of the page." (Michael Thomas Ford, author of Suicide Notes)
"With a distinct and mysterious voice that matches its mood, The Half Life of Molly Pierce will pull you into Molly's—and Mabel's—world." (April Henry, New York Times bestselling author of Girl, Stolen)
My first book for young adults- The Half Life of Molly Pierce- will be published on July 8, 2014 by Harper Collins.
Giveaway is open to US Only | Must be 13 or older to enter
Win A Half Life of Molly Pierce T-shirt (Us Only)