Don't Touch
Author: Rachel M. Wilson
Publisher: HarperTeen
Release Date: September 2, 2014
Rate: 4.5 Stars
Synopsis:
A powerful story of a girl who is afraid to touch another person's skin, until the boy auditioning for Hamlet opposite her Ophelia gives her a reason to overcome her fears.
Step on a crack, break your mother's back. Touch another person's skin, and Dad's gone for good.
Caddie can't stop thinking that if she keeps from touching another person's skin, her parents might get back together... which is why she wears full-length gloves to school and covers every inch of her skin.
It seems harmless at first, but Caddie's obsession soon threatens her ambitions as an actress. She desperately wants to play Ophelia in her school's production of Hamlet. But that would mean touching Peter, who's auditioning for the title role—and kissing him. Part of Caddie would love nothing more than to kiss Peter—but the other part isn't sure she's brave enough to let herself fall.
Perfect for fans of Laurie Halse Anderson, this debut novel from Rachel M. Wilson is a moving story of a talented girl who's fighting an increasingly severe anxiety disorder, and the friends and family who stand by her.
Don't Touch is fiercely compelling, darkly funny, and hums like a high tension wire with energy." — Tim Wynne-Jones, author of Blink & Caution
"A tender love story about the beauty and the risk of showing someone who you really are." — Nina LaCour, author of Hold Still and The Disenchantments
Don't Touch
is the compelling story of Caddie and the struggles, illnesses, and obstacles she must overcome in order to fulfill her dream of playing Ophelia, and to get close to the guy she likes - who just happens to be playing Hamlet. Caddie has a lot of issues to deal with and rise above. Will she be able to do it for herself and her dreams?
I loved this book more than I thought I would. YA Contemporary isn't my favorite genre, but this sounded original - so I figured I'd give it a shot. I'm so very glad that I did. The story is a magnificent look at a teenage girl suffering from mental illness, along with other 'normal' problems like school, boys, family troubles, and her hopes of being cast in the school play. Caddie is an absolutely phenomenal main character for the book. I adored her from the very first page. The story is told from her point of view, so we get an inside look at her thoughts, fears, dreams - everything. She's incredibly realistic and easy to relate to - especially for me specifically because I suffer from anxiety disorders. With her flaws and insecurities - and her strength, intelligence, and determination - Caddie's the perfect leading lady for the story. I was by her side rooting for her the entire time.
It's becoming more common for young adult books to have characters who have mental illnesses or stories pertaining to them. I tend to migrate towards these books because of my own mental illnesses. I'm always curious as to how the author will portray the character; how they will describe the details of the illness; and what people who suffer from them go through. This book is focused mainly on anxiety disorders - especially with panic attacks - and I have to say that the author did a magnificent job of portraying all the aspects I mentioned above. As I was reading, I felt like I was inside Caddie's mind - because that's how I feel when I'm having a panic attack or when my anxiety is threatening to take over. All the small details - thoughts, feelings, physical symptoms - they were all perfectly written. I give the author a ton of respect for writing a book where the main character suffers from these issues and even more for making sure all parts of the illness and its effects were spot on and true. I could keep rambling about the importance of spreading the word about mental illness and how there's still a stigma surrounding it in our society. I believe all of these things and I respect and adore the authors who are bringing attention to the issues with their stories.
Aside from that, the plot was great. It had a quick pace and flowed easily, so I had no trouble reading it in a few hours. I thought that the story line was decently original with added depth and layers coming from the heavier topics that are discussed throughout the book. It touches on a lot of problems that teens today face - issues with family, school, friends, crushes, insecurity, and overcoming fears. It felt like the plot was kind of a secondary aspect of the book. It seemed much more like a character study than a regular contemporary novel, which I think suited it better and made it all the more interesting. Very highly recommended for fans of YA contemporary fiction and those wishing to learn more about mental illnesses - like anxiety disorders and panic attacks - in a fictional setting.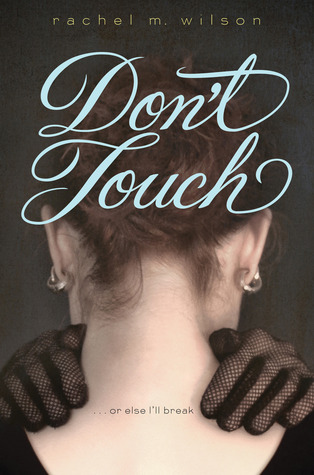 Rachel M. Wilson is the author of the contemporary YA, DON'T TOUCH, forthcoming from HarperTeen, Sep. 2, 2014.
She graduated from Northwestern University and holds an MFA in Writing for Children & Young Adults from Vermont College of Fine Arts. Rachel grew up in Birmingham, AL, and she currently writes, acts, and teaches in Chicago, IL.
Giveaway is open to US/CAN Only | Must be 13 or older to enter