Welcome to my stop on the blog tour for OF MONSTERS AND MADNESS! Today I'll be sharing my review of the book with you - and don't forget to enter to win your own SIGNED copy! To follow the rest of the tour, click on the banner above.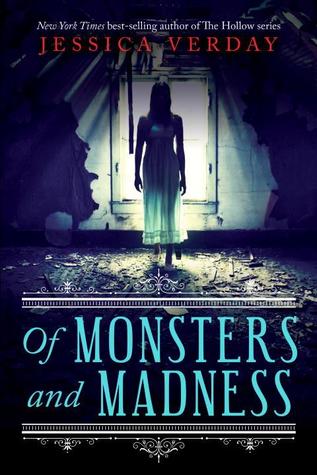 Of Monsters and Madness
Genre: YA Historical/Gothic/Retelling
Release Date: September 9, 2014
Description:
A romantic, historical retelling of classic Gothic horror featuring Edgar Allan Poe and his character Annabel Lee, from a New York Times best-selling author.

Summoned to her father's home in 1820's Philadelphia, a girl finds herself in the midst of a rash of gruesome murders in which he might be implicated. She is torn romantically between her father's assistants-one kind and proper, one mysterious and brooding-who share a dark secret and may have more to do with the violent events than they're letting on.
Of Monsters and Madness
is a novel retelling of Edgar Allan Poe's famous poem, "Annabel Lee." The story follows our main character - Annabel Lee - as she moves to Philadelphia to live with her father, whom she has never met. Once arriving in America, Annabel begins to notice strange happenings around the house - the staff are keeping secrets, her father's "work" is off-limits, and there are some things she's just not supposed to know. Add to that the recent murder spree hitting the area, and Annabel is wondering why she came to America in the first place. Annabel begins to find herself falling for her father's assistants - Edgar and Allan - cousins who are as different as night and day. With the secrets and bodies piling up around her, Annabel must find out exactly what is happening down in her father's laboratory - and she might not like what she finds.
I wanted to love this book so much ever since I read the description. A novel based off of Poe's poem, "Annabel Lee?" Awesome! I am a huge Poe fan (obviously) and I couldn't wait to see what the author would do with the characters and the events that would unfold in the story. I may have set my expectations a bit too high, so I was let down a little after reading it. The elements of the story are all fantastic - the characters are well written, especially Annabel, there's the Gothic feel of the story, the unnatural experiments, the mysteries and secrets - it's all there and well done. For some reason though, it just didn't click together for me and I couldn't fully immerse myself into the story. Annabel was a good main character for the story. I liked how the author wrote her backstory as well as her personality traits and attitude. The other characters were written well, although a some of them were a bit cliched - such as Cook and Maddy. The setting was perfect - a huge creepy house in Philadelphia that has a hidden laboratory in the basement? Awesome. It definitely put the right mood into the story and helped it feel all the more disturbing and gothic. The mysteries and secrets throughout the book were a little transparent, and I easily figured them out early in the story. I did enjoy reading how Annabel pieces things together for herself and learns the truth. The story was a quick read for me - it flowed naturally and had an easy pace. It took a few hours to finish. Like I said earlier, all the elements for a fantastic story were there and done well, but it just didn't work for me personally. I honestly don't know why. Maybe I set my hopes and expectations too high because it's based off of Poe's work. Other readers will surely love the creepy setting along with figuring out the mysteries and secrets everyone is hiding. Recommended for fans of paranormal fiction, as well as those who enjoy historical fiction, horror, and mysteries.
Jessica Verday is the New York Times best-selling author of The Hollow trilogy. She wrote the first draft of The Hollow by hand, using thirteen spiral-bound notebooks and fifteen black pens. The first draft of The Haunted took fifteen spiral-bound notebooks and twenty black pens. The Hidden took too many notebooks and too many pens to count. She lives in Goodlettsville, Tennessee, with her husband. You can visit her online at www.jessicaverday.com.

Author Links:
http://www.jessicaverday.com/

https://www.facebook.com/pages/Jessica-Verday/104030929632788?ref=br_tf
Giveaway: The awesome people at EgmontUSA are allowing me to give away (1) SIGNED hardcover copy of the book to a lucky winner! Open to US/CAN only!
* A big thanks to the fantastic people at EgmontUSA who sent me a copy of the book for review! *