Welcome to my stop on the Damsel Distressed blog tour! Today I have a great excerpt from the book to share - and don't forget to enter the giveaway!
Damsel Distressed
Genre: YA Contemporary/Fairy Tale Retelling
Release Date: October 14, 2014
Publisher: Spencer Hill Contemporary
Description: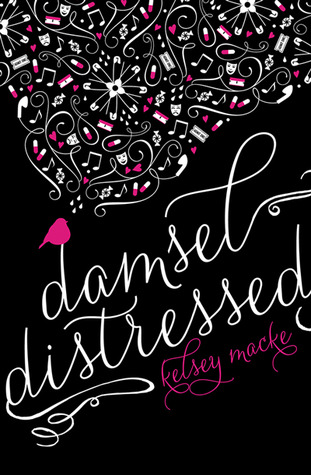 Hot girls get the fairy tales. No one cares about the stepsisters' story. Those girls don't get a sweet little ending; they get a lifetime of longing

Imogen Keegen has never had a happily ever after–in fact, she doesn't think they are possible. Ever since her mother's death seven years ago, Imogen has pulled herself in and out of therapy, struggled with an "emotionally disturbed" special ed. label, and loathed her perma-plus-sized status.

When Imogen's new stepsister, the evil and gorgeous Ella Cinder, moves in down the hall, Imogen begins losing grip on the pieces she's been trying to hold together. The only things that gave her solace–the theatre, cheese fries, and her best friend, Grant–aren't enough to save her from her pain this time.

While Imogen is enjoying her moment in the spotlight after the high school musical, the journal pages containing her darkest thoughts get put on display. Now, Imogen must resign herself to be crushed under the ever-increasing weight of her pain, or finally accept the starring role in her own life story.

And maybe even find herself a happily ever after.

Enhance the experience with the companion soundtrack, Imogen Unlocked, by the author's band, Wedding Day Rain.
My dripping paintbrush creates the sweetest rhythm as it swipes color across the particleboard. I dip the bristles into the stony grey again, and the wet paint reflects miniature versions of the hot stage lights into my eyes. I can almost hear waves crashing with every brush stroke, back and forth, up and down.
I love the sound.
Grant is working on the opposite side of the stage. He's building a giant, colorful bed for the second act, which rolls on casters and towers thirteen fake mattresses high. I look over at him, perched on top of the giant contraption, whacking a hammer with Thor-like precision. He is hunched over the side with his dark hair flopping across his increasingly sweaty brow.
As if on cue, his head snaps up. He's too far away and the lighting is too weird, so I can't really see the details of his eyes, but that's okay. I've had them memorized for years.
Imogen Unlocked Track Listing:
1. Heavy
2. No Goodbye
3. Something About
4. Sinking
5. Don't Wake Me Up
6. Let Me Go
7. My Strength
8. Unseen
9. Always Speak Too Late
10. The End is Just the Beginning
11. Breathe Easy
12. Edge of the Fall
CD Blurb:
Damsel Distressed is the story of Imogen, a girl who's survived the years after her mother's death by focusing squarely on her best friend, Grant, musical theatre, and lots of cheese. The book is full of humor and heart, and also contains a few surprises. Full page sketches are scattered throughout the novel, and each one contains a QR code that corresponds to a song from the book's soundtrack. Imogen Unlocked is a 12-song album of original music written by the author and her husband Daron as their indie-pop band, Wedding Day Rain. Together, the book Damsel Distressed and the soundtrack Imogen Unlocked work together to tell the story of a girl who might just make her own Happily Ever After, if she can just hold herself together.
Kelsey Macke has been creative for as long as she can remember. From an early age she was on stage singing, penning poetry, and writing notebooks full of songs. When the idea for her debut novel, DAMSEL DISTRESSED, popped into her head, she was undeterred by the fact that she had no idea how to actually write a novel. Her bff, the internet, was her guide, and after much trial, error, and candy, she finished it, and set out to get it published… a process far more difficult than, the internet (now her mortal enemy), had lead her to believe.
Her whirlwind adventure was made even more unbelievable when she signed with fabulous agent, Jessica Sinsheimer of the Sarah Jane Freymann Literary Agency and, shortly after, Danielle Ellison of Spencer Hill Contemporary bought her debut.
This innovative, mixed-media art project has given Kelsey an incredibly unique opportunity to join two of her passions: writing and making music with her husband as half of the folky, indie-pop band Wedding Day Rain.
DAMSEL DISTRESSED, and the companion album of original songs, Imogen Unlocked, are scheduled for release in October 2014.
Author Social Media Links:
Website: http://kelseymacke.com/home
Twitter: https://twitter.com/KelsNotChels
Facebook: https://www.facebook.com/authorkelseymacke
YouTube: https://www.youtube.com/user/kelsnotchels
Tumblr: http://kelsnotchels.tumblr.com/
Damsel Distressed Website: http://www.DamselDistressed.com/
Damsel Distressed Tumblr: http://teamomgen.tumblr.com/
BUY LINKS:
Amazon
Barnes and Noble
The Book Depository
Kobo