Welcome to my stop on the blog tour for The Conspiracy of Us by Maggie Hall! Today I'll be sharing my review of the book with you!
The Conspiracy of Us (Book #1)
Genre: YA Mystery/Suspense/Thriller
Release Date: January 13, 2015
Publisher: Putnam Juvenile
Description:
A fast-paced international escapade, laced with adrenaline, glamour, and romance--perfect for fans of Ally Carter

Avery West's newfound family can shut down Prada when they want to shop in peace, and can just as easily order a bombing when they want to start a war. Part of a powerful and dangerous secret society called the Circle, they believe Avery is the key to an ancient prophecy. Some want to use her as a pawn. Some want her dead.

To unravel the mystery putting her life in danger, Avery must follow a trail of clues from the monuments of Paris to the back alleys of Istanbul with two boys who work for the Circle—beautiful, volatile Stellan and mysterious, magnetic Jack. But as the clues expose a stunning conspiracy that might plunge the world into World War 3, she discovers that both boys are hiding secrets of their own. Now she will have to choose not only between freedom and family--but between the boy who might help her save the world, and the one she's falling in love with.
The Conspiracy of Us is the thrilling first book in a new YA mystery/suspense series. It follows our heroine - Avery West - as her world gets turned completely upside down by two hot guys approach her at prom and tell her that she has family that wants to meet her - and these people are incredibly powerful and important. Avery's mom doesn't have any family and she never met her father - but didn't even consider the possibility that he had relatives, and ones that would want to meet her so badly. After meeting her family, Avery discovers that they are a part of a secret society called The Circle. The society believes that Avery is the key to unlocking an ancient prophecy - some members want to use her for her part in the prophecy, while others want to kill her. Avery wants answers to this dangerous mystery, so she follows clues that take her around the globe - and what she begins to discovery is a conspiracy so huge that it might bring about World War III. Now she's being forced to pick a side - along with choosing between the two gorgeous guys who accompany her on her trail around the globe.
I'm a huge fan of thrillers - both YA and adult. I honestly don't think there are enough really good YA thrillers out there. There's some that are fantastic and mind blowing, but they seem few and far between. That's why I was so excited when I read the description of this book. It sounded sort of like a YA version of The Da Vinci Code mixed with a couple of hot guys. After reading the book, I'm glad to say that it definitely deserves to be put on the list of amazing YA thrillers. The plot is full of twists and turns - it seems as if something shocking would happen and I'd just be adjusting to that twist, and then BAM - another turn of events or revelation would happen and I'd be left dumbfounded all over again. Along with keeping the reader on their toes, the story contained a fantastic mystery about a secret society, ancient prophecies, conspiracies, and all that cool stuff. Blending the gripping twists with the mysterious clues and the journey that Avery makes really sets this book apart from others in the genre. It combines a ton of various types of fiction, so you can't easily label it as a mystery or a thriller - it has both of those as well as action, adventure, suspense, and even romance. By blending elements from all of these genres, the author gives the book a depth that wouldn't be present otherwise - and this depth really pulls the reader into the story and doesn't let you go.
I loved Avery as the main character - she's realistic and easy to identify with right from the start. The two hotties in the book each have distinct personalities with their own strengths and flaws - which makes it all the more interesting to watch them interact with Avery and see how things progress throughout the story. As for the plot, I absolutely loved everything about it! I especially loved the secret society and the prophecy - their histories, beginnings, and evolutions were fascinating and I really liked learning as much as I could about all of it. I'm hoping the next installment will have even more information and history about The Circle - it's origins, history, practices, etc. Overall, I found this to be a compelling mystery mixed with the unexpected twists and turns of a gripping thriller that will have you compulsively reading as fast as you can to see what will happen next. This is a phenomenal first book in what promises to be an incredible new series - and it's the author's debut! I never would've guessed it just by reading the book - it certainly showcases the author's immense talent, and I'm definitely looking forward to reading the next book in the series - along with anything else she writes. Very highly recommended for fans of mysteries, suspense, and thrillers!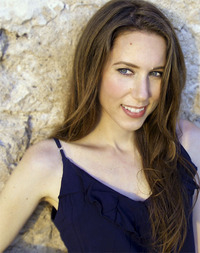 Maggie Hall is a traveling, decorating, champagne-drinking, USC-football-watching YA author. She is currently traveling the world for an indefinite amount of time with her husband, which means right at this moment, she might be on a beach in Thailand, drinking wine in Paris, or anywhere in between.

Her debut novel, a YA international thriller, is coming from Putnam/Penguin in 2015.

She is represented by Claudia Ballard at William Morris Endeavor. (Author information & picture taken from Goodreads.)
Author Links:
A huge thanks to Penguin Teen for sending me a copy of the book for review!