Welcome to my stop on the Enchantment Lake blog tour! Today I'll be sharing my review of the book - and don't forget to enter the awesome giveaway! To follow the rest of the tour, click on the banner above.
Enchantment Lake: A Northwoods Mystery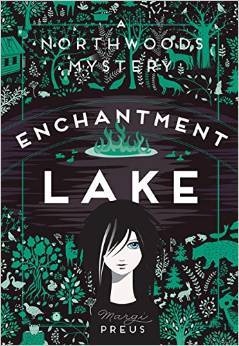 Release Date: March 11, 2015
Publisher: University of Minnesota Press
Description:
A disturbing call from her great aunts Astrid and Jeannette sends seventeen-year-old Francie far from her new home in New York into a tangle of mysteries. Ditching an audition in a Manhattan theater, Francie travels to a remote lake in the northwoods where her aunts' neighbors are "dropping like flies" from strange accidents. But are they accidents?

On the shores of Enchantment Lake in the woods of northern Minnesota, something ominous is afoot, and as Francie begins to investigate, the mysteries multiply: a poisoned hot dish, a puzzling confession, eerie noises in the bog, and a legendary treasure that is said to be under enchantment—or is that under Enchantment, as in under the lake? At the center of everything is a suddenly booming business in cabin sales and a road not everyone wants built.

To a somewhat reluctant northwoods Nancy Drew, the intrigue proves irresistible, especially when it draws her closer to the mysteries at the heart of her own life: What happened to her father? Who and where is her mother? Who is she, and where does her heart lie—in the bustle of New York City or the deep woods of Minnesota? With its gripping story, romantic spirit, and a sly dash of modern-day trouble (evil realtors and other invasive species), Enchantment Lake will fascinate readers, providing precisely the charm that Margi Preus's readers have come to expect.
Enchantment Lake
is a young adult mystery novel that's targeted for readers around the ages of 10-14. The story follows our heroine - Francie - as she travels to northern Minnesota to stay with her two great aunts, after receiving a disturbing phone call from them about their neighbors' mysterious deaths. Concerned for their safety and determined to figure out what exactly is going on, Francie heads to Enchantment Lake and finds herself mixed up in the strangest mysteries she's seen: from poisoned food and creepy unexplainable noises coming from the bog, to the legend of a treasure that's said to be in an enchantment - and mixed up in the middle of it all is a business making a lot of money in selling cabins and a road that nobody in the area seems to want built. Will Francie be able to figure out the mystery that ties all of these odd events together - before anyone else dies?
It's easy to tell right from the beginning that this book is geared toward younger readers - more middle grade and young YA. As soon as I started reading, I felt that the story had more of a Nancy Drew vibe to it rather than a more serious and mature mystery novel. The main character - Francie - is a seventeen-year-old who, in my opinion, doesn't act her age. Her dialogue - both inner and with other characters - isn't very mature, which only deepened my feelings of her not quite synching up with her age in the story. She's a good main character - smart, a very loving and devoted niece, down to earth, and determined to see things through. There's not much character growth for her - or any other characters - throughout the book. Francie's great-aunts are an interesting pair of sisters and serve as some comic relief during the book. The plot was pretty predictable - especially if you read the description and paid even a little attention to the details in the story. I basically knew what was going to happen before I cracked the book open - but, then again, this book is geared more for younger teens and their reading level. The mysteries that Francie has to solve throughout the story are minor and I didn't even have to think it out to know what was going on. For the target audience though, I think the mysteries would be a great asset to the story and would help them be more immersed in the book. The author uses great details and vivid imagery throughout the book that made it easy to imagine Francie's world. I didn't exactly slip inside of the author's world, but I could definitely see how a younger reader would be able to. The story is told from a third person point-of-view, which made it feel more distant and unrealistic, in my opinion. If it was told in a first person POV with Francie as the narrator, I think it would have engaged me more and may have pulled me into the story a little more. Overall, this was a good book with solid writing and a rounded plot. It was very obvious from the beginning (for me) that the novel is targeted to younger teens and middle grade readers. Being an adult and not used to reading books on this level, I wasn't able to get the maximum experience that a reader who is in the target age range would have. Looking at it from that standpoint, it's a good mystery novel with fun characters and interesting occurrences, and is a well rounded story that mixes together action, adventure, mystery, and a bit of suspense and will leave the reader wanting to solve more mysteries with Francie.
Margi Preus is a New York Times bestselling children's book author and playwright. Her first novel for young people,
Heart of a Samurai
, is a Newbery Honor Book, a recipient of the Asian Pacific American Award for Children's Literature, and an NPR Backseat Book Club pick.
Shadow on the Mountain
is a Notable Book for a Global Society, and her newest novel, West of the Moon, is an ALA/ALSC notable book, and is included on many Best Books of 2014 lists.
Margi served as the artistic director of Colder by the Lake Comedy Theatre for 25 years and with her collaborator Jean Sramek has written hundreds of comedy sketches, a couple of comic operas and dozens of plays for young people and grown ups. When she isn't writing, she likes to ski, hike, paddle or sit quietly with a book in her lap. (Author biography taken from author's website.)
Links:
(Photo by
Shirleen Hieb Photography)
Giveaway: (3) Signed copies of Enchantment Lake - Open to US/CAN only!