Hey everyone! I wanted to share some awesome news with you and to tell you about the insane ebook deals happening right now! As most of you know, EgmontUSA shut down last year and a lot of their titles were bought by other publishing companies. Paper Lantern Lit (PLL) was able to grab two fantastic titles from them - The Butterfly Clues and Notes from Ghost Town - both by Kate Ellison. In the meantime, they were given brand new titles, gorgeous new covers, and then were re-released under The Studio - an imprint of PLL.
I'm so excited to help spread the word about these books! On top of their recent release from The Studio, there's a huge sale going on for the next couple of weeks - so be sure you grab your copies while they're cheap! Today I'm spotlighting LOST GIRLS - which was previously The Butterfly Clues - and next week I'll be doing the same for GIRL UNSEEN - which was previously Notes from Ghost Town. Read on for more info on the book and the author - and don't forget to grab your copy now, while the sale is on!!
Lost Girls (Lost Girls #1)
Genre: YA Mystery/Thriller
Release Date: March 24, 2015
Publisher: The Studio, an imprint of Paper Lantern Lit
Description:
Formerly published as THE BUTTERFLY CLUES, Kate Ellison's debut novel combines psychological thriller, love story, and a girl's struggle with mental illness into an atmospheric page-turner that Booklist says will cause readers to be "swept up by both the terror—and the romance."

When a local girl from a bad neighborhood—known only as Sapphire—is found shot to death, no one seems to care. She was just one of the many lost girls who live their lives invisibly, between the cracks.

But sixteen-year-old Lo Marin changes all that when she stumbles upon a clue to Sapphire's murder—a gorgeous and unusual butterfly pin. Lo has always loved to collect beautiful things, and believes she can read the story behind the objects. This one isn't just speaking to her—it's screaming.

As she becomes helplessly obsessed with the murder, Lo finds herself entangled in a violent underworld with a boy she can't trust. In this riveting page-turner, one lost girl will track down another in an explosive mystery that may be the end of them all.
Kate Ellison spent a lot of time as a child, in Baltimore, pretending to be things she wasn't: a twin, a telekinetic, a benevolent witch with a box full of magical stones, a spy, a soccer player. She trained as an actor in Chicago and has walked across the entire country of Spain. She is a painter and jewelry-maker, and has at least one artist friend who really does keep his true name a secret from the world. He told her, but don't ask her to tell you—she's not gonna do it. Kate lives in Brooklyn, New York.
Author Links:
http://kateellison.com/
http://kateellison.wordpress.com/
http://www.facebook.com/pages/Kate-Ellison/189521857752277
Starting on June 16th and ending on June 20th - LOST GIRLS will be only 99 cents!! Grab your copy while you can!
Don't Forget to Grab the Prequel Novella, LOST NIGHT, which will be FREE!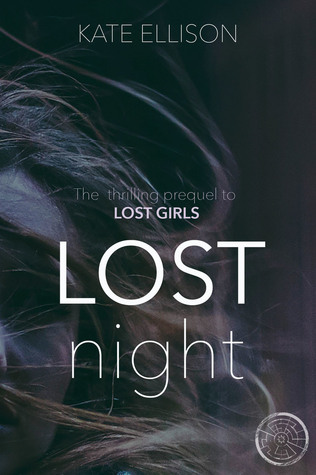 Lost Night (Lost Girls #0.5)
Release Date: May 5, 2015
Description:
Sapphire knows she has to avoid trouble if she's going to survive in Neverland, the seedy neighborhood of Cleveland she now calls home. Other girls here have gone missing when they didn't play by the rules: the "lost girls," she calls them. Like her, they're all runaways - no one to notice if they vanish for good.

And Sapphire knows, too, that falling for Bird is only going to cause trouble. She just doesn't know how soon, or how bad... And whether that trouble will come from the dangers of Neverland or from Bird himself.

All she knows is that this will be their last night together - or the night she's lost forever.