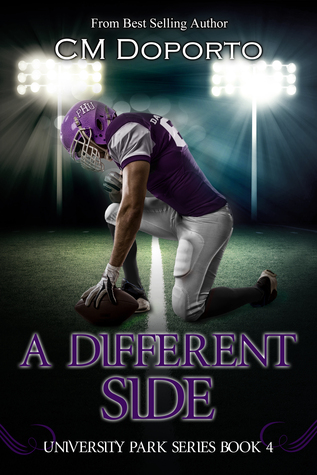 A Different Side (University Park #4)
Release Date: September 14, 2015
(only $2.99)
Summary from Goodreads:

The highly anticipated story from the University Park Series.

Park Hill University's star quarterback, Raven Davenport, has every woman dying to get caught in his trap, but he's only interested in catching one girl – Lexi Thompson. But will he learn how to deal with his inner demons or will they continue to control him to the point of destroying what h e loves most? Hear Raven and Lexy's story from a different side.
She was one-hundred percent correct. I didn't know her, but something about her gutsy, no-nonsense attitude told me she wasn't like the other girls. That made me want to know her more. Even though I liked easy, I was up for this challenge. And Lexi Thompson seemed like a good challenge. ~ The Raven

The visions I had buried, all the pain and past hurts, were laying in front of me. Plain as day for me to see. The cards that I carried were my life and would never go away. I hated that I couldn't conquer the demon voices. They were on a mission. A mission to destroy me. And I was letting them. The fight was over. ~ The Raven

I lay in bed, unable to stop thinking about Lexi. She was totally invading my space and I liked it. I liked the way she bit her lower lip as her eyes appraised me. I liked the way her pouty lips called to me, begging me to devour them. I liked her sweet scent of peaches and honey that swirled around me. Shit, I liked it so much, but I'd be totally screwed if I messed this up. ~ The Raven

There was only woman that I wanted and I was sure she was at some other guy's side. That was the story of my life. At least I had one thing going for me. The field might have been my saving grace, but it was also my battlefield. ~The Raven

I wanted her to remember this kiss. And every kiss after that. I was ready to take those lips
captive and show them what they'd been missing. ~The Raven.

Lexi spoke softly and I felt myself getting caught up in every word. She was consuming me one word at a time. ~The Raven.

Her presence was a bad idea. I wasn't sure if I could ignore her when all I wanted to do was kiss her and tell her how much I missed seeing her this past week. But I had to be strong. I had to keep to the plan. Lexi and I weren't good for each other. ~ The Raven

This was killing me, more than she knew. But I couldn't back down. I had to do the right thing. I could think of million reasons I was bad for her, but I could also think of a million reasons not to give her up. ~The Raven

God. She was killing me. I pulled away. I couldn't get caught up in her words. They were too intoxicating and she was too tempting. My heart was determined to get what it wanted. But I refused to let it. ~The Raven

Damn, she was so freakin' hot when she was mad. I hated it and loved it all at the same time. ~ The Raven

Lexi had me drugged with her love. It was like nothing I'd ever experience before and I wanted more of it. But this was all I would ever get. ~The Raven

Walking away from the very thing I wanted the most was the hardest thing I'd ever done and I didn't feel good about my decision. But I did what had to be done. I saved her from me. ~The Raven

My heart ached for her. I wanted to love her and show her what it felt like to be loved -- but I
didn't know how to do that. The only thing I was good at was giving women a night to remember. That didn't include a commitment and being a boyfriend. That was foreign to me. ~ The Raven

I was The Raven. Fast and light footed. Taking flight across the field like a bird — a raven. That innate instinct made me nearly untouchable. The saying was they had to touch me first before they could tackle me. And not many could. That's what made me a damn good quarterback. ~The Raven

Her lips brushed against mine and I kissed her softly. I could taste it now. Her love. I was already wasted on it. And I was ready to drink more of her sweetness. The odds might have been against us, but it didn't matter. All roads were leading us directly to each other. ~The Raven

My soul called out to Lexi's, dying to be connected with the piece that had been missing. Lexi
held a piece of me I couldn't function without. I needed her to be whole. ~The Raven

Her words wrapped around my heart, giving me a new inspiration to try my damnedest not to disappoint her. Lexi was a part of me. A part I didn't want to be without. A part I needed to survive. ~The Raven

I'd be totally lost without her – paralyzed. They had a free ticket to destroy me. But what hurt the most was thinking what it would be like without her. No more beautiful smiles. No more breathless moments. No more making love to her. ~The Raven

She kissed me softly and I saw it all – the love and care she had for me, the forgiveness, the
determination to be with me. It was all there, waiting for me to accept. I was willing to do whatever it took to be with her. ~The Raven

Lexi was all I ever wanted. All I ever needed. We were meant to be together. ~The Raven

Our kiss grew hungry as we devoured each other's lips and twined our tongues together. The
warmth of her mouth sent my body into a state of need. I wanted Lexi. On top of me. Kissing
me. Loving me. ~The Raven

All I could think about was Lexi. Her beautiful face...the sparkle of her brown eyes, the perfect slope of her nose that led to her plump, full lips. Lips I wanted to kiss all day and night. ~The Raven

I was ready to give her what she needed – all the love I had for her. I was ready to show her the passion that had been building inside of me. I was ready for her to sink into my trap and allow the blue waters of the Gulf Coast to carry us off to a remote island and never return. ~The Raven

All I wanted to do was: Love her. Touch her. Cherish her. For all eternity. ~The Raven

The love between us was pure. Genuine. One of a kind. And meant to be forever. ~The Raven

I hated life. I hated myself. Most of all, I hated that I fell in love with Lexi. I didn't deserve her. She was better off without me. ~The Raven
CM Doporto lives in the great state of Texas with her husband and son enjoying life with their extensive family along with their Chihuahua, Mexican Redhead Parrot, and several fish.

She earned her Bachelor's Degree in Journalism from The University of Texas at Arlington. She briefly worked in the area of Public Relations and Advertising and then pursued a career in the field of Human Resources. CM considers herself a life-long learner an d returned to school and earned her Master of Art's Degree in Organizational Development from Dall as Baptist University.

She writes Young Adult and New Adult Sci-Fi/Urban Fantasy stories about ordinary women who do extraordinary things, become a heroine, and find love along the way.