Welcome to my stop on the blog tour for A Shot of Reckless! I have my review of the book to share with you today - and don't forget to enter the awesome giveaway! To follow the rest of the tour, check out the schedule at the bottom of the post.
A Shot of Reckless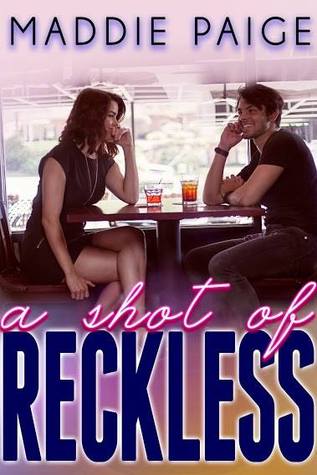 Author: Maddie Paige
Genre: New Adult Contemporary Romance
Release Date: October 14, 2015
Publisher: Elephantine Publishing
Description:
Art major, Roxy Thompson, is a ball of fun—but she's also careful to keep her walls intact when it comes to men. She likes relationships just like her coffee: light and sweet. After having her heart shattered once before, she's determined not to ever feel that broken again.

College senior, Lake Foster, is just tempting enough to make Roxy rethink her rules of engagement. Suddenly, high-dollar shots and a no-strings night out aren't enough anymore. But Lake isn't looking for long-term. His future is set, and in four months, he intends to graduate and leave Georgia—and everything in it—behind. Luckily, short-term fun is Roxy's specialty, and Lake can't resist what he promises will be a fleeting taste.

Will Roxy and Lake really walk away when their time is up? They only have one shot to find out.
A Shot of Reckless
is a fantastic New Adult contemporary romance novel that will leave fans of the genre begging for more. The story follows our two main characters - Roxy, a fun-loving art student whose heart was crushed in the past - and who refuses to have any kind of serious relationship with a guy. Our other lead character is Lake, a senior at the same college who already has his plans for life after graduation settled. Neither one is looking for anything serious - just something fun until they have to part ways in a couple of months. But soon Roxy finds herself rethinking her terms on romance and Lake isn't as set in his plans as he thought he was before he met Roxy. Will their short fling be enough when the time is up - or will they both be willing to break their own rules to be together?
I don't really read a lot of New Adult romance novels because they honestly begin to feel the same after a bit. It seems like there's a template for these novels that can be tweaked in a few different ways to make it a little different from the rest out there - but overall, they're all the same. I felt the same way about this book initially. In all honesty, the plot isn't original - it follows the general template like the others. It's the writing style and the extra details the author put into the story that made it stand out for me. The first thing that grabbed my attention was the narration of the book. It's told in alternating points of view - that of Roxy and Lake - and also written in first person point of view. I'm a firm believer that point of view can make or break a book - and in this case, it definitely made it all the better. I love first person POV because the reader gets to know the character(s) on such a deeply personal level. We're privy to everything that goes on in their minds throughout the story - emotions, thoughts, inner dialogue, memories - and so much more. Another advantage of this POV is getting to experience what's happening in the story from that character's perspective - which only allows us to connect with them on a more intimate level; it's like we get to experience everything alongside them. I think the author's choice to use first person POV along with the two main characters as narrators was genius. I loved getting to know both Roxy and Lake, and to watch their relationship grow throughout the book. Any other writing style wouldn't have the same impact on the reader, which is crucial to this kind of novel.
Roxy and Lake are both well rounded characters with their own distinct personalities and traits. I really liked getting to know both of them separately - it made watching them together all the more realistic and romantic. Being a New Adult novel means that there were definitely some steamy parts throughout the book - and I mean crazy steamy. You can practically feel the instant chemistry between the two from the first time they meet - and it only gets more intense as the book progresses. I'm a huge romantic at heart and definitely love my happily-ever-afters, so all of the mushy, swoonworthy things throughout the story only made my enjoyment of the novel that much greater. Swoonworthy and steamy? Yes please! We definitely get a healthy dose of each when it comes to this book.
Although the plot may not be very original - the main characters, the steamy and sweet romance, and the writing style made this a quick and highly enjoyable read for me. I'm glad that I decided to give this one a try - it was well worth it. I very highly recommend this book for fans of the genre as well as those who enjoy contemporary fiction, college fiction, and romance in general.
Writing duo Maddie Paige bonded over books, shirtless boys and Step Up movies. One lives for her coffee while the other prefers hot chocolate. Both lovers of romance, they tag teamed a manuscript over late nights at Steak 'n Shake. They live in Atlanta, GA and A Shot of Reckless is their debut.
You can follow us on Facebook and Twitter.
Buy Links:
Kobo
Kindle
Barnes and Noble
Giveaway:
(1) Winner will get:
(2) signed books by authors (TBD)
Plus a basket of our character Roxy's fave things: Cookies, Coffee mug, Fave scarf , Her necklace, A trusty shot glass A DVD of fave hot shirtless boy movie, and the much important sketch journal
Must be 13+ To Enter | Ships in US only
Tour Schedule: