Hey everyone! Welcome to my stop on the blog tour for A Step Toward Falling! I have a great excerpt from the book to share with you today - and don't forget to enter the awesome giveaway! To follow the rest of the tour, click on the banner above!
A Step Toward Falling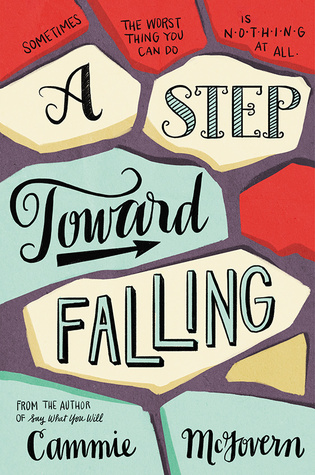 Release Date: October 6, 2015
Description:
Cammie McGovern follows up her breakout young adult debut, Say What You Will, with this powerful and unforgettable novel about learning from your mistakes, and learning to forgive. Told in alternating points of view, A Step Toward Falling is a poignant, hopeful, and altogether stunning work that will appeal to fans of Jennifer Nevin, Robyn Schneider, and Jandy Nelson.

Emily has always been the kind of girl who tries to do the right thing—until one night when she does the worst thing possible. She sees Belinda, a classmate with developmental disabilities, being attacked. Inexplicably, she does nothing at all.

Belinda, however, manages to save herself. When their high school finds out what happened, Emily and Lucas, a football player who was also there that night, are required to perform community service at a center for disabled people. Soon, Lucas and Emily begin to feel like maybe they're starting to make a real difference. Like they would be able to do the right thing if they could do that night all over again. But can they do anything that will actually help the one person they hurt the most?
p. 3-4
The following Wednesday, we come in an hour before class starts to meet with Mary, who teaches the class, and go over what she expects from us. Apparently not too much, at least in the beginning. She says we'll mostly do the activities along with the group. "We do a few role-plays every class and I may ask you to join some of those. Do either one of you have acting experience?"
I glance at Lucas, who still refuses to look at me. "No," he says.
"Some," I say. "When I was younger. Not for a while."
Mary smiles at me like she can tell that I'll probably be better at this than Lucas. Lucas plays football at our school, meaning he's huge and—not to be mean—a little scary-looking.
"Wonderful, Emily," Mary says now. "Do you have any improv experience?"
"A little," I say. "I was in a comedy troupe once, except we weren't very funny." In middle school, the drama club tried to start an improv group. We lasted one semester and then gave up.
Mary laughs. "Oh, I know all about that. Don't worry, we're not playing for laughs here, thank heavens."
We finish up with twenty minutes before class starts, so Mary tells us to wait in the lobby until the other students arrive. It's awkward, of course, as sitting in every waiting room with Lucas has been for the last two weeks. He pulls out his phone as he always does. I pull out a book as I always do. After five minutes, I can't stand it anymore and lean toward him.
"I'm Emily, by the way. I know you're Lucas, but maybe you don't know my name, so there you have it. Emily."
He looks up. "I know your name."
Richard always warns me not to get too sarcastic with people who have no visible sense of humor. "They don't take it well," he tells me. "They think you're making fun of them. Because usually you are." But I can't help it.
"Oh, okay. Well, as long as we're doing this together for the rest of the semester, I just thought I'd make sure. We don't need to be friends or anything, but maybe the odd hello wouldn't kill us."
"I don't know about that," Lucas says, twisting around in his chair. "This may kill us. We'll have to see."
I can hear Richard's voice in the back of my head: You shouldn't go around telling stupid people what you think all the time. First of all, they won't understand what you're saying because they're stupid. Secondly, they'll hate you.
I want to, though. I want to say, Look, Lucas, why don't we try and do this thing right? Why don't we acknowledge the guilt we both feel about Belinda by doing a decent job here? Maybe for Lucas I should say it differently: Why don't you stop being such a jerk about this?
Cammie McGovern was born in Evanston, Illinois, but moved to Los Angeles when she was seven years old. She is the author of three adult novels, The Art of Seeing, Eye Contact, and Neighborhood Watch. Say What You Will will be published by HarperTeen in June, 2014. She currently lives in Amherst, MA, with her husband and three sons, the oldest of whom is autistic.
http://cammiemcgovern.com/
Buy Links:
Amazon
Barnes and Noble
One winner will get (2) copies of A STEP TOWARD FALLING by Cammie McGovern, one for themselves and one to give to a friend.
Must be 13+ To Enter |Ships in US only | Winner will be asked to provide contact info for friend so we can gather their shipping info and mail directly.