Hey everyone! Welcome to my stop on the blog tour for WHERE FUTURES END! Today I'll be doing a special feature on the second novella of the book! To follow the rest of the tour, check out the schedule at the end of the post. Enjoy!
Where Futures End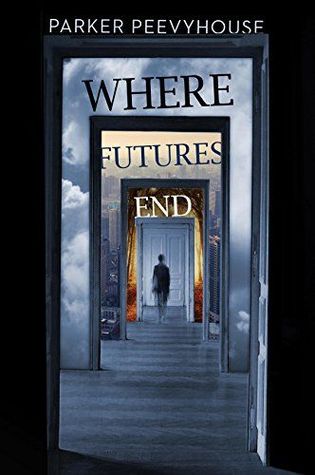 Author: Parker Peevyhouse
Genre: YA Dystopia/Fantasy
Release Date: February 9, 2016
Publisher: Kathy Dawson Books
Description:
Five teens.
Five futures.
Two worlds.
One ending.

One year from now, Dylan develops a sixth sense that allows him to glimpse another world.

Ten years from now, Brixney must get more hits on her social media feed or risk being stuck in a debtors' colony.

Thirty years from now, Epony scrubs her entire online profile from the web and goes "High Concept."

Sixty years from now, Reef struggles to survive in a city turned virtual gameboard.

And more than a hundred years from now, Quinn uncovers the alarming secret that links them all.

Five people, divided by time, will determine the fate of us all. These are stories of a world bent on destroying itself, and of the alternate world that might be its savior--unless it's too late.
Novella feature #2: When We Were TV (Brixney)
"People don't come back just because you want them to. Even if they owe you, even if you owe them. People don't come back." –page 103
Ten years from now, you can go into a restaurant or a shop and find yourself on camera, with a live feed playing on the Internet for all to see. If you get enough hits on your feed, a corporation might just plant their logo on your feed and split the ad revenue with you. Brixney, who's stuck living in a debtors' colony, is hoping for just such a break while working as a waitress at Flavor Foam.
I wrote this story because I had a terrible time waiting tables as a teen. All of Brixney's customers and managers are based (um, loosely, I guess) on people I had the pleasure of encountering when I was a waitress. Everyone has great stories about a terrible job they once worked, but Brixney has it especially bad. Her job might never provide enough money to get her brother out of the debtors' colony he's stuck in. And the only bright spot in Brix's life—her boyfriend—has gone away, leaving Brixney to wait tables alone for what seems like it will be an eternity.
Lucky thing Brixney's latest customer is so camera-ready. He's really cute but deeply strange, and his odd story about what happened between him and a boy named Dylan (from the first novella in WHERE FUTURES END) attracts a lot of hits on Brix's feed. Maybe even enough hits to earn the money Brix needs to spring her brother from the debtors' colony… if she's willing to make her customer confess his sad tale to the world.
I drew a lot of inspiration from M. T. Anderson's FEED for this story, using ideas about technology and consumerism, but also asking questions about privacy and sincerity. This second part of WHERE FUTURES END looks at what we owe each other and how that idea gets more complicated when we have so much access to each other's lives.
The choices Brixney makes will shape the setting in the third part of WHERE FUTURES END.
Parker Peevyhouse lives with her family in the San Francisco Bay Area, where she has worked as an instructor and tutor and currently volunteers with teens. She can usually be found wandering local trails, playing board games, or watching science fiction movies. Her first novel, WHERE FUTURES END, will be published by Penguin/Dawson in early 2016.
Author Links:
http://www.parkerpeevyhouse.com/
http://www.twitter.com/parkerpeevy
https://www.facebook.com/parker.peevyhouse
| | | |
| --- | --- | --- |
| | | |
| | | |
| | | |
| | | |
| | | 2/5 - Novella #5 Feature & Hardcover Giveaway |
| | | |
| | | |
| | | |
| | | 2/11 - 25 Random Things About Me |
| | | 2/12- Interview & Hardcover Giveaway |
| | | |
| | | |
| | | |
| | | |
| | | 2/19 - Interview & Hardcover Giveaway |