Welcome to my stop on the blog tour for THE STEEP & THORNY WAY! Today I'll be sharing my review of the book with you - and don't forget to enter the awesome giveaway! to follow the rest of the tour, check out the schedule at the end of the post.
The Steep & Thorny Way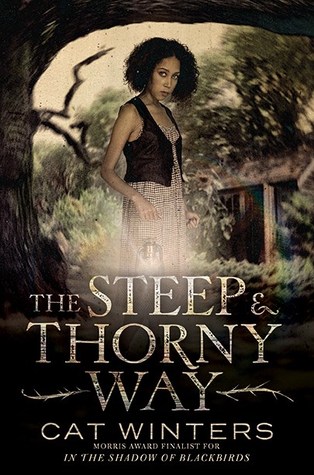 Genre: YA Historical/Retelling
Release Date: March 8, 2016
Formats: Hardcover; eBook
Description:
A thrilling reimagining of Shakespeare's Hamlet, The Steep and Thorny Way tells the story of a murder most foul and the mighty power of love and acceptance in a state gone terribly rotten.

1920s Oregon is not a welcoming place for Hanalee Denney, the daughter of a white woman and an African-American man. She has almost no rights by law, and the Ku Klux Klan breeds fear and hatred in even Hanalee's oldest friendships. Plus, her father, Hank Denney, died a year ago, hit by a drunk-driving teenager. Now her father's killer is out of jail and back in town, and he claims that Hanalee's father wasn't killed by the accident at all but, instead, was poisoned by the doctor who looked after him—who happens to be Hanalee's new stepfather.

The only way for Hanalee to get the answers she needs is to ask Hank himself, a "haint" wandering the roads at night.
The Steep & Thorny Way is one of the most original novels I've ever had the pleasure of reading. If you're an avid reader, then you're familiar with the type of book that leaves you speechless and unable to convey the various reasons why you loved it so much. The list of novels that have affected me that way is a short one - but I've definitely just added a new title to it after reading this book. I apologize in advance for any rambling, fangirling, and not making much sense during this review. That's one thing I hate about these wonderful books - no matter what you say about it, it will never be enough. It feels like you'll never be able to explain your reasons for adoring it to someone who hasn't read it, and in the end it's just frustrating. I'll attempt to do my best at staying objective, but no promises.

Where do I even start? There are SO many aspects of this book that deserve to be talked about - enough that I could easily write a multi-page review and probably still not cover ever

ything.
I was an English major in both undergrad and grad school, so I have a deep love for all types of literature - Shakespeare being one of my favorite classical authors. When I found out that this book was going to be a retelling of Ham

let

- I freaked out a bit. I haven't read many Shakespeare re-imaginings because they never seem to do his works justice. I was both nervous and excited to read this novel, and I'll freely admit that I was wary of another letdown and didn't let my hopes or expectations get very high. Needless to say, I had no reason to worry - the author completely blew me away with this novel. There are so many concepts and aspects throughout the story that are sheer genius! A well-done retelling of Hamlet would have been awesome - but the author took the story to completely new levels of originality and then proceeded to blow my mind. I really want to point out some of the incredible twists the author put on this retelling, because it's these concepts that made a huge impact on me as a reader. First, the author inverted the characters a bit from the original play. Instead of a male lead, we have Hanalee - a strong female main character. This is is big difference in itself and would have made a great story. But the author takes it to a whole new realm by having it set in the early 1920s, when Prohibition was happening, racism was a huge problem, and the KKK had a strong presence just about everywhere. Then, to make things even more interesting, the author made Hanalee's character a mixed race female - with a black father and a white mother. This mixture of aspects and concepts that form the backbone of the novel blew my mind. There's no other way to explain it. I thought it was sheer genius and I don't think anything like it has been done before. The author takes Hamlet, re-imagines it with a female lead, and then drops it in the 1920s - where even more problems and issues are going on, especially with Hanalee's background and society at that time. If I could only talk about one part of the book that impacted me the most - it would be this ridiculous blend that turns out to be truly unique in every way, and helps to create a story that is instantly captivating, and honestly like nothing I've read before. I really can't emphasize enough how remarkable I found this mixture of ideas and themes to be, and how it opened so many different avenues for the characters and the story line

.
I've spent so much time trying to get my point across about the framework of the novel that I barely have room to talk about anything else. (Kudos if you're still reading this!) The story followed the original play of Hamlet very closely and the author did a fantastic job of mirroring it during the entire book. Like I mentioned, there are some huge differences between the two - which make all the difference, in my opinion - but the general outline is followed well. The characters are well rounded, especially Hanalee, the main character. She's strong, intelligent, fierce, loving, and incredibly determined. She faces some sticky situations in the book, and I enjoyed watching her battle through them and grow as a person as she did so. Hanalee's character grows and matures a lot during the story, and I loved watching it happen. Another aspect of the book that I loved was the writing style and how it was told from the first person POV - from Hanalee's perspective. I'm almost always a huge advocate for this style, and I love that the author chose to write the novel this way. Because the reader's seeing everything that happens from Hanalee's perspective, it allows for a deeply personal connection between the reader and the narrator. We get to know every fear, doubt, hopes, dreams, memories, inner thoughts, and anything else that goes through Hanalee's mind. I was able to slip inside the world the author created right from the very beginning of the book because I identified almost immediately with Hanalee. Throughout the story, it felt like I was experiencing everything right along with her, which is a powerful connection that you don't normally get

using a different POV style.
I know I haven't really spoken much about other important parts of the book - but as I said at the beginning, that's one of the downfalls of attempting to review this kind of novel. Rest assured that the writing was incredibly well done with vivid imagery and detailed descriptions that made the characters and the story come to life, and that the other aspects of the book (characters, plot, etc.) were just as wonderful. I can't express enough how captivating and truly original this novel is. I don't know how the author came up with the idea to blend together all of these seemingly mismatched aspects, but I'm so incredibly glad that she did, because it's one of those books that stays with you. One that you'll come back to and re-read several times over the years. I honestly can't say anything else to

make

my thoughts and opinion of the story any more clear. I can't recommend this book highly enough to everyone - I don't care what your normal genre preference is. Whether you like YA, historical fiction, Shakespeare, retellings, whatever - you need to read this book. NOW. I promise that even if you don't end up loving it as much as I did, you'll have a genuine reading experience afterwards - one that you won't soon forget. Oh - I forgot to mention that I'm now going to stalk this author (not in a cre

epy way, I promise!) and immediately read every single one of her other books. :)
Cat Winters's critically acclaimed debut novel, In the Shadow of Blackbirds, was named a 2014 Morris Award Finalist, a 2014 Best Fiction for Young Adults pick, a 2013 Bram Stoker Award Nominee, and a School Library Journal Best Book of 2013. Her upcoming novels include The Cure for Dreaming (Amulet Books/Oct. 2014) and The Uninvited (William Morrow/2015), and she's a contributor to the 2015 YA horror anthology Slasher Girls & Monster Boys. She lives in Portland, Oregon. Visit her online at www.catwinters.com.
(Photo by Tara Kelly)
Giveaway: (5) Winners will receive a finished copy of THE STEEP & THORNY WAY - US only!