Welcome to my stop on the blog tour for YOU WERE HERE! I have a great excerpt from the book to share with you today - and don't forget to enter the giveaway!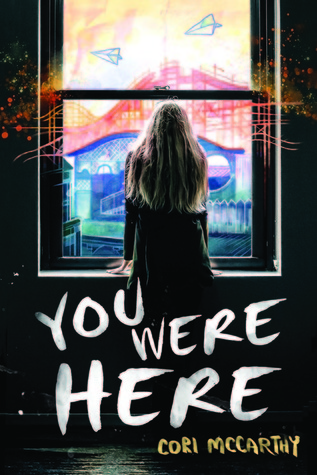 You Were Here
Author: Cori McCarthy
Genre: YA Contemporary Romance
Release Date: March 1, 2016
Publisher: Sourcebooks Fire
Description:
Jaycee is about to accomplish what her older brother Jake couldn't: live past graduation.
Jaycee is dealing with her brother's death the only way she can – by re-creating Jake's daredevil stunts. The ones that got him killed. She's not crazy, okay? She just doesn't have a whole lot of respect for staying alive.
Jaycee doesn't expect to have help on her insane quest to remember Jake. But she's joined by a group of unlikely friends – all with their own reasons for completing the dares and their own brand of dysfunction: the uptight, ex-best friend, the heartbroken poet, the slacker with Peter Pan syndrome, and… Mik. He doesn't talk, but somehow still challenges Jayce to do the unthinkable—reveal the parts of herself that she buried with her brother.
Cori McCarthy's gripping narrative defies expectation, moving seamlessly from prose to graphic novel panels and word art poetry, perfect for fans of E. Lockhart, Jennier Niven, and Jandy Nelson. From the petrifying ruins of an insane asylum to the skeletal remains of the world's largest amusement park, You Were Here takes you on an unforgettable journey of friendship, heartbreak and inevitable change.
Praise for You Were Here:
"A beautiful coming-of-age story, this book will leave readers thinking about it long after they close it." –VOYA Magazine, a VOYA Perfect Ten
"A skillful blend of storytelling, emotion, and adrenaline-fueled daring" –Publishers Weekly
"The mix of forms as well as the insights each character gleans through their urban explorations render this book both readable and teachable on multiple levels." –Bulletin of the Center for Children's Books, STARRED Review
"Readers who appreciate stories of searching for personal truths will be happy to join this meaningful quest for identity and independence." –Booklist
"You Were Here
is wrenchingly beautiful in its honest and achingly accurate portrayal of grief and how it breaks us--and the way unconditional friendship puts us back together." -Jo Knowles, award-winning author of See You At Harry's and Read Between the Lines
"Through razor-sharp wit, no-holds-barred momentum, and heart-wrenching twists, Cori McCarthy dares you to climb through the broken, abandoned wreckage of the past, stand on the edge of the world, and face something even scarier: the truth." -K.A. Barson, author of 45 Pounds (More or Less and Charlotte Cuts it Out
"The urban explorers of You Were Here dive deep into the forgotten man-made spaces all around them--and their own feelings of loss, love, and fear. McCarthy deftly intertwines the characters' stories, filling them with authentic pain and heartache as well as soaring moments of grace and humor. I dare you to read it!" --Maggie Lehrman, author of The Cost of All Things
I crossed the room and sat in front of the stain. Bishop was staring down at it like he couldn't believe what he was seeing.
"That's a person," he said. "A real person. At least it was a person."
"Bishop, this is Margaret Schilling. Margaret, this is… What's your real name?"
"Eric," he said.
"Margaret, this is Eric Bishop and Zach Ferris and—"
"Don't tell it my name!" Natalie said.
I eyed Natalie. "Margaret will be less cool if you don't introduce yourself. Remember, years ago, her spirit followed that freshman home. Made the girl write devil runes all over the walls in her own blood and then kill herself. Or so she said in her suicide letter."
Everyone was staring at me now. "Sit."
They did.
"Hello, Margaret," I said sincerely. A stain in the shape of a small woman lay before me. Her story flooded my thoughts, and I let it spill out. "In 1978, a patient named Margaret Schilling was playing hide-and-seek from the nurses. She hid too far away, in the closed down ward formerly used for infectious patients, and they forgot to go find her. A month later, a maintenance worker discovered her body, her clothes folded neatly beside her."
"Bodies put out some serious chemicals when they decompose. Look at how she burned herself into the concrete." Bishop's eyes were wide. "This is real. Not a ghost story or a television show. A real life that left an imprint on its way out of the world. Amazing."
"So she died from the cold or dehydration?" Natalie seemed genuinely saddened. "That's awful. She was probably terrified up here."
"Wait, so this ward was used for infectious patients?" Zach asked.
"Germs don't stay alive that long. You're fine," Natalie said.
I winced at the word. When Natalie used it, it did not hint at optimism.
Natalie inched toward me. "What do you see when you look at her, Jaycee?"
I glanced at each of them. Bishop's dark-brown eyes reflected the moonlight, and Natalie's face seemed tanner and slightly more Asian in the dark. Zach was playing with his boy band bangs, unable to look at Margaret.
"What do I see?" I asked, turning back to the halo effect created by Margaret's splayed hair. "It was a game. She died because she was playing a game."
"Just like Jake," Natalie said.
"Right," I quipped, trying to mask not only my annoyance at Natalie's psychoanalyst tone but also a flare of grief. My chest grew tight. Why wouldn't it go away? Why did all this still buckle me to the ground? Tears burned my eyes, and I took my hair out of my ponytail. This never happened when I came here with Mik. Mik didn't talk or prod. Mik let me be while we walked around Jake's old haunt, wondering if he was actually haunting it.
"My dad said that OU will raze the TB ward." Bishop pointed out the window toward the building on the very top of the hill, by far the spookiest and most unkempt in the Ridges compound. "It's the only fully abandoned building."
"Raze?" I asked, suddenly angry. "When?"
"End of the summer, I think. My dad said it was going to cost a ton but that leaving the old building there while it was falling in is just asking for lawsuits."
"Jake loved the TB ward," I said. "They haven't stripped it down like this building."
"TB?" Zach asked.
"Tuberculosis," Natalie said.
Bishop squinted at his friend. "TB has been one of the leading terminal diseases in society since the dawn of civilization, Zach."
"But it doesn't exist anymore," Zach said. "Like leprosy."
"It totally exists," Natalie said. "And so does leprosy. Where do you learn these things?"
"TB is still the leading cause of death for all people with HIV," Bishop said. "But don't worry, Zach. You won't get it."
I was surprised to find Zach looking at me. "What kind of things are in there?"
I shrugged. "I've never been, but I know it's more dangerous. All the windows and doors are boarded up to keep drunk undergrads out."
"So there's no way in?" Bishop asked.
I shook my head. "Didn't say that. Every building in the Ridges compound is connected by basement tunnels. If we get into the basement, we can get into any building."
We all shuffled to our feet and stood around the last portrait of Margaret Schilling.
"I'm in," Bishop said, and I nodded. Bishop was cool; we'd been partners for two semesters straight in woodshop. He said odd, grandiose things sometimes, but I liked him for it. Plus there was a pretty good chance that Mik would show himself with only Bishop around.
"I'll take you two to the exit," I told Natalie and Zach.
"Well, hey," Zach said. "What if I want to come?"
Natalie looked at him, stunned. "You want to go? What about Kolenski's three kegs?"
"Kolenski gets kegs every couple of weeks." Zach shoved his hands in his pockets. He had sobered up since they'd entered the Ridges, and now he just looked worn down. Even his hair had flattened. I'd written him off years ago, but the way he'd helped me find Jake's footprint and waylaid Natalie…maybe he wasn't such a garden-variety "dude."
"Who else can say that they did this the night after graduation?" he added with a shrug.
"So Natalie's the loose end?" I said. "Big surprise."
"Wait a second. It was my idea to follow you in the first place. And I…I want to see it."
"Really?" Zach asked her. "Even if it's dangerous?"
"I'm going to minor in history. It'll be like walking around inside of history."
I knew Natalie well enough to know that she was deluding herself, but when I opened my mouth to point it out, I saw something instead. Bishop did too.
"Apple." He pointed to the ground. "Guys. There's an apple."
A shiny, green Granny Smith apple sat in the doorway. I picked it up.
"Where the hell did that come from?" Zach asked, fear trilling his voice. "Is someone else here? That wasn't there a few minutes ago, right? Right?"
They all looked up and down the hall. Nothing.
"Maybe Jake's ghost put it there. Or Margaret's," I said. A thump of what could only be described as happiness resounded through my chest. It was foreign and weird, and yet welcome.
"You're smiling," Natalie said. "Why are you smiling? You never smile."
I rubbed the apple on my shirt and took a huge crunching bite. Natalie looked like she was going to pass out. I winked. "This way to the basement."
Cori McCarthy studied poetry and screenwriting before falling in love with writing for teens at Vermont College of Fine Arts. From a military family, Cori was born on Guam and lived a little bit of everywhere before she landed in Michigan. Learn more about her books at
CoriMcCarthy.com
Social Networking Links:
Tumblr-

http://youwereherebook.tumblr.com/
IndieBound-
http://ow.ly/Whe8J
Giveaway:
(2) Finished copies of You Were Here - Open to US/CAN only! Ends 3/31.