Welcome to my stop on the blog tour for WITH MALICE! Today I'll be sharing my review of the book with you - and don't forget to enter the giveaway! To follow the rest of the tour, check out the schedule below.
With Malice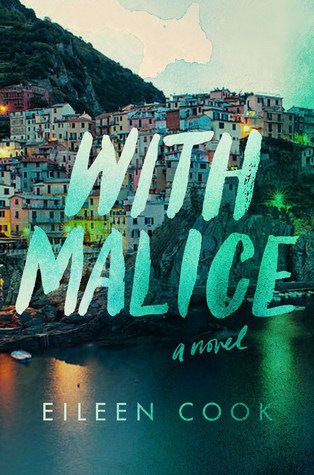 Author: Eileen Cook
Genre: YA Mystery/Thriller
Release Date: June 7, 2016
Publisher: HMH Books for Young Readers
Formats: Hardcover, ebook, audiobook
Find it: Amazon | Barnes & Noble | iBooks | Goodreads
Description:
A read about a teenage girl who wakes up in a hospital bed and cannot remember the last six weeks of her life, including the accident that killed her best friend--only what if the accident wasn't an accident?
Eighteen-year-old Jill Charron wakes up in a hospital room, leg in a cast, stitches in her face and a big blank canvas where the last 6 weeks should be. She comes to discover she was involved in a fatal accident while on a school trip in Italy three days previous but was jetted home by her affluent father in order to receive quality care. Care that includes a lawyer. And a press team. Because maybe the accident...wasn't an accident. Wondering not just what happened but what she did, Jill tries to piece together the events of the past six weeks before she loses her thin hold on her once-perfect life.
With Malice
is another fantastic young adult mystery that doesn't necessarily put one person against another - but a teenage girl against herself. I thought that the story was original and definitely different than most of the other books out there right now. The plot is an intriguing enigma, but it's also much more than that - it's also a really vivid character study on our main character, Jill Charron. Jill is a great lead for the book and I loved figuring out what really happened in Italy and the rest of her missing memories right alongside her throughout the novel. Another aspect that I really liked was how the author didn't go with a straight out narrative, but added in other documents - like transcriptions from interviews, newspaper articles, and events (such as Simone's funeral) - to help spice up the book and create a deeper and more complex view of what happened and of the two girls. These extras gave me a better understanding of Jill and what her friendship with Simone was like - but it also has more than one perspective, and they're not always right. Basically, I loved that the author used these to deepen the mystery and the overall plot. The other aspect that I really enjoyed was the first person point of view that was used. If you've read my reviews before, you know that I'm a huge advocate for this writing style because of the deeply personal connection the reader forges with the narrator. That was exactly the case with this novel.
The story is told from Jill's perspective, so we get to experience everything right along with her - as well as being privy to her most private thoughts, memories, fears, doubts, and so much more. As I said earlier, this book felt almost like a character study of Jill - so getting to "see" and "hear" everything from her point of view only strengthened that for me. I loved getting to know every little part of Jill, along with figuring out what happened during the past few weeks and in Italy. I don't do spoilers in my reviews, so I'm not going to comment much on the plot. It was very well written with great twists and turns the reader won't see coming, along with lots of vivid imagery and descriptions that made it feel as if I was inside the story myself. I definitely recommend this book to anyone who enjoys mysteries along with readers who like thrillers, suspense, and contemporary fiction. It's a really great book and I think everyone should give it a read.
Eileen Cook is a multi-published author with her novels appearing in eight different languages. Her books have been optioned for film and TV.  She spent most of her teen years wishing she were someone else or somewhere else, which is great training for a writer. Her newest book, WITH MALICE, will be out in June 2016. She's an instructor/mentor with the Simon Fraser University Writer's Studio Program.
You can read more about Eileen, her books, and the things that strike her as funny at
www.eileencook.com
. Eileen lives in Vancouver with her husband and two very naughty dogs and no longer wishes to be anyone or anywhere else.