My Name is Milena Rokva (Alexandra Gastone #2)
Author: T.A. Maclagan
Genre: YA Contemporary/Thriller
Release Date: July 12, 2016
Synopsis:
After seven years living as Alexandra Gastone, Milena Rokva is now free to be her true self, if only she knew who that was or had time to find out. Milena is in a race against time to bring down Perun, the very organization that trained her as a spy. Perun is no longer content to use their network of sleeper agents to protect her homeland and is maneuvered to take control of the world's energy markets, sending the globe into chaos.
Working with her surrogate grandfather, Albert Gastone, his CIA friend Brad and her old handler, Varos, Milena finds herself embroiled in an epic spy game teamed with friends whose endgames do not necessarily align with her own. The only person Milena can truly trust is herself.
Can Milena take down Perun, protect her fellow cadets and make a life for herself with her boyfriend, Grant, as well as the friends and family she's come to love as Alexandra Gastone? Buckle in for a wild ride as the Alexandra Gastone duology comes to a close.

Milena Rokva: A sleeper agent for Perun, a clandestine organization from her homeland of Olissa.

Phoebe Tonkin would be a perfect Alexandra/Milena. She has an exotic, European look and fabulous eyes which would look amazing with contacts to create the look of heterochromia.
Grant: The boyfriend who may or may not be able to come to terms with Milena's life as a spy.

Dylan O'Brien would make a great Grant because he's really cute but can still play someone a bit geeky and have it be believable. Adorkable!

Martine: The best friend

Martine is project runway meets punk and I can totally see Jessica Lu morphing into a cute little punk goddess!

Brad - A CIA agent

Brad is a CIA friend who joins Milena and Albert in hunting down the leaders of Perun. He's a sizzling hot CIA covert operative and is very James Bondesque. Theo James is a perfect fit as he's hotter than hot and is up for the role of James in the next Bond installment! Fingers crossed he gets picked!
Mistress: The leader of Perun

Cate Blanchett has the unique ability to look both sinister and beautiful at the same time, which would make her ideal to play Mistress.



Albert Gastone - Milena's "grandfather"

Christopher Plummer has the look of both a strong, sophisticated man as well as a sweet grandfatherly type, making him just right for Albert.

Zakhar Rokva - Milena's father

He wasn't chosen to play James Bond for nothing! Daniel Craig has such a steely persona and would be ideal as Milena's dad who is fatherly at times but also scary as hell!


Varos - Milena's ex-handler

Varos looks like a California surfer dude with some edge to him, so Alex Pettyfer would be damn near perfect for the part.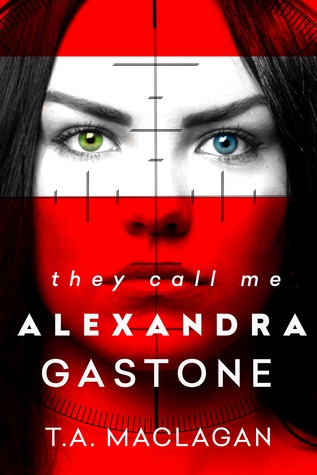 T.A. Maclagan is a Kansas girl by birth but now lives in the bush-clad hills of Wellington, New Zealand with her Kiwi husband, son and four pampered cats. With a bachelor's degree in biology and a Ph.D. in anthropology, she's studied poison dart frogs in the rainforests of Costa Rica, howler monkeys in Panama and the very exotic and always elusive American farmer. It was as she was writing her 'just the facts' dissertation that T.A. felt the call to pursue something more imaginative and discovered a passion for creative writing. They Call Me Alexandra Gastone is her first novel.