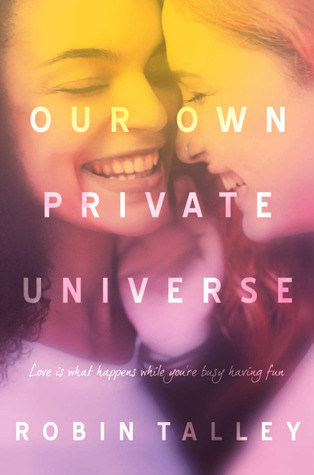 Our Own Private Universe
Author: Robin Talley
Genre: YA Contemporary Romance/LGBTQ
Release Date: January 31, 2017
Publisher: Harlequin Teen
Description:
Fifteen-year-old Aki Simon has a theory. And it's mostly about sex.

No, it isn't that kind of theory. Aki already knows she's bisexual—even if, until now, it's mostly been in the hypothetical sense. Aki has dated only guys so far, and her best friend, Lori, is the only person who knows she likes girls, too.

Actually, Aki's theory is that she's got only one shot at living an interesting life—and that means she's got to stop sitting around and thinking so much. It's time for her to actually do something. Or at least try.

So when Aki and Lori set off on a church youth-group trip to a small Mexican town for the summer and Aki meets Christa—slightly older, far more experienced—it seems her theory is prime for the testing.

But it's not going to be easy. For one thing, how exactly do two girls have sex, anyway? And more important, how can you tell if you're in love? It's going to be a summer of testing theories—and the result may just be love.
Our Own Private Universe is a new young adult contemporary romance that focuses on love, friendship, learning who you are, and accepting yourself. It's a great read for fans of the genre along with readers who enjoy LGBTQ issues, coming of age tales, and those wanting to diversify their shelves. Here are my pros and cons for the book:
Pros:
- Realistic and likeable main character in Aki
- Easy to empathize with the characters and what they're going through
- Universal issues along with topics dealing with LGBTQ
- Appeals to a wide audience
- First person point of view
Cons:
- I couldn't fully identify with Aki because we're so different. Even though the story is told from her perspective, I couldn't connect with her as much as I wanted to.
- I'm personally not a huge fan of contemporary fiction, especially romance, so this wasn't exactly my cup of tea. I definitely recommend it to fans of contemporary fiction, romance, young adult fiction, and coming of age stories.