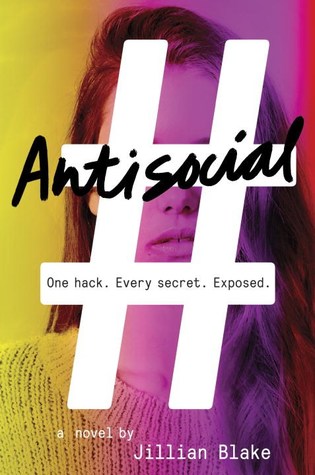 Antisocial
Author: Jillian Blake
Genre: YA Mystery/Thriller
Release Date: May 16, 2017
Publisher: Delacorte Press
Description:
6 hours and 30 minutes

Alexandria Prep is hacked in this whodunit set in the age of social media and the cloud.

Senior spring at Alexandria Prep was supposed to be for sleeping through class and partying with friends. But for Anna Soler, it's going to be a lonely road. She's just been dumped by her gorgeous basketball star boyfriend—with no explanation. Anna's closest friends, the real ones she abandoned while dating him, are ignoring her. The endearing boy she's always had a complicated friendship with is almost too sympathetic.

But suddenly Anna isn't the only one whose life has been upended. Someone is determined to knock the kings and queens of the school off their thrones: one by one, their phones get hacked and their personal messages and photos are leaked. At first it's funny—people love watching the dirty private lives of those they envy become all too public.

Then the hacks escalate. Dark secrets are exposed, and lives are shattered. Chaos erupts at school. As Anna tries to save those she cares about most and to protect her own secrets, she begins to understand the reality of our always-connected lives:

Sometimes we share too much.
Antisocial
is a thrilling young adult contemporary mystery that looks at some of the real problems social media and always being "connected" online can cause. The topic and plot are perfectly in sync with today's culture and makes the reader step back and really consider the things discussed in the story. I'm a huge fan of mysteries and thrillers, so this book was right up my alley. Here are my top pros and cons:
Pros:
Characters - Well rounded with distinct personalities and traits, especially our main character Anna. One of the big things with her is that she suffers from social anxiety disorder, and I love that the author wrote her this way. I myself suffer from SAD and I appreciate how realistic Anna's condition is portrayed. I also like that she's the main character, but she has her own problems and flaws - just like everyone else. It made it easy for me to identify with her right from the beginning.
Plot - A juicy mystery with an incredibly relevant story line. I always like trying to figure out the "bad guy" or who's behind it all before the main character, and this was a pretty hard one to crack. I liked all the twists and turns the story took on, especially when big secrets came to light.
Writing Style - Once again, this is a huge part of my reading experience and is one of the most important things about a book. The author chose my favorite style - the first person point of view - for the story, and I think it was the perfect fit. The novel is told from Anna's perspective, which made it easy to connect with her. I loved getting to know her on a deeply personal level. All of her inner thoughts, fears, dreams, hopes, and everything else is on display for us. It was a great choice for the writing style and I know that I wouldn't have had as positive an experience reading the book if it had been done otherwise.
Cons:
The only thing that sort of bugged me was how parts of the book felt pretty predictable - they were your standard and expected occurrences in this type of novel. Also, Anna could get a bit annoying at times - but, oddly enough, I can't really pinpoint why or what made me feel this way. Strange, but it happened. These are solely my own personal opinions and other readers will not have the same issues.
Overall, I would recommend this book to fans of YA mysteries, thrillers, suspense, contemporary, romance, and those looking for novels with highly relevant material.
JILLIAN BLAKE
grew up in New England, where she kept her deepest, darkest secrets password-protected. ANTISOCIAL is her first novel.