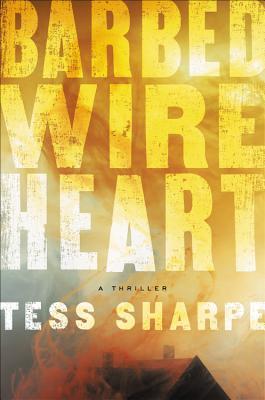 Barbed Wire Heart
Author: Tess Sharpe
Genre: Mystery/Thriller
Release Date: March 6, 2018
Publisher: Grand Central Publishing
Description:
A character-driven thriller with an incredibly tough young female protagonist--think Lisbeth Salander set in the world of Hillbilly Elegy--for readers of Winter's Bone and Bull Mountain.
Never cut the drugs--leave them pure.
Guns are meant to be shot--keep them loaded.
Family is everything--betray them and die.

Harley McKenna is the only child of North County's biggest criminal. Duke McKenna's run more guns, cooked more meth, and killed more men than anyone around. Harley's been working for him since she was sixteen--collecting debts, sweet-talking her way out of trouble, and dreading the day he'd deem her ready to rule the rural drug empire he's built.

Her time's run out. The Springfields, her family's biggest rivals, are moving in. Years ago, they were responsible for her mother's death, and now they're coming for Duke's only weak spot: his daughter.

With a bloody turf war threatening to consume North County, Harley is forced to confront the truth: that her father's violent world will destroy her. Duke's raised her to be deadly--he never counted on her being disloyal. But if Harley wants to survive and protect the people she loves, she's got to take out Duke's operation and the Springfields.

Blowing up meth labs is dangerous business, and getting caught will be the end of her, but Harley has one advantage: She is her father's daughter. And McKennas always win.
PRAISE FOR BARBED WIRE HEART:
"[BARBED WIRE HEART] introduces a major talent...This hard-edged thriller set in the gold rush country of Northern California... has a welcome, powerful feminist sensibility and with its relentless intensity, gritty atmosphere, and compelling father-daughter psychology, this promises to be one of the best books of 2018."
--- Kirkus (STARRED REVIEW)
"A pulsepounding thriller...masterfully written and constructed....With her powerful debut, Sharpe is definitely a name to watch."
--- Booklist (STARRED REVIEW)
"A high-tension thriller...[Harley is] relentlessly tough and profoundly compassionate...This is a deeply affecting story about the complex family dynamics of growing up in the midst of a drug-trade blood feud...Highly satisfying."
--- Publishers Weekly (STARRED REVIEW)
"Read this book! From the opening scene to the adrenaline-fueled finale, this is the rare thriller that packs an emotional punch as compelling as the deadly drug war that must be won at any cost. Harley is absolutely my kind of kick ass heroine. She's one of the most complex, fascinating, dangerous characters I've encountered in years. And BARBED WIRE HEART is the kind of novel that will stay with you long after the end."
--- Lisa Gardner, #1 New York Timesbestselling author of Find Her
"A terrific novel of suspense, heartbreak, morality and family. Harley McKenna is a remarkable character. The pages will turn themselves and stay with you for a long time."
--- David Baldacci, #1 New York Times bestselling author of End Game
"BARBED WIRE HEART is balanced on a knifepoint, a novel teetering between hope and fate, loyalty and betrayal. With a story of family and a narrator wrought hard as iron, Tess Sharpe has written a ballad of survival sung by a voice you'll never forget."
--- David Joy, bestselling author of Where All Light Tends To Go
"Harley McKenna is fierce and unforgettable, a protagonist who takes 'strong female character' to a new level. With shades of Winter's Bone and True Grit, the writing is pin-sharp, with an engaging, masterfully sustained voice, and an utterly captivating story. Tess Sharpe is a writer to watch."
--- Beth Lewis, author of The Wolf Road
"Harley McKenna is a young woman raised in a harsh world of meth and madness, a lone girl with a conscience raised by a lawless daddy. I love Tess Sharpe's clean-boned writing and tension that makes my heart gallop. Add the underdog fighting against heroic odds, and a universal cause that hits home, and I'm hooked. I am a fan!"
--- Leah Weiss, bestselling author of If The Creek Don't Rise
Born in a mountain cabin to a punk rocker mother, Tess Sharpe grew up in rural Northern California. She lives deep in the backwoods with a lot of dogs and a growing colony of slightly feral cats. She is the author of the critically-acclaimed YA novel Far From You and the co-editor of Toil & Trouble, a feminist YA anthology.
Author Links:
(2) Hardcover copies of BARBED WIRE HEART - Open to US residents only!