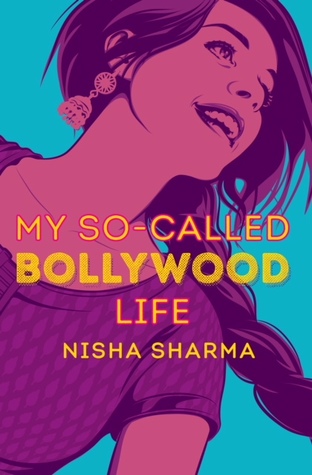 My So-Called Bollywood Life
Author: Nisha Sharma
Genre: YA Contemporary
Release Date: May 15, 2018
Publisher: Crown Books for Young Readers
Description:
Winnie Mehta was never really convinced that Raj was her soulmate, but their love was written in the stars. Literally, a pandit predicted Winnie would find the love of her life before her 18th birthday, and Raj meets all of the qualifications. Which is why Winnie is shocked to return from her summer at film camp to find her boyfriend of three years hooking up with Jenny Dickens. Worse, Raj is crowned chair of the student film festival, a spot Winnie was counting on for her film school applications. As a self-proclaimed Bollywood expert, Winnie knows this is not how her perfect ending is scripted.

Then there's Dev, a fellow film geek, and one of the few people Winnie can count on to help her reclaim control of her story. Dev is smart charming, and challenges Winnie to look beyond her horoscope to find someone she'd pick for herself. But does falling for Dev mean giving up on her prophecy, and her chance to live happily ever after? To get her Bollywood-like life on track, Winnie will need a little bit of help from fate, family, and of course, a Bollywood movie star.

Like an expertly choreographed Bollywood dance scene, Nisha Sharma's off-beat love story dazzles in the lime light.
My So-Called Bollywood Life is a young adult contemporary romance novel that fans of the genre and fans of diversity in YA fiction are going to really enjoy. Contemporary fiction isn't really my thing, and I think that plays a pretty big part in why I didn't exactly "click" with this book. That's totally on me and everything in this review is my opinion and nothing else. There are a lot of wonderful aspects of the story that help to set it apart from others like it in the genre. Here's a list of the major ones I found:
Diversity: This book is wholly entrenched in all parts of Winnie's life, a large part of that being her Hindi background. We learn a lot about that culture, their beliefs and customs, things that differ from our own culture and some things that are the same. It's fascinating to read about all these new and different aspects of a different culture that I'm not very familiar with and I applaud the author for including it so boldly and thoroughly in the story. A lot of readers and authors are pushing for more diversity in YA fiction - and this novel definitely fits into that category.
Characters: The main character, Winnie, is the focus of the book. We get to know her on a personal level - her interests, plans for her future, her beliefs and skepticism, hopes and fears, and outlook on love - to name a few. She's a complex character with a full personality with positive traits and flaws. I liked getting to know her and all the different parts of her life. Readers should be able to identify with her early on and easily connect with her character. The secondary characters are also quite rounded and each has their own distinct traits and personalities that set them apart from others and make their relationships with Winnie more vital to the story.
Plot/Writing: The plot is a typical YA contemporary romance. There's nothing exactly new here - basically teens who fall in love and then have to re-examine their lives and selves when things start to unravel and don't fit into their plans. Although it's nothing wholly original, the author adds her own flair to the book and helps to mold it into something fresh in the genre. The writing bothered me personally, only because I'm not a fan of the third person point of view style, which the author chose to use with the story. This is completely my own personal opinion and has nothing to do with the writing itself at all. The writing is well done with lots of vivid imagery and descriptions that help the reader slip inside Winnie's life and see things through her eyes as she experiences them. Definitely recommended for fans of the genre, readers who enjoy diverse characters, and romance.