The Forgiven Duke (Forgotten Castles #2)
Genre: YA Historical Romance
Release Date: July 1, 2012
Blurb:
Tethered by her impulsive promise to marry Lord John Lemon - the path of least resistance - Alexandria Featherstone sets off toward Iceland in search of her parents with a leaden heart. A glimpse of her guardian, the Duke of St. Easton - the path less traveled by - on Dublin's shore still haunts her. Will he come after her? Will he drag her back to London, quelling her mission to rescue her treasure-seeking parents, or might he decide to throw caution to the wind and choose Foy Pour Devoir: "Faith for Duty," the St. Easton motto. The Featherstone motto Valens et Volens: "Willing and Able," beats in her heart and thrums through her veins. She will find her parents and find their love, no matter the cost. The powerful yet wing-clipped Duke of St. Easton has never known the challenge that has become his life since hearing his ward's name. Alexandria Featherstone will be the life or the death of him. Only time and God's plan will reveal just how much this man can endure for the prize of love.
It felt right. She was right not to give up.
She imagined sailing around the world like this, with John at her back to protect her and keep her buoyed against life's gale winds and her love holding him up. They could do that- together-couldn't they? She couldn't imagine anything better.
The duke's face, her guardian duke, rose up from behind her close eyes. As jolting as the sharp wind, she saw his piercing green eyes. Like the screeching cry of an eagle, she saw him snap his head around and stare into her eyes, impaled, caught in a spell she'd never encountered before. Fear and then determination filled her as she stood up to it, met it with the sky blue of her gaze turned to blue topaz.
Emeralds and topaz.
Alexandria looked at John and saw gold- such a golden man. He would hold her and carry her and help her. He would be the setting for her light blue stone, allowing it to glitter and shine. He would support her against the blows of life while her guardian would glitter brighter than her. If Gabriel and she came together, they would have to make God their setting. Her breath caught with the thought.
About the Author:
Jamie Carie writes novels about fierce, passionate women; their dreams; their fears; their triumphs. Her deepest desire is to see her readers find that same passion as they follow their destiny and discover deeper intimacy with Jesus.
She lives in Indianapolis with her husband and three sons.
Connect with Jamie: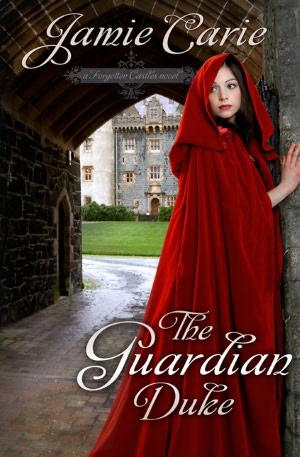 Don't forget to check out the first book in the series The Guardian Duke - out now! Click on the image to go to the Goodreads page.
The author is generously giving away a signed paperback copy of The Guardian Duke and The Forgiven Duke (Forgotten Castles # 1, #2) to one winner (US/CAN).