Welcome to my stop on the Most Likely to Succeed blog tour! Today I'm sharing a quick interview I did with the author - and don't forget to enter the giveaway! To follow the rest of the tour, click on the links/banner below.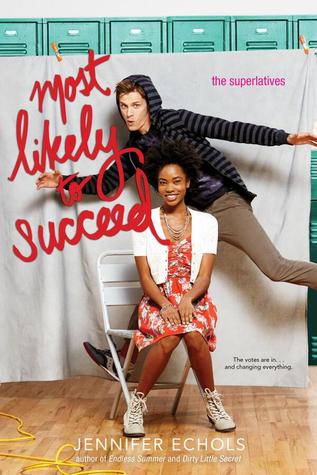 Most Likely to Succeed (Superlatives #3)
Author: Jennifer Echols
Genre: YA Contemporary Romance
Release Date: August 4, 2015
Publisher: Simon Pulse
In this sexy conclusion to The Superlatives trilogy from Endless Summer author Jennifer Echols, Sawyer and Kaye might just be perfect for each other—if only they could admit it.
As vice president of Student Council, Kaye knows the importance of keeping order. Not only in school, but in her personal life. Which is why she and her boyfriend, Aidan, already have their lives mapped out: attend Columbia University together, pursue banking careers, and eventually get married. Everything Kaye has accomplished in high school—student government, cheerleading, stellar grades—has been in preparation for that future.
To his entire class, Sawyer is an irreverent bad boy. His antics on the field as school mascot and his love of partying have earned him total slacker status. But while he and Kaye appear to be opposites on every level, fate—and their friends—keep conspiring to throw them together. Perhaps the seniors see the simmering attraction Kaye and Sawyer are unwilling to acknowledge to themselves…
As the year unfolds, Kaye begins to realize her ideal life is not what she thought. And Sawyer decides it's finally time to let down the facade and show everyone who he really is. Is a relationship between them most likely to succeed—or will it be their favorite mistake?
My high school class voted me Most Likely to Succeed and Most Academic! I was horrified. I thought of myself as an artsy person, and I didn't want to be seen as a nerd. This really got me thinking about how we view ourselves, and how that often doesn't match how other people see us. And that can inspire us to make a change, for worse or better.

2. Why did you choose to write YA contemporary romance?

I really love this genre and always have! I don't think there's another good reason to write. There are a lot easier ways to make money.

3. Favorite author/book?

This is such a tough question, but my favorite-ever YA contemp is probably still Nick and Norah's Infinite Playlist by David Levithan and Rachel Cohn.

4. Any tips for aspiring authors?

Like the title of my blog, Don't Forget to Write! We writers can get caught up in posting on social media and chasing the next publicity craze. None of it matters if you don't have great stories to sell, so that should always come first.

5. What's up next for you?

For the first time in a very long time, I'm not sure! All the editors who have purchased my books in the past have left my publisher, so I'm at a bit of a loose end. I'll just have to keep writing the books I want to read and crossing my fingers, and maybe someone else will like them, too.
Jennifer Echols was born in Atlanta and grew up in a small town on a beautiful lake in Alabama—a setting that has inspired many of her books. She has written nine romantic novels for young adults, including the comedy MAJOR CRUSH, which won the National Readers' Choice Award, and the drama GOING TOO FAR, which was a finalist in the RITA, the National Readers' Choice Award, and the Book Buyer's Best, and was nominated by the American Library Association as a Best Book for Young Adults. Simon & Schuster will debut her adult romance novels in 2013, with many more teen novels scheduled for the next few years. She lives in Birmingham with her husband and her son.
If the winner has one of the Superlatives book, he/she can choose another book instead written by Jennifer Echols.