Welcome to my stop on the blog tour for Julia Vanishes! I have a fantastic guest post by the author to share with you - and don't forget to enter the giveaway!
Julia Vanishes (Witch's Child #1)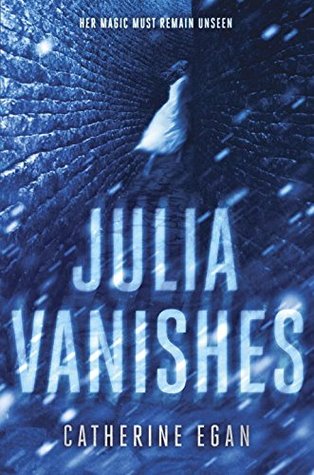 Genre: YA Paranormal/Thriller
Release Date: June 7, 2016
Publisher: Knopf Books for Young Readers
Description:
Julia has the unusual ability to be…unseen. Not invisible, exactly. Just beyond most people's senses.

It's a dangerous trait in a city that has banned all forms of magic and drowns witches in public Cleansings. But it's a useful trait for a thief and a spy. And Julia has learned—crime pays.

Her latest job is paying very well indeed. Julia is posing as a housemaid in the grand house of Mrs. Och, where an odd assortment of characters live and work: A disgraced professor who sends her to fetch parcels containing bullets, spiders, and poison. An aristocratic houseguest who is locked in the basement each night. And a mysterious young woman who is clearly in hiding—though from what or whom?

Worse, Julia suspects that there's a connection between these people and the killer leaving a trail of bodies across the frozen city.

The more she learns, the more she wants to be done with this unnatural job. To go back to the safety of her friends and fellow thieves. But Julia is entangled in a struggle between forces more powerful than she'd ever imagined. Escape will come at a terrible price.
* "There is a richness to this inaugural volume of the Witch's Child trilogy, and readers will be hard pressed to put it down." –Booklist, Starred
I wrote my first book when I was six years old. It was about a bunch of kids who lived on a farm and ran a lot of races. I had never been to a farm, but I'd never heard the old adage "write what you know" either. There were ten chapters in pencil that got progressively shorter and sloppier, and each chapter detailed one of the races. The fastest runner was named… ahem… Cathy, and every chapter ended thus: "CATHY WON THE RACE AGAIN!"
When I was finished, I showed my opus to my grandmother, who was visiting. My grandmother is a musician, and she had been married to a writer, so she knows a thing or two about the life of an artist. She was a violin prodigy growing up in Hungary and at six years old she was already a serious musician; she saw no reason to coddle me or offer false praise as adults so often do with children. She read my book, one page after another, and I watched her read with bated breath. When she was finished, she looked at me and said: "Darling, this is a very good first draft."
I didn't know what a draft was, but I solemnly promised her that I would revise the book "several times at least." She told me that being a writer would take commitment, and there would be – I remember this vividly because I was so struck by it – hundreds of rejections. I had to ask her what rejection was. It sounded very glamorous.
I took my book up to my room and I remember still the glow of pride I felt. My grandmother had not told me it was wonderful. Oh, much better than that – she had taken me seriously.
I've traded in my pencil for a laptop, I've come to love the slow work of revision, and Cathy doesn't win every race anymore, but otherwise not so much has changed. I'm still in it for the moment when Cathy breaks into a sprint, when Julia goes over the wall, and I know what I'm doing, I know what's on the other side, and my power is absolute.
CATHERINE EGAN grew up in Vancouver, Canada. Since then, she has lived on a volcanic island in Japan (which erupted while she was there and sent her hurtling straight into the arms of her now-husband), in Tokyo, Kyoto, and Beijing, on an oil rig in the middle of Bohai Bay, then in New Jersey, and now in New Haven, Connecticut. She is currently occupied with writing books and fighting dragon armies with her warrior children. You can read more about her at catherineegan.com. Follow her on Twitter at @ByCatherineEgan.
Giveaway: (1) Hardcover copy of JULIA VANISHES - Open to US only!