Welcome to my stop on the blog tour for SUFFER LOVE! Today I have a fun tens list post by the author to share with you - and don't forget to enter the giveaway!
Suffer Love
Author: Ashley Herring Blake
Genre: YA Contemporary Romance
Release Date: May 3, 2016
Publisher: HMH Books for Young Readers
Synopsis:
Hadley St. Clair's life changed the day she came home to a front door covered in slips of paper, each of them revealing the ugly truth about her father. Now as her family falls apart in the wake of his year-long affair, Hadley wants everyone - her dad most of all - to leave her alone.
Then she meets Sam Bennett, a cute new boy who inexplicably "feels like home" to Hadley. Hadley and Sam's connection is undeniable, but Sam has a secret about his family that could ruin everything.
Funny and passionate, Suffer Love is a story about first love, family dysfunction, and the fickle hand of fate.
Top 10 Favorite 2016 Debuts (In no particular order)
Hi, welcome my top 10 2016 debuts. I've loved so many books from my fellow Sweet 16ers and it was so hard to choose only 10. Know that this is by no means an exhaustive list—one, because I haven't read all of the debuts, and two, because there are so many that I wished I could've put on here, but just didn't have the space. So, without further ado…
From Goodreads:
Addison Sullivan has been in an accident. In its aftermath, she has memory lapses and starts talking to a boy that no one else can see. It gets so bad that she's worried she's going crazy.
Addie takes drastic measures to fill in the blanks and visits a shadowy medical facility that promises to "help with your memory." But at the clinic, Addie unwittingly discovers it is not her first visit. And when she presses, she finds out that she had certain memories erased. She had a boy erased.
But why? Who was that boy, and what happened that was too devastating to live with? And even if she gets the answers she's looking for, will she ever be able to feel like a whole person again?
So this sounds amazing, right? Because it totally is. Everett writes beautifully and emotionally and what really amazed me about this book was that it dealt with really difficult things and at its core, it's about owning that difficulty. It's about opening your eyes and living, even when it sucks, even if you need a ton of help, even after you go through something awful, even through years of depression. It's so beautiful. I can't wait for this book to be in the world.
Amanda Hardy is the new girl in school. Like anyone else, all she wants is to make friends and fit in. But Amanda is keeping a secret. She's determined not to get too close to anyone.
But when she meets sweet, easygoing Grant, Amanda can't help but start to let him in. As they spend more time together, she realizes just how much she is losing by guarding her heart. She finds herself yearning to share with Grant everything about herself--including her past. But Amanda's terrified that once she tells him the truth, he won't be able to see past it.
Because the secret that Amanda's been keeping? It's that she used to be Andrew.
Will the truth cost Amanda her new life--and her new love?
I'm calling this book right now for the Stonewall Award. Written by a trans woman, Amanda's story is one we so desperately need in a YA—a trans girl who's already transitioned and who's story is difficult and emotional and does not end tragically. This book will change and save lives.
8. The Mystery of Hollow Places by Rebecca Podos
From Goodreads:
All Imogene Scott knows of her mother is the bedtime story her father told her as a child. It's the story of how her parents met: he, a forensic pathologist, she, a mysterious woman who came to identify a body. A woman who left Imogene and her father when Imogene was a baby, a woman who was always possessed by a powerful loneliness, a woman who many referred to as "troubled waters."
Now Imogene is seventeen, and her father, a famous author of medical mysteries, has struck out in the middle of the night and hasn't come back. Neither Imogene's stepmother nor the police know where he could've gone, but Imogene is convinced he's looking for her mother. And she decides it's up to her to put to use the skills she's gleaned from a lifetime of reading her father's books to track down a woman she's only known in stories in order to find him and, perhaps, the answer to the question she's carried with her for her entire life.
This book contains the sort of writing that makes me almost angry it is so damn gorgeous. Part mystery, part coming of age, Imogene's story is full of longing and an aching that never really goes away and proves that love can coexist with messiness and sadness and missing and acceptance. It's so gorgeous.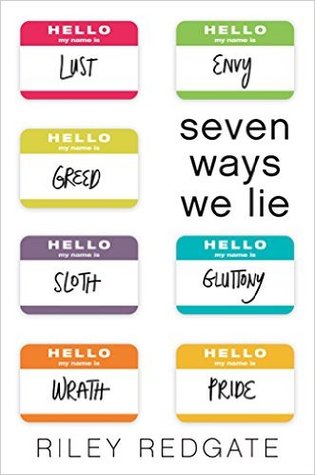 7. Seven Ways We Lie by Riley Redgate
From Goodreads:
Paloma High School is ordinary by anyone's standards. It's got the same cliques, the same prejudices, the same suspect cafeteria food. And like every high school, every student has something to hide—whether it's Kat, the thespian who conceals her trust issues onstage; or Valentine, the neurotic genius who's planted the seed of a school scandal.
When that scandal bubbles over, and rumors of a teacher-student affair surface, everyone starts hunting for someone to blame. For the unlikely allies at the heart of it all, the collision of their seven ordinary-seeming lives results in extraordinary change.
This book was so, so impressive to me. Seven, first person points of view and each one was distinct enough that I never had to wonder who I was reading. And I cared about every single one of them. That, my friends, is a hell of an accomplishment. This book was messy and authentic I really loved seeing pansexual reprentation on the page. Such a unique and wild ride.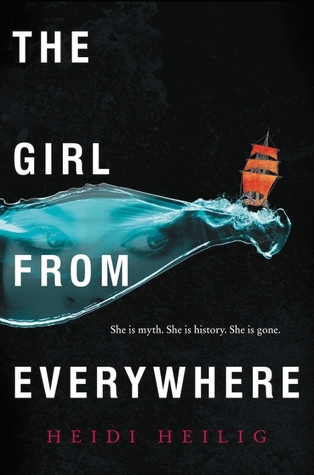 6. The Girl From Everywhere by Heidi Heilig
Nix has spent her entire life aboard her father's ship, sailing across the centuries, across the world, across myth and imagination.
As long as her father has a map for it, he can sail to any time, any place, real or imagined: nineteenth-century China, the land from One Thousand and One Nights, a mythic version of Africa. Along the way they have found crewmates and friends, and even a disarming thief who could come to mean much more to Nix.
But the end to it all looms closer every day.
Her father is obsessed with obtaining the one map, 1868 Honolulu, that could take him back to his lost love, Nix's mother. Even though getting it—and going there—could erase Nix's very existence.
For the first time, Nix is entering unknown waters.
She could find herself, find her family, find her own fantastical ability, her own epic love.
This book is simply a feast of words. Gorgeous writing, beautiful blending of fantasy and myth and history, Smart and witty banter, and a slow burning romance that left me wanting more. Way more, but in the best way. This fanstasy is already a favorite among so many and it's easy to see why. I cannot wait until book 2.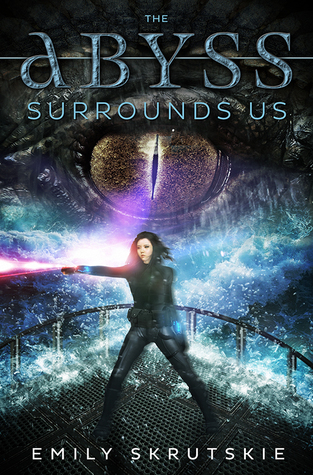 5. The Abyss Surrounds Us by Emily Skrutskie
For Cassandra Leung, bossing around sea monsters is just the family business. She's been a Reckoner trainer-in-training ever since she could walk, raising the genetically-engineered beasts to defend ships as they cross the pirate-infested NeoPacific. But when the pirate queen Santa Elena swoops in on Cas's first solo mission and snatches her from the bloodstained decks, Cas's dream of being a full-time trainer seems dead in the water.
There's no time to mourn. Waiting for her on the pirate ship is an unhatched Reckoner pup. Santa Elena wants to take back the seas with a monster of her own, and she needs a proper trainer to do it. She orders Cas to raise the pup, make sure he imprints on her ship, and, when the time comes, teach him to fight for the pirates. If Cas fails, her blood will be the next to paint the sea.
But Cas has fought pirates her entire life. And she's not about to stop.
This is, hands down, my favorite science fiction read ever. Cas is both tough and vulnerable, in an imposible situation, and sloooooooow burning romance between her and Swift is both compelling, sexy, and just absolutely perfect. I loved the action scenes, the setting on the water, and the monsters Cas wrangles. The beautiful thing about this book is that it is so damn complex. Cas's motivations, what she ends up learning about herself and the world and what she thought she always knew. It is just so damn good.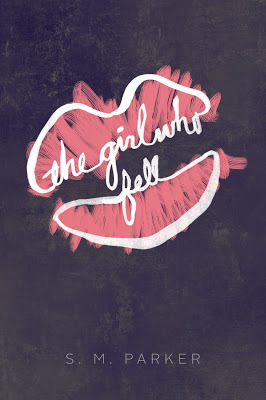 4. The Girl Who Fell by Shannon M. Parker
Zephyr Doyle is focused. Focused on leading her team to the field hockey state championship and attending her dream school, Boston College. But love has a way of changing things.
Enter the new boy in school: the hockey team's starting goaltender, Alec. He's cute, charming, and most important, Alec doesn't judge Zephyr. He understands her fears and insecurities—he even shares them. Soon, their relationship becomes something bigger than Zephyr, something she can't control, something she doesn't want to control.
Zephyr swears it must be love. Because love is powerful, and overwhelming, and…terrifying?
But love shouldn't make you abandon your dreams, or push your friends away. And love shouldn't make you feel guilty—or worse, ashamed. So when Zephyr finally begins to see Alec for who he really is, she knows it's time to take back control of her life. If she waits any longer, it may be too late.
From the beginning, Shannon Parker has always called this a "dark kissing book" and it is, in every way. The beautiful thing about this book is that Alec's transition from perfect boyfriend to threat is so slow, so subtle, so manipulative, that it makes it so clear how anyone could fall for this, anyone can get trapped in a toxic relationship. A girl is not stupid because she finds herself explaining away her boyfriend's fist. Zephyr is an amazing character, strong and vulnerable, messy and believable. This is a book every girl needs to read.
3. Dig Too Deep by Amy Allgeyer
With her mother facing prison time for a violent political protest, seventeen-year-old Liberty Briscoe has no choice but to leave her Washington, DC, apartment and take a bus to Ebbottsville, Kentucky, to live with her granny. There she can finish high school and put some distance between herself and her mother-- her 'former' mother, as she calls her. But Ebbottsville isn't the same as Liberty remembers, and it's not just because the top of Tanner's Peak has been blown away to mine for coal. Half the county is out of work, an awful lot of people in town seem to be sick, and the tap water is bright orange--the same water that officials claim is safe to drink. When Granny's lingering cold turns out to be something much worse, Liberty is convinced the mine is to blame, and starts an investigation that quickly plunges her into a world of secrets, lies, threats, and danger. Liberty isn't deterred by any of it, but as all her searches turn into dead ends, she comes to a difficult decision: turn to violence like her former mother or give up her quest for good.
It's hard to find a book that really tackles poverty and tackles it well. In this Erin Brockovich-style YA, the author not only deals with poverty in a very real way, she empowers her characters even in the worst of situations. I loved this book and it is such a unique story—I've never read anything like it—and I hope lots of teens find some comfort in this book.
2. How It Ends by Catherine Lo
There are two sides to every story.
It's friends-at-first-sight for Jessie and Annie, proving the old adage that opposites attract. Shy, anxious Jessie would give anything to have Annie's beauty and confidence. And Annie thinks Jessie has the perfect life, with her close-knit family and killer grades. They're BFFs…until suddenly they're not.
Told through alternating points of view, How It Ends is a wildly fast but deeply moving read about a friendship in crisis. Set against a tumultuous sophomore year of bullying, boys and backstabbing, the novel shows what can happen when friends choose assumptions and fear over each other.
Great friendship books are so rare, but this is one of them. It's messy, the two main characters go through a ton, hurt each other, deal with things badly, but they make it to the other side. I think this book really shows a very authentic portrait of teen female friendships and in the most beautiful and hopeful way.
1. American Girls by Alison Umminger
She was looking for a place to land.
Anna is a fifteen-year-old girl slouching toward adulthood, and she's had it with her life at home. So Anna "borrows" her stepmom's credit card an runs away to Los Angeles, where her half-sister takes her in. But LA isn't quite the glamorous escape Anna had imagined.
As Anna spends her days on TV and movie sets, she engrosses herself in a project researching the murderous Manson girls—and although the violence in her own life isn't the kind that leaves physical scars, she begins to notice the parallels between herself and the lost girls of LA, and of America, past and present.
In Anna's singular voice, we glimpse not only a picture of life on the B-list in LA, but also a clear-eyed reflection on being young, vulnerable, lost, and female in America—in short, on the B-list of life. Alison Umminger writes about girls, sex, violence, and which people society deems worthy of caring about, which ones it doesn't, in a way not often seen in YA fiction.
Every now and then, there comes a book that just hits you in the chest and you wish you had a time machine and you could go back and hand that book to your teenage self.
This book was one of those books for me. I think at the core of this book is the question of self-worth and that is one that so many girls wonder about over and over and over again into adulthood. Umminger's story reveals so much about American culture and the emotional violence we often ignore. It's going to be such an important book when it hits shelves.
Thanks for stopping by and sharing some of your favorite debuts of 2016 with us Ashley!
Ashley Herring Blake is a poet, teacher, and YA novelist. Her debut novel, SUFFER LOVE, follows two teens as they attempt to wade through an intense relationship complicated by their parents' infidelities. Ashley lives in Nashville, TN.