Welcome to Day #6 of the A Season for Fireflies Blog Tour!
To celebrate the release of A Season for Fireflies by Rebecca Maizel (6/28/16), blogs across the web are featuring exclusive content from Rebecca and 10 chances to win a copy of A Season for Fireflies, as well as a chance to win a Summer Reading Prize Pack in the Grand Prize Giveaway!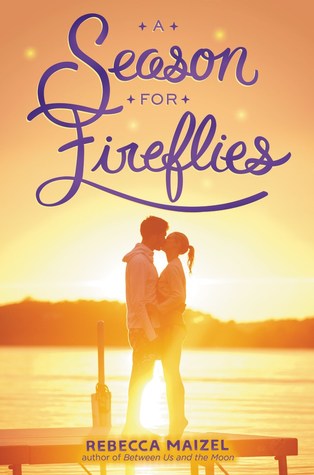 A Season for Fireflies
Author: Rebecca Maizel
Genre: YA Contemporary R

omance
Release Date: June 28, 2016
Publisher: HarperTeen
Description:
A captivating contemporary novel about first love, second chances, and the power of memory, by the author of Between Us and the Moon, perfect for fans of Sarah Dessen and Katie Cotugno.

One year ago, Penny Berne was the star of her high school's theater department, surrounded by a group of misfits and falling in love with her best friend, Wes.

Now her old friends won't talk to her, her first love, Wes, ignores her, and her best friend is the most popular girl in school. Penny is revered—and hated.

But when a near-fatal lightning strike leaves Penny with no memory of the past year, or how she went from drama nerd to queen bee, Penny realizes she may have the second chance she never expected.…
Ten Writing Tips
by Rebecca Maizel
1. Always go to the character. Let the emotion of that character dictate the story.
2. Write non-linearly. Let the emotion of what YOU want to write dictate when/what scene you should write. If you write in the order and not by what is moving you then you might miss out on an emotionally charged and important scene.
3. Make sure your trusted readers are trusted, meaning that they won't just tell you what you want to hear, but rather what you need to hear so that you can make your work as strong as it needs to be. People that tell you "it's good" without explaining why aren't helping you.
4. Many people, especially adults who read YA, process and analyze the character's motivations based on his/her adult sensibilities. Yet, you are writing for teens and about teens so your mature life experiences give you a sense of perspective that teenagers do not have. Remember that you are writing for teens and the emotional sensibility of a teen experience must be authentic.
5. That said, if you write for YA then your character needs to sound like a teenager. Many times people want to sound like a teen so much that the voice or dialogue just sounds forced. I highly suggest you listen to teens speak to one another, especially if you aren't around teens very often.
6. Write the WORST draft ever. Read Ann Lamott's essay about the worst first drafts. Give yourself the permission to write the horrible, messy draft so you can find the heart of the story - the emotions. That's why we read. For it to break our hearts. Kind of sadistic, right?
7. I can't remember where I heard this or read it, but it's so true. The energy you spend talking about your work to others or the creative ideas you have should be spent actually writing because you can/could exhaust your creative energy. Chances are you won't go back and work on your manuscript after you've spent hours talking about it.
8. Don't protect your characters and don't be afraid of hurting your characters. If you don't feel it, your characters can't feel it, and then we don't connect with the trials and tribulations that your characters have to experience.
9. Study craft. If you study why you love your favorite book or how it is effective/successful, you will learn how to write your books in the most successful and emotionally powerful way possible.
10. Read read read. I deeply believe if you want to write, you need to read. How can you write YA or write a novel if you don't read what's in the genre that you want to write?
a Rafflecopter giveaway