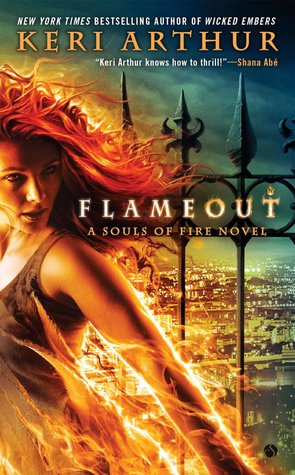 Flameout (Souls of Fire #3)
Author: Keri Arthur
Genre: Urban Fantasy
Release Date: July 5, 2016
Publisher: Signet
Description:
Emberly and her red hot partner, Jackson, have hit an impasse in their battle against the crazed humans infected by a plague-like virus derived from vampire blood. Their quest to unearth the leader of the group leads them into an ambush—and leaves Emberly at odds with her former lover, Sam, who's pressuring her to join his Paranormal Investigations Team.

To make matters worse, three local witches have been kidnapped—and if their spells fall into the wrong hands, Emberly's powers could end up smothered. With time ticking until the virus consumes the world, Emberly and Jackson must race to save the witches, find a cure, and smoke out their nemesis—or go down in a blaze of glory...
"Arthur has blown me away again. Her worlds are so complex and 'real.'...I highly recommend [her] books."
—USA Today
"A red hot new series that's destined to become an urban fantasy favorite."
—Rabid Reads
Check out the first two books in the series:
Keri Arthur
is the New York Times bestselling author of the Souls of Fire, Outcast, Dark Angels, and Riley Jenson Guardian series, has written more than thirty books. She's been nominated in the Best Contemporary Paranormal category of the Romantic Times Reviewers' Choice Awards and has won a Romantic Times Career Achievement Award for urban fantasy. She lives with her daughter in Melbourne, Australia. She can be found online on her
website
or follow her on
Twitter
.
(1) Winner will receive the entire Souls of Fire series in paperback - Open to US/CAN only!