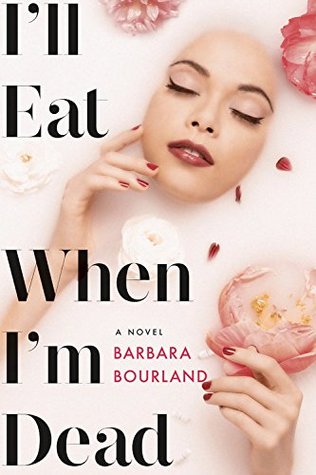 I'll Eat When I'm Dead: A Novel
Author: Barbara Bourland
Genre: Contemporary/Mystery
Release Date: May 2, 2017
Publisher: Grand Central Publishing
Description:
When stylish Hillary Whitney dies alone in a locked, windowless conference room at the offices of high-concept magazine RAGE Fashion Book, her death is initially ruled an unfortunate side effect of the unrelenting pressure to be thin.

But two months later, a cryptic note in her handwriting ends up in the office of the NYPD and the case is reopened, leading Det. Mark Hutton straight into the glamorous life of hardworking RAGE editor Catherine Ono, who insists on joining the investigation. Surrounded by a supporting cast of party girls, Type A narcissists and half-dead socialites, Cat and her colleague Bess Bonner are determined to solve the case and achieve sartorial perfection. But their amateur detective work has disastrous results, and the two ingenues are caught in a web of drugs, sex, lies and moisturizer that changes their lives forever.
Early Praise:
"Sex. Drugs. Dries van Noten. I'll Eat When I'm Dead

skewers Tribe Fashion with wit and wicked intelligence

. From Finnish toast-only restaurants to kobe-beef hide bikinis and grandiose faux feminism, Barbara Bourland makes you laugh out loud, and keep turning the page. A deft, smart, and hilarious debut." —Wednesday Martin, PhD, New York Times bestselling author of Primates of Park Avenue
"One part deliciously satirical send-up, one part murder mystery,
I'll Eat When I'm Dead
had me laughing out loud. This
bold and wildly entertaining
, in-your-face novel signals the arrival of Barbara Bourland as an exciting and savvy new voice." —
Sara Blaedel, #1 international bestselling author of The Forgotten Girls
"I can't put
I'll Eat When I'm Dead
down, I LOVE it.
Biting, funny, and brilliantly subversive
; Bourland's debut is like
The Devil Wears Prada
meets
American Psycho
." —
Louise O'Neill, author of Only Ever Yours and Asking For It
Bourland's
delightfully snarky
debut leans heavily on satire, poking razor-sharp fun at the beauty industry and the cut-throat world that Bess and Cat inhabit, and some scenes are
laugh-out-loud funny
. However, for all the outrageous (and eye-opening) focus on makeup, beauty, fashion, and of course, the desire to be thin, there are tantalizing glimpses of the vulnerability and insecurities beneath the surface. Death by beauty was never so much fun. —
Kirkus
"Delightfully, playfully skewering the fashion and beauty industries, this is
like The Devil Wears Prada with more feminism, plus murder.
" —
Booklist
"A reckless adventure in the world of starry-eyed models, dubiously sourced drugs, anorexia, and Instagram. But don't let the frills and flashbulbs fool you.
Barbara Bourland is here to show you that fashion is a deadly serious business.
" —
Mikita Brottman, author of The Maximum Security Book Club
"
A
smart feminist fashion manifesto
packed with pulpy, sexy, murderous intrigue. Highly entertaining!" —
Elizabeth Cline, author of Overdressed
"A compulsively readable,
satirical romp with a sharp and vicious twist
,
I'll Eat When I'm Dead
is a timely, smart, and perceptive mystery," —
K.J Howe, author of The Freedom Broker
"Funny, fierce, feminist." —Sarra Manning, Red (UK)
"Readers will devour this mystery by Bourland. What at first seems a death by natural causes turns into a murder that will have you guessing at whodunit up until the very end... A
fun, witty, edge-of-your-seat ride
through the demanding and sometimes dangerous world of fashion." —
RT Book Reviews
"
Thoroughly modern... stylish
. Bourland narrates at a quick New York City tempo, detailing perks, personal connections, and property values, both satirizing and celebrating fashion and feminism." —
Publishers Weekly
Barbara Bourland lives in Baltimore, MD. Formerly, she was a web producer for O, The Oprah Magazine, and OWN, The Oprah Winfrey Network. I'll Eat When I'm Dead is her first novel. She is currently at work on a sequel, entitled Maniacs. Her third novel, Pine City, is also forthcoming from Grand Central Publishing.
Author Links:
(2) Hardcover copies of I'll Eat When I'm Dead - Open to US/CAN only!