Flight
Series: The Crescent Chronicles, #1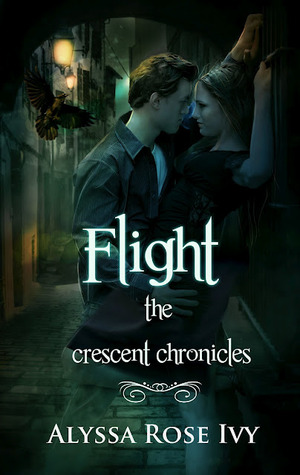 Author: Alyssa Rose Ivy
Genre: Mature YA/New Adult Paranormal Romance,
Publisher: self-published
Ebook
Words: 55,000
Book Description:
Sometimes you just have to take flight.
A summer in New Orleans is exactly what Allie needs before starting college. Accepting her dad's invitation to work at his hotel offers an escape from her ex-boyfriend and the chance to spend the summer with her best friend. Meeting a guy is the last thing on her mind—until she sees Levi.
Unable to resist the infuriating yet alluring Levi, Allie finds herself at the center of a supernatural society and forced to decide between following the path she has always trusted or saving a city that might just save her.
Closing my eyes, I tried to block it all out. Convinced I was about to die, I was only partly aware of his arms around me.
"You said you wanted an adventure," he said quietly, teasingly, as he tightened his hold.
My stomach dropped out as an intense and complete feeling of weightlessness engulfed me. The wind stung my face as memories flooded my mind. I thought of my parents, of all the things I wanted to tell them but never did, my friends from home, and the experiences I longed for. Quickly my thoughts changed to more recent memories, to Levi.
"Open your eyes," he whispered, somehow knowing my eyes were clenched shut.
Against my better judgment, I listened. The scream died in my throat as we hurtled toward the water that had seemed so beautiful from the roof above.
Review:
Flight is the first book in a brand new Mature YA paranormal romance series. The story follows Allie, who is visiting New Orleans to work at her father's hotel for the summer before starting college. While in New Orleans, Allie meets the obnoxious yet intriguing Levi. There is an instant attraction between them, but Levi is definitely hiding something from Allie. His secrets are more than she could ever have imagined and it turns out that her life will never be the same again.
I really enjoyed this book! The paranormal genre doesn't get much new subject matter very often, but the author gives us just that with her new breed of paranormal beings. I loved the uniqueness and the fresh voice that this novel brings to the genre. The plot is really interesting and moves at a good pace. I found the characters to be honest and realistic - if a bit annoying and flaky at times. The romance between Allie and Levi was cheesy during parts of the book, but mostly it was deliciously steamy and exciting.
The book was really well written and I loved every bit of it. The ending left me wanting more - I definitely wasn't ready for the book to end yet. It doesn't leave too much of an open ending, but leaves you wishing for the next installment to come out now. I am very excited to see where this series goes and am now eagerly awaiting the second book to come out. Highly recommended!!
About the Author:
Alyssa Rose Ivy lives in North Carolina with her husband and two young children. Although raised in the New York area, she fell in love with the South after moving to New Orleans for college. After years as a perpetual student, she turned back to her creative side and decided to write.
Find the Author:
Don't forget to follow the rest of the tour! Check out the entire tour schedule here.
a Rafflecopter giveaway