Welcome to my stop on the Coincidence blog tour! Today I have my review of the book to share with you. To follow along with the rest of the tour, check out the schedule below!
Coincidence
Release Date: February 18, 2014
Publisher: Harper Perennial
Description:
Thirty years ago, on the date in June known as Midsummer's Day, a young girl is mysteriously orphaned. Now, after a life of bizarre and troubling circumstances, she becomes obsessed with the idea that she too will die on Midsummer's Day . . . until she meets the one man who may be able to save her

Azalea Lewis's life has been dominated by coincidences-a bizarre, and increasingly troubling, series of chance events so perfectly coordinated that any sane person would conclude that only the hidden hand of providence could explain them.

On Midsummer's Day, 1982, at the age of three, Azalea was found wandering a fairground in England, alone, too young to explain what had happened to her or her parents. After a brief investigation, she was declared a ward of the court, and placed in foster care. The following year, the body of a woman-her mother-was found on a nearby beach, but by then everyone had forgotten about the little girl, and no connection was ever made. The couple who adopted Azalea brought her to Africa, where-on Midsummer's Day, 1992-they were killed in a Ugandan uprising while trying to protect their children. Azalea is spared on that day, but as she grows into adulthood, she discovers that her life has been shaped by an uncanny set of coincidences-all of them leading back to her birth mother, a single mother on the Isle of Man, and the three men who could have been her father, each of whom has played an improbable but very real role in her fate.

Troubled by what she has uncovered-and increasingly convinced that she, too, will meet her fate on Midsummer's Day-she approaches Thomas Post, a rational-minded academic whose specialty is debunking our belief in coincidence: the belief that certain events are linked, even predestined, by the hands of fate. Even as they fall in love, Thomas tries to help to understand her past as a series of random events-not a divinely predetermined order. Yet as the fateful date draws closer, Thomas begins to fear that he may lose her altogether, and she may throw herself into the very fate she fears.

A warm and romantic, yet intellectually fascinating, story of two souls trying to make sense of the universe and our place in it, Coincidence is an unforgettable novel by a storyteller of masterful gifts.
Coincidence
is the heart-warming and thought provoking story of Azalea and her life. Looking at various aspects of Azalea's life, most of which happen on Midsummer's Day, the author paints a portrait of Azalea as a person along with the strange occurrences and happenings throughout her life. Midsummer's Day plays a crucial role in Azalea's life - is it mere coincidence or something more? That is what the author leaves the reader to decide, along with a character in the novel - known as "The Coincidence Man." What exactly determines a coincidence? Are there even such things as coincidences - or is everything destined?
I found this to be a intriguing and incredibly fascinating novel. It had several layers to the story - not only on the fiction side of it, but also on the impact on the reader. The story - or rather mystery - of Azalea and her life sucked me in from the beginning. The circumstances that happen to and around her throughout her life are horrible - and they all seem to happen on a certain day each year - Midsummer's Day. Gathering all the evidence of each occurrence that happens on that date, Azalea begins to wonder if it's all mere coincidence. Or is it something more - something predetermined, like fate? Azalea, along with the reader, are left with lots of thought provoking questions and situations dealing with destiny, coincidence, and fate. I loved how the author used Azalea's amazing life story to weave not only a mystery and drama, but also questions the very fabric of that life and what we believe in. The story is told in a very fluid nature - it felt like it just effortlessly flowed and ended up being a quick read. The descriptions of the characters, settings, and plot were all detailed and allowed me to immerse myself in Azalea's life easily. Definitely recommended for fans of all types of fiction as well as those who like to get a bit more out of a book than just a great story.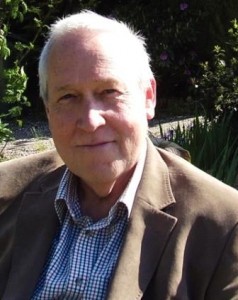 J. W. Ironmonger was born and raised in East Africa. This is his first novel published in the United States. He lives in rural Shropshire, England, with his wife, Sue.
Follow him on Twitter.
J. W.'s Tour Stops:
Tuesday, February 18th: missris
Thursday, February 20th: The 3 R's: Reading, 'Riting, and Randomness
Monday, February 24th: A Musing Reviews
Monday, February 24th: Luxury Reading
Tuesday, February 25th: Literary Lindsey
Wednesday, February 26th: Shall Write
Thursday, February 27th: The House of the Seven Tails
Wednesday, March 5th: Olduvai Reads
Thursday, March 6th: Love at First Book
Monday, March 10th: The Book Wheel
Tuesday, March 11th: Doing Dewey
Wednesday, March 12th: BoundbyWords
Thursday, March 13th: A Dream Within a Dream
Monday, March 17th: Anita Loves Books
Tuesday, March 18th: Patricia's Wisdom
Wednesday, March 19th: The Written Word
Thursday, March 20th: Priscilla and Her Books