Welcome to my stop on The Murder Complex blog tour! Today I have my review to share with you and don't forget to enter the giveaway! To follow the rest of the tour, click on the banner above.
The Murder Complex (Murder Complex #1)
Genre: YA Dystopia/Thriller
Release Date: June 10, 2014
Publisher: Greenwillow Books
Description:
An action-packed, blood-soaked, futuristic debut thriller set in a world where the murder rate is higher than the birthrate. For fans of Moira Young's Dust Lands series, La Femme Nikita, and the movie Hanna.

Meadow Woodson, a fifteen-year-old girl who has been trained by her father to fight, to kill, and to survive in any situation, lives with her family on a houseboat in Florida. The state is controlled by The Murder Complex, an organization that tracks the population with precision.

The plot starts to thicken when Meadow meets Zephyr James, who is—although he doesn't know it—one of the MC's programmed assassins. Is their meeting a coincidence? Destiny? Or part of a terrifying strategy? And will Zephyr keep Meadow from discovering the haunting truth about her family?

Action-packed, blood-soaked, and chilling, this is a dark and compelling debut novel by Lindsay Cummings.
The Murder Complex
is a gripping novel full of twists, turns, and suspense - all while being set in a dystopian world. The novel follows our main characters - Meadow Woodson and Zephyr James - as they each attempt to survive their hard everyday lives in the Shallows. Meadow has been trained by her father for years on how to fight and survive. Zephyr is a Ward - an orphan - who is shoved into an encampment and forced to clean up after all the murders that occur every night. He's dreamed about a moonlit girl for as long as he can remember, to discover that his mystery girl is Meadow. They both have secrets they are hiding - some known and others unknown - but they can't deny the pull they feel towards one another. As Meadow and Zephyr connect the pieces of the mystery behind the Shallows and the nightly murders, their lives are put in grave danger. Will they be able to discover the truth once and for all - and can they stop it?
Thrillers happen to be one of my favorite genres, and with the mix of mystery, romance, and a dystopian world - this book blew away any expectations I might have had before picking it up. It's definitely one of the most original and imaginative books I've read in a very long time. The story was fast paced and had a natural but eager flow to it - so much so that I devoured the entire book in one sitting. I found myself flying through the pages trying to figure out what was really going on and what would happen to both Meadow and Zephyr. There's a ton of action involved in the book, along with twists that you never see coming and situations that seem hopeless and completely frustrating. There was never a dull moment in the story and I loved that I was able to immerse myself into the book alongside the characters right from the beginning. Meadow is an awesome main character. She's smart, strong, determined, and a devoted sister and daughter who will do anything to ensure her family survives. I liked her fearless attitude and the way she set her mind on a task and never wavered. She also had soft spots - especially when it came to her younger sister, her mother, and then Zephyr. The story is told from alternating viewpoints - those of Meadow and Zephyr. I loved that the author used this technique because we get to see inside each of the characters throughout the book - how they are feeling, what they're thinking, etc. It makes the story and the characters all the more accessible and realistic for the reader. The writing was fantastic and it's hard to believe that this is the author's debut novel. The amount of detail and description about everything - from characters to setting and situations - made the novel feel real and alive. Like I mentioned, I was immediately drawn into the story and didn't come up for air until I was finished. I'm incredibly happy that this is a series because there is SO much potential for the story line. I can't wait to see what will happen next and what secrets we'll discover in the following book. The only problem now is having to wait so long for it to come out! I very highly recommend this book to fans of thrillers, mysteries, science fiction, and dystopias - and those looking for an unique blend of genres and a plot that will keep you on your toes the entire time!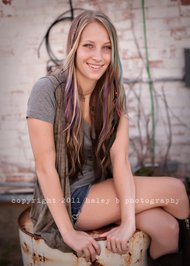 Lindsay Cummings is the 20-year-old author of THE MURDER COMPLEX, as well as its sequel, coming 2014 from Greenwillow Books/HarperCollins, and the MG trilogy THE BALANCE KEEPERS, coming Fall 2014 from Katherine Tegen Books/HarperCollins.
Lindsay deals with chronic fatigue, can't get enough of her two pesky German Shepherds, wolf cub, and two horses. She's still waiting on her letter from Hogwarts--it was probably just lost in the mail. You can follow Lindsay on twitter @lindsaycwrites
AUTHOR LINKS:
Win (1) of (3) signed hardback of The Murder Complex + swag pack (US Only)