Welcome to my stop on the Angel Killer blog tour! Today I'll be sharing my review of the book with you. Don't forget to check out all the other stops on the tour!
Angel Killer (Jessica Blackwood#1)
Release Date: September 23, 2014
Publisher: Bourbon Street Books
Description:
In this self-published bestselling e-book by a real illusionist—the first thriller in a sensational series—now available in paperback, FBI agent Jessica Blackwood believes she has successfully left her complicated life as a gifted magician behind her... until a killer with seemingly supernatural powers puts her talents to the ultimate test.

A mysterious hacker, who identifies himself only as "Warlock," brings down the FBI's website and posts a code in its place. It hides the GPS coordinates of a Michigan cemetery, where a dead girl is discovered rising from the ground...as if she tried to crawl out of her own grave.

Born into a dynasty of illusionists, Jessica Blackwood is destined to become its next star—until she turns her back on her troubled family, and her legacy, to begin a new life in law enforcement. But FBI consultant Dr. Jeffrey Ailes's discovery of an old copy of Magician Magazine will turn Jessica's carefully constructed world upside down. Faced with a crime that appears beyond explanation, Ailes has nothing to lose—and everything to gain—by taking a chance on an agent raised in a world devoted to seemingly achieving the impossible.

The body in the cemetery is only the first in the Warlock's series of dark miracles. Thrust into the media spotlight, with time ticking away until the next crime, can Jessica confront her past to embrace her gifts and stop a depraved killer?

If she can't, she may become his next victim.
Praise for Angel Killer:
"Mayne, the star of the A&E show Don't Trust Andrew Mayne, combines magic and mayhem in this delightful beginning to a new series…. Readers will look forward to Jessica's future adventures." —Publishers Weekly
"Angel Killer will have you compulsively turning the pages until the very end.…Andrew Mayne…lives up to the standards of well-known authors of thrillers." —Genii Magazine
Angel Killer
is the gripping and explosive first novel in a new thriller series featuring FBI agent Jessica Blackwood. Before becoming an agent, Jessica was a successful illusionist. She turned her back on the magician's lifestyle - including her family and the promising career in front of her. Jessica thought that she had left that part of her life behind her and moved on - until a twisted hacker named Warlock begins a sick game of cat and mouse with her. His feats seem supernatural and impossible to explain - and he's chosen Jessica as his audience - or his next target, if she can't catch him first.
The description of this book had me intrigued the moment I read it and although I was hesitant about a story mixing FBI agents and magicians, I decided to give it a shot. I'm so incredibly glad that I did because it was by far one of the best thrillers I've read this year. Thrillers are one of my favorite genres - I love being on the edge of your seat, not knowing what's going to happen next; all the twists and turns the author throws at you and the final showdown between villain and hero. I always try to figure out what's really going on and who's behind it all before the characters do, but I have to admit that I was at a loss for this book. I would build good theories, or so I thought, just to have them shattered by a huge twist in the plot. The story kept me on my toes and guessing to the very end - which is no small feat for an avid thriller fan like myself. When an author is able to do that, I know that I've come across extraordinary talent and usually a new favorite author. I don't do spoilers in my reviews, so I'll be brief in my descriptions and details of the book. The characters were well written, especially our heroine Jessica. She's a complex character with hopes, faults, and a somewhat odd past - all of which made her realistic and easy for me to identify with right from the start. The book is told in first person point-of-view from Jessica's perspective. I think this was the perfect choice for the book because the reader gets to know the main character on a much deeper and more personal level than other types of writing styles. We get inside access to her private thoughts, emotions, and inner dialogue - among other things. This only makes Jessica more realistic and easy to identify with, in my opinion.
The plot was compelling and I was immediately sucked into the book by the end of the prologue. The writing was very conversational in tone, which gave it a natural flow and made it an easy and fascinating story. The acute attention to detail along with the incredibly vivid imagery made the story come to life before my eyes - which is exactly what a powerful thriller is meant to do. I loved every aspect about the book and I'm ridiculously excited that this is just the first book in a new series. I can't wait to learn more about Jessica and to see what will happen next. This series has enormous potential, and is lucky enough to have an immensely talented author creating it. I honestly can't recommend this book highly enough! Fans of mysteries, suspense, and thrillers do not want to miss out on this one. Read it now. I promise you won't be disappointed and that you'll be dying for the next book's release just as much as I am.
One of the Best Thrillers I've Read This Year!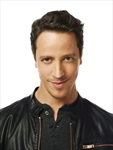 Andrew Mayne is the star of A&E's magic reality show Don't Trust Andrew Mayne, and has worked for David Copperfield, Penn & Teller, and David Blaine. He lives in Los Angeles.
Connect with him through his website, Facebook or follow him on Twitter.