Welcome to my stop on the blog tour for LOOP by Karen Akins! Today I have my review of the book to share with you - and don't forget to enter the giveaway to win a copy!
Loop (Loop #1)
Genre: YA Science Fiction/Time Travel
Release Date: October 21, 2014
Publisher: St. Martin's Griffin
Description:
At a school where Quantum Paradox 101 is a required course and history field trips are literal, sixteen year-old time traveler Bree Bennis excels…at screwing up.

After Bree botches a solo midterm to the 21st century by accidentally taking a boy hostage (a teensy snafu), she stands to lose her scholarship. But when Bree sneaks back to talk the kid into keeping his yap shut, she doesn't go back far enough. The boy, Finn, now three years older and hot as a solar flare, is convinced he's in love with Bree, or rather, a future version of her that doesn't think he's a complete pain in the arse. To make matters worse, she inadvertently transports him back to the 23rd century with her.

Once home, Bree discovers that a recent rash of accidents at her school are anything but accidental. Someone is attacking time travelers. As Bree and her temporal tagalong uncover seemingly unconnected clues—a broken bracelet, a missing data file, the art heist of the millennium—that lead to the person responsible, she alone has the knowledge to piece the puzzle together. Knowledge only one other person has. Her future self.

But when those closest to her become the next victims, Bree realizes the attacker is willing to do anything to stop her. In the past, present, or future.
Loop
is the exhilarating first book in a new young adult science fiction series. The series is set in the twenty-third century, where everything has advanced - medicine, technology, transportation - since our time in the twenty-first century. There are certain people who contain a specific gene that allows them to travel through time; and with the advanced technology of the future, scientists have created a microchip that will keep the Shifters (time travelers) safe and healthy, among other things. Our main character, Bree, is a Shifter. She attends the Institute, a school that specializes in time travel practice. Bree's life has gone downhill in the past few months, and when she makes a pretty big mistake on her midterm, she's all but certain that she'll lose her scholarship to the school. Things go from bad to even worse when Bree tries to go back in time to the place where her midterm problem happens so she can try to salvage the situation - but Bree ends up three years after her initial shift. Finn, the scrawny kid she met during her midterm shift, is now incredibly hot and just as annoying. He and his family seem to know a lot about what is going on in Bree's life - her future life. Finn refuses to give Bree any answers at the request of her future self - who just happens to be pretty close to him. The unthinkable happens when Bree is forced back to her present - and Finn goes with her. As if that isn't bad enough, things are getting downright strange at the Institute. Her friends are getting into accidents, things are coming up missing, and the culprit is attacking Shifters. After Bree and Finn put together the puzzle and realize who is behind everything, she realizes that only they hold the knowledge - except for her future self. Will Bree and Finn be able to stop the attacks before people she loves get hurt?
I have to admit that I don't often read time travel fiction, mostly owing to the fact that I get incredibly confused. I overthink every single part of the process and its effects - to the point where I'm totally lost and can't enjoy the book. I tried my hardest not to put too much extra thought into the inner workings of time travel when I read this book - and I have to admit that it did help, if just a little. The whole concept of time travel and different versions of yourself - it boggled my mind just like it always does. However, the other aspects of the book were so thrilling that I was able to focus on the story itself instead of all the tiny details that normally sidetrack me. The plot of the book was wholly original in itself, but the varying concepts along with the romance and the deeper layers of the story really made it stand out for me. Bree is a great main character - I liked her right from the start. She's a very realistic character considering the plot of the book. Bree's a typical teenage girl who has to deal with everyday problems just like regular teens. She has to keep her grades up in school so she doesn't lose her scholarship, her mother is in a coma and Bree tries everything she can think of to help figure out what exactly happened to her and how to bring her back, and that's before we get into the time traveling parts of her life. The story is told from Bree's point of view, so we get an inside look at the "real" her - sarcastic inner dialogue, unspoken fears and doubts, as well as her hopes and dreams. I loved getting to know Bree on such a personal level - I think it made her very easy to identify with. I don't really focus on the romance parts of books, but I have to point out that Bree and Finn were fun and fascinating to watch. I loved seeing them get to know each other and how their relationship grows (even if it is unconventional). Their romance gave an extra depth to the book that I believe makes it more appealing to a wider audience. Everything about the book is so well done that I can't begin to do it justice with a review. The writing was fast paced but flowed naturally. The setting was incredibly detailed and I loved learning all about the twenty-third century and their improvements on life. The entire story was told with vivid imagery and descriptions - to the point that I felt I was experiencing everything alongside Bree. There is so much happening in the book - the romance, the time traveling, and then the big mystery of the person they need to stop. I'm so excited that this is just the first book in what promises to be nothing short of an astounding and enchanting series! Fans of science fiction and time travel need to read this book. Don't miss out on it! I highly recommend it to fans of all genres and I'll be eagerly awaiting the next installment to see what happens next!
A New Favorite in Time Travel!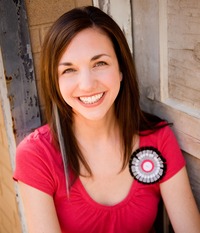 Karen Akins lives in the MidSouth where she writes humorous, light YA sci-fi. When not writing or reading, she loves lightsaber dueling with her two sons and forcing her husband to watch BBC shows with her.

Karen has been many things in her life: an archery instructor, drummer for the shortest-lived garage band in history, and a shockingly bad tic-tac-toe player.

Author Links:
(1) Winner will receive a finished copy of Loop. Open to US only!
* A HUGE thanks to St. Martin's Griffin for providing me with a review copy of the book and for sponsoring the giveaway!*