Welcome to my stop on the blog tour for My Thinning Years: Starving the Gay Within by Jon Derek Croteau. I'll be sharing my review of the book today and don't forget to enter the giveaway at the bottom of the post. To follow the rest of the tour, click HERE.
Author: Jon Derek Croteau
Genre: Nonfiction/Memoir/GLBT
Release Date: September 9, 2014
Description:
As a child, Jon tried desperately to be his father's version of the all-American boy, denying his gayness in a futile attempt to earn the love and respect of an abusive man. With this he built a deep, internalized homophobia that made him want to disappear rather than live with the truth about himself. That denial played out in the forms of anorexia, bulimia, and obsessive running, which consumed him as an adolescent and young adult.

It wasn't until a grueling yet transformative Outward Bound experience that Jon began to face his sexual identity. This exploration continued as he entered college and started the serious work of sorting through years of repressed anger to separate from his father's control and condemnation.

My Thinning Years is an inspiring story of courage, creativity, and the will to live—and of recreating the definition of family to include friends, relatives, and teachers who support you in realizing your true self.
Praise:

"A storyteller's job is to help others find their way. Show them choices. Perhaps avoid pitfalls. Jon Derek Croteau's powerful new book is a beacon shining on the puzzle of life."
—Bob Dotson, New York Times bestselling author of American Story, a Lifetime Search for Ordinary People Doing Extraordinary Things & NBC News/Today Show Correspondent

"I canceled plans to finish this book, and you will, too. Alternately riveting, heartfelt and horrifying, Jon Derek Croteau's descent into anorexia and obsessive running as a means to deny his true self is spellbinding."
—Eric Poole, author of Where's My Wand

"Jon Derek Croteau writes with unstinting honesty in his memoir MY THINNING YEARS, and courageously explores the harmful effects of bullies long after they've left the scene. But he also reveals the plain fact that the greatest bully we have to win over is often the one within us."
—James Lecesne, Co-Founder of THE TREVOR PROJECT

"A fantastic and harrowing story, told deeply and honestly…an emotional read…a generous, hopeful book I dearly hope gets into the hands of the many people who face similar hardships and desperately need to hear Jon Derek Croteau's story."
—Randy Harrison, actor, Queer As Folk

"MY THINNING YEARS is an inspiring story of one man's struggle with anorexia, with sexual identity, and his struggle for selfhood."
—Betsy Lerner, author of Food and Loathing

"The story of all of us as we come to terms with who we are. As I raced through these pages like the runner within them, I was reminded of my own trials… It takes courage to tell your story, to come out, to remove yourself from an abusive relationship. These pages help usher in our more tolerant present and our ever-evolving hearts."
—Award-winning singer/songwriter, Will Dailey

"MY THINNING YEARS is not just a labor of love but a love-letter to those who are struggling silently and suffering deeply with an eating disorder. Jon Derek Croteau sheds incredible insight and a heartfelt vision for surviving and thriving in your life."
—Jess Weiner, Author, Strategist and Self-Esteem Expert

"MY THINNING YEARS is an emotional journey through Jon Derek Croteau's struggle with eating disorders and accepting his identity as a gay man. In his struggle to accept his sexuality, Croteau attempts to erase his pain through trying to erase himself. Men's experiences of anorexia and bulimia are underrepresented in media, medical and personal accounts. This is an honest, powerful and raw insight into the self-punishing, self-harming and consuming force of eating disorders."
—Grace Bowman, author of Thin

"You do not need an eating disorder, homosexual tendencies, or a terrible parent to love this book. Croteau's story is a universal one, and his painful and hard-won transformation will both move and inspire you."
—Eric Poole, author of Where's My Wand? One Boy's Magical Triumph over Alienation and Shag Carpeting

"MY THINNING YEARS is a powerful story about overcoming adversity. Jon Derek Croteau's courage, honesty, and unfailing passion are sure to both inspire and keep the pages turning!"
—Jenni Schaefer, co-author of Almost Anorexic, author of Life Without Ed and Goodbye Ed, Hello Me
My Thinning Years: Starving the Gay Within
is the incredibly emotional and powerful memoir of the author's struggle with suppressing his sexual identity along the problems he developed as forms of denial - eating disorders, obsessive exercising, and an intense homophobia. I can honestly say that there wasn't one single part of this memoir that didn't move me in some way. The author writes with an honesty so blunt and open - by the end of the book I felt as though I knew him on a personal level and had gone through all of his struggles, defeats, acceptance, and love right along with him. The book is an emotional roller coaster the entire way through. I don't have visceral reactions (like crying) to books very often, but this one had me sobbing. During the first part - where the author describes his childhood, the emotional and physical struggles he endured, along with the pain - my heart broke for him. Although I don't have any of the same issues the author deals with in the book, I was easily able to identify with him because of traumatic and terrible things that I have experienced. I found that I was able to put myself in his shoes and it was as if I could feel the things he did - emotionally and physically. I almost had to stop reading at a few points because I was sobbing too hard and I was so upset that I didn't know if I could continue reading. I'm so glad that I did, because the second part of the book is one of hope and love. Even though I cried through some of this part of the book too, it was for completely different reasons. The strength and courage the author found in order to not only endure but to overcome his problems and come to accept himself was phenomenal. I was definitely cheering by the end of the book - where things had reconciled themselves. I find that it's hard to review a memoir because of the intense emotional writing along with the extremely personal nature of the story. I want to share what I thought, but it seems like I end up describing how it made me feel instead. Maybe that's the point of a memoir such as this - not only to tell the author's story but to take the reader on a journey. One that makes them stand back and think, to empathize with what the author is experiencing, and - finally - cheer when things are able to right themselves and healing begins. That's how the book went for me at least. It sent me through the entire range of emotions - from shock, anger, heartbreak, and despair to happiness, love, and hope. I highly recommend this book to every reader - regardless of your reading tastes. It's something that everyone can relate to on at least one level, and will leave you with something to think about - if it doesn't change a part of you completely - and you'll still be thinking about it for a long time after you finish.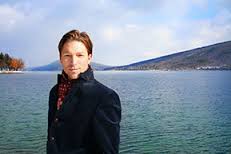 Jon Derek Croteau, Ed.D., is on a mission to make a difference and help those who are in need, disenfranchised, or impacted by discrimination. A senior partner at a leadership consultancy for higher education and healthcare clients across the globe, he is also deeply involved in several foundations and nonprofits, where he champions for equal rights and effective leadership. The author of three academic books on staff development and leadership as well as numerous articles for journals and periodicals, he is a highly sought-out speaker on the topics of eating disorder recovery, body image, and coming out. Jon legally married his partner, Justin Croteau, in 2007 and currently resides in Vermont.
Giveaway: (1) paperback copy of My Thinning Years (Open to US/CAN only!)