Balm
Author: Dolen Perkins-Valdez
Release Date: May 26, 2015
Publisher: Amistad
Format: Hardcover; ebook
288 pages



Description:
The New York Times bestselling author of Wench—called "a fascinating and tragic story" by NPR.org, "deeply moving" by USA Today, and "lyrical and devastatingly beautiful" by People magazine—returns to the Civil War era to explore history's next chapter in this powerful story of love and healing.
The Civil War has ended, and Madge, Sadie, and Hemp have each come to Chicago in search of a new life.
Born with magical hands, Madge has the power to discern others' suffering and ease it, but she cannot heal her own damaged heart. To mend herself and continue to help those in need, she must return to Tennessee to face the women healers who rejected her as a child.
Sadie can commune with the dead, but until she makes peace with her father, she, too, cannot fully engage her gift.
Searching for his missing family, Hemp arrives in this northern city that shimmers with possibility. But redemption cannot be possible until he is reunited with those taken from him.
In the bitter aftermath of a terrible, bloody war, as a divided nation tries to come together once again, Madge, Sadie, and Hemp will be caught up in an unexpected battle for survival in a community desperate to lay the pain of the past to rest.
Beautiful in its historical atmosphere and emotional depth, Balm is a stirring novel of love, loss, hope, and reconciliation set during one of the most critical periods in American history.

Balm is an enchanting historical fiction novel that explores the lengths people will go to find happiness and love, along with the deep topics of grief, loss, love, discovering who you are as a person, and find those dear to you whom you thought were long gone. The novel tells the story of three separate main characters - Madge, Sadie, and Hemp. On the surface, these three people have nothing really in common - but underneath they are all the same, learning the same difficult life lessons and realizing that they alone have the power to determine what will become of their lives.
The three main characters were all well rounded with distinct personalities, quirks, and flaws. They become increasingly realistic as the novel progresses, and we are lucky enough to watch them all grow and transform before our eyes. I loved getting to know each of them on a personal level, which allowed me to identify with them easily and made it all the more enjoyable to watch their characters slowly change and grow. Each of them has a unique back-story which helps explain why they came to Chicago in the first place, along with who they are as individuals and how it all comes together to form a narrative unique to their lives. Having three main characters isn't very common, but the author was able make each one of them original and different from the others that it was easy to follow each story line without getting confused. The author wrote in the third person point of view, which allows the reader to get to know each character in a somewhat personal manner. I almost always prefer the use of first person point of view because of the intense connection the reader is able to make with the character, but in this case, I feel that the author made the right choice by using the third person POV. Otherwise, the story would get too convoluted and confused - leaving the reader unable to identify with any of the characters or their stories.
The writing was very well done with extreme attention to detail and vivid imagery. The author's use of abundant description really brought the story to life, especially the world that the author creates for the book. I did feel like some of the descriptions drug on and were overdone, which took attention away from the main story and left the reader both a bit bored and disengaged from the story. The story itself is fascinating and I loved learning about each of the three characters and their personal tales. Their lives were each mesmerizing and drew me in for different reasons. I absolutely loved reading about Sadie's ability to communicate with the dead and Madge's healing ability. Hemp's mission to find his wife was incredibly touching, and I felt myself easily empathizing with all three of them throughout the book. I'm not a huge fan of historical fiction, which I think is part of the reason that I wasn't able to get full drawn into the novel, along with the small issues with the overuse of descriptions and details. Overall, it was a wonderful story filled with a wide range of emotions and deep concepts that effect each of us at one point or another in life. I highly recommend this book for fans of historical fiction - they are almost guaranteed to have a different experience than I did while reading. Also, I think readers who like general fiction, literary fiction, and books that revolve around the human condition will really enjoy this novel.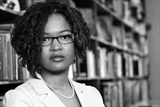 Dolen Perkins-Valdez is the author of the New York Times bestselling novel Wench. Her fiction has appeared in the Kenyon Review, StoryQuarterly, StorySouth, and elsewhere. In 2011 she was a finalist for two NAACP Image Awards and the Hurston-Wright Legacy Award for fiction. She was also awarded the First Novelist Award by the Black Caucus of the American Library Association. She teaches in the Stonecoast MFA program in Maine. A graduate of Harvard and a former University of California President's Postdoctoral Fellow at UCLA, Dolen Perkins-Valdez lives in Washington, D.C., with her family.