Welcome to my stop on the blog tour for The Festival of Insignificance! Today I'll be sharing my review of the book with you - and don't forget to check out the other stops on the tour! The schedule can be found HERE.
The Festival of Insignificance
Author: Milan Kundera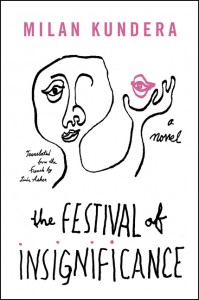 Genre: French Fiction/Literature
Release Date: June 23, 2015
Publisher: Harper
Format: Hardcover
128 pages
Description:
Casting light on the most serious of problems and at the same time saying not one serious sentence; being fascinated by the reality of the contemporary world and at the same time completely avoiding realism—that's The Festival of Insignificance. Readers who know Kundera's earlier books know that the wish to incorporate an element of the "unserious" in a novel is not at all unexpected of him. In Immortality, Goethe and Hemingway stroll through several chapters together, talking and laughing. And in Slowness, Vera, the author's wife, says to her husband, "You've often told me you meant to write a book one day that would have not a single serious word in it . . . I warn you: watch out. Your enemies are lying in wait."
Now, far from watching out, Kundera is finally and fully realizing his old aesthetic dream in this novel, which we may easily view as a summation of his whole work. A strange sort of summation. Strange sort of epilogue. Strange sort of laughter, inspired by our time, which is comical because it has lost all sense of humor. What more can we say? Nothing. Just read.

The Festival of Insignificance
is both intriguing and perplexing at the same time. The book itself was easy to read - it's broken down into seven parts, each filled with several small anecdotes. There are overlapping characters who we meet in one story only to have them reappear a little while later. Some of the narratives even discuss overarching ideas that pop up at different times throughout the book. For me, these overlaps in both characters and ideas helped to connect the short narratives to one another - and gave the book a kind of coherence that was otherwise lacking. I've never read any of the author's other works, but after reading more about his writing style, it seems that he is well-known for this type of structure and writing. I have to admit that while most of the short stories made sense to me and I could follow what was going on and being said - the overall book left me utterly confused. There were a lot of different philosophies and ideas that the author spoke of throughout the novel that I couldn't understand in the least. After finishing the book, I was left feeling dazed and really had no idea what I just read - or what it was supposed to be. I honestly feel that I missed the entire point of this book - if there was one to begin with. Readers who are familiar with the author's others works and his writing will have a much better understanding of what's really being said throughout the book. Those who are fans of the author and enjoy his writing style (or at least understand it) will have a hugely different experience than I did. It feels like there's something both amusing and poignant hidden in these pages, but I just don't have the right tools to access it right now - but I'd like to. This is certainly a book that I'll revisit sometime in the future after reading several of the author's other texts. Hopefully at that point in time, I'll be able to understand and appreciate what the author is saying at both face value and subliminally.
The Franco-Czech novelist Milan Kundera was born in Brno and has lived in France, his second homeland, since 1975. He is the author of the novels The Joke, Farewell Waltz, Life Is Elsewhere, The Book of Laughter and Forgetting, The Unbearable Lightness of Being, and Immortality, and the short-story collection Laughable Loves—all originally written in Czech. His most recent novels Slowness, Identity, and Ignorance, as well as his nonfiction works The Art of the Novel, Testaments Betrayed, The Curtain, and Encounter, were originally written in French.

Purchase Links: Amazon | IndieBound | Barnes & Noble