Welcome to my stop on the blog tour for A Madness So Discreet! Today I'll be sharing my review of the book with you - and don't forget to enter the awesome giveaway! To follow the rest of the tour, click on the banner above!
A Madness So Discreet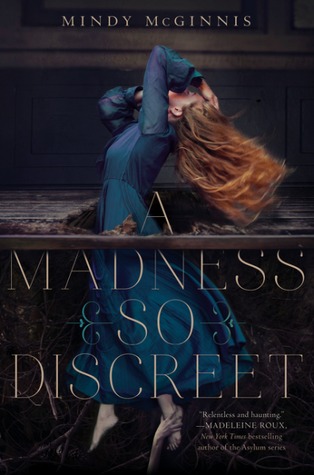 Genre: YA Historical Mystery/Thriller
Release Date: October 6, 2015
Publisher: Katherine Tegen Books
Formats: Hardcover, audiobook, ebook
Description:
Grace Mae knows madness.

She keeps it locked away, along with her voice, trapped deep inside a brilliant mind that cannot forget horrific family secrets. Those secrets, along with the bulge in her belly, land her in a Boston insane asylum.

When her voice returns in a burst of violence, Grace is banished to the dark cellars, where her mind is discovered by a visiting doctor who dabbles in the new study of criminal psychology. With her keen eyes and sharp memory, Grace will make the perfect assistant at crime scenes. Escaping from Boston to the safety of an ethical Ohio asylum, Grace finds friendship and hope, hints of a life she should have had. But gruesome nights bring Grace and the doctor into the circle of a killer who stalks young women. Grace, continuing to operate under the cloak of madness, must hunt a murderer while she confronts the demons in her own past.

In this beautifully twisted historical thriller, Mindy McGinnis, acclaimed author of Not a Drop to Drink and In a Handful of Dust, explores the fine line between sanity and insanity, good and evil—and the madness that exists in all of us.
A Madness So Discreet
is a compelling and dark historical young adult thriller that will leave fans of the genre begging for more. Thrillers are one of my favorite genres and the description of the book had be intrigued from the start. I wasn't sure what to expect - the plot sounded fascinating and full of twists - but there are so many times when a book sounds like it's going to be amazing, only to disappoint you when you finally have the chance to read it. Luckily for me - and everyone else - this was definitely not the case with this novel. It lived up to it's description and then kept going - far surpassing anything I might have hoped for.
Our main character, Grace, is a very complex young woman. She has layers upon layers of secrets, emotions, memories, and other aspects of her personality and history - that are slowly peeled away and revealed a little at a time throughout the story. We get to know Grace in great detail because of the way her character is written - I found myself connecting with her and rooting her on from the very first pages. Her story is one full of sorrow, injustice, hope, acceptance, and self discovery. I loved watching Grace's character change and grow during the book. She starts off in a horrific place in her life - both physically and emotionally/mentally - and by the time the story has ended, she has found her way in life - one with purpose, acceptance, and hope. The changes in Grace's character are quite profound and easy to see happening during the story. I found her to be strong, smart, and inspiring - which are all fantastic traits for a female lead.
The plot itself is wonderfully unique and unlike anything I've ever read before. It's set back in time where social classes were still a big thing - the perfect setting for the story to take place. The author uses vivid imagery and detailed descriptions to bring her world to life before our eyes - and I found myself easily slipping inside this world from the beginning pages of the book. Everything was written so well that I had no problem envisioning myself alongside Grace throughout the book, experiencing everything right alongside her. It's a creepy, mysterious setting to begin with - so when you can bring the reader inside that world, it creates a whole new depth to the book. Which I absolutely loved. There are several original features in the story - from the in-depth descriptions of the asylums to the serial killer and especially Grace's complicated life and mind intertwined inside it all. To me, it felt like there were two stories happening at once - the physical one that takes place and the one that happens to Grace's character as she changes and grows throughout the novel. The author did a magnificent job of blending these two stories into one without creating any confusion and still throwing twists and turns in to throw us off. The idea of madness in the book was also intriguing - as we come to see, there are several types of madness and insanity - with most of us possessing at least a small bit in ourselves. Grace has to fight demons - both within her memories and herself, as well as the murderer she is trying to find before he kills more women. In my opinion, Grace's personal story is just as important - if not more so - than the actual plot that contains the asylum and the killer. It speaks to the author's immense talent that she is capable of creating such a complex story filled with twists and turns as well as dealing with the idea of madness in several different ways at once. I very highly recommend this book to fans of the genre - you won't be disappointed with this one! I would also recommend it to fans of mysteries, historical fiction, suspense, and those looking for a riveting novel that won't be forgotten any time soon.
Mindy McGinnis is an assistant YA librarian who lives in Ohio and cans her own food. She graduated from Otterbein University magna cum laude with a BA in English Literature and Religion. Mindy has a pond in her back yard but has never shot anyone, as her morals tend to cloud her vision.
Giveaway:
(1) Winner will receive a signed finished copy of A MADNESS SO DISCREET - US Only!