Hey everyone! Welcome to my stop on the Illuminae blog tour! I'm SO excited to be a part of the tour! Read on for my review of the book - and then enter to win your own finished copy!

Illuminae (The Illuminae Files #1)
Authors: Amie Kaufman and Jay Kristoff
Genre: YA Science Fiction/Dystopia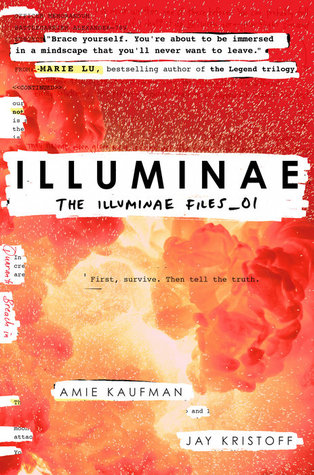 Release Date: October 20, 2015
Publisher: Knopf Books for Young Readers
608 pages

Description:

This morning, Kady thought breaking up with Ezra was the hardest thing she'd have to do.

This afternoon, her planet was invaded.

The year is 2575, and two rival megacorporations are at war over a planet that's little more than an ice-covered speck at the edge of the universe. Too bad nobody thought to warn the people living on it. With enemy fire raining down on them, Kady and Ezra—who are barely even talking to each other—are forced to fight their way onto an evacuating fleet, with an enemy warship in hot pursuit.

But their problems are just getting started. A deadly plague has broken out and is mutating, with terrifying results; the fleet's AI, which should be protecting them, may actually be their enemy; and nobody in charge will say what's really going on. As Kady hacks into a tangled web of data to find the truth, it's clear only one person can help her bring it all to light: the ex-boyfriend she swore she'd never speak to again.

Told through a fascinating dossier of hacked documents—including emails, schematics, military files, IMs, medical reports, interviews, and more—Illuminae is the first book in a heart-stopping, high-octane trilogy about lives interrupted, the price of truth, and the courage of everyday heroes.
Praise:
"Not only is ILLUMINAE a twisting, heart-pounding story moving at the speed of light, but it is a truly beautiful novel that redefines the form. I have never read anything like it.
And it certainly filled the BATTLESTAR GALACTICA shaped hole in my heart."
—Victoria Aveyard bestselling author of Red Queen
"An edge of your seat thrill ride that left me breathless. Genre: Undefinable. Novel: Unforgettable."
—Kami Garcia, bestselling coauthor of Beautiful Creatures & author of Unbreakable
"Ambitious, heartbreaking, and out-of-this-world awesome."—Kirkus Reviews, starred review
"An exuberant mix of space opera, romance, zombies, hackers, and political thrills, told with eccentric aplomb. ILLUMINAE is both the weirdest and most heartfelt thing you'll read this year. "
—Scott Westerfeld, author of Uglies and Zeroes
"Absolutely brilliant. This is the sci-fi I've been waiting for!"
—Beth Revis, bestselling author of Across The Universe on Amie Kaufman's These Broken Stars
Illuminae
is by far one of the most unique and riveting novels I've ever read. If you're a fan of YA and haven't heard of this book - you must've been living under a rock or on a deserted island. I normally do a small recap of the book at the beginning of my reviews, but this one doesn't need it. The description says all you really need to know about the essentials and I'm not going to waste time rewording it all.
This is one of those books that you loved so incredibly much and you want to share it all with everyone - but you just can't seem to find the right words and no matter how hard you try, it just won't ever be good enough to make others understand your reasoning and passion. It's bittersweet - the book was so amazing that it blew your mind, but when you try to share your reasoning for it - you get all tongue-tied and end up rambling. That's obviously what's happening here - and I apologize in advance. My mind is still attempting to recover from reading this book and it's hard to form coherent sentences at this point. I'll try to stick to the basics:
I enjoy science fiction and dystopian novels, but they aren't any of my automatic go-to genres, so I was a bit hesitant at first. Add on top of that all the crazy hype this book has been getting for the past few months - that just made me more wary. In most cases, when a book gets a ton of hype, it falls short of my hopes and expectations - which had been raised due to said hype - and that really sucks. I decided to go for this one though, primarily because of the writing style (which I'll talk about in a minute). I was blown away. For once, it lived up to - and maybe even exceeded - my expectations that all the buzz created. If you take away nothing else from this review, let it be this: Believe all the hype and praise you've been hearing about this novel. It's all true and then some. You NEED to read this book - and I don't care if you like science fiction or not. Every single reader should experience this book. End of story - no questions asked. READ THIS BOOK NOW.
Every single aspect is phenomenal. I could go on and on about each thing I loved, but it would be redundant and unnecessary. The characters were fantastic and I enjoyed getting to know both Kady and Ezra, and I'm excited to see where they're headed in the next installment. The plot was wholly original and captivating, even though I don't normally gravitate towards this genre. The writing itself was magnificent all around - from the detailed descriptions of the settings and happenings, to the fast pace and vivid imagery. The writing style is by far the crowning glory of the entire novel, in my opinion. It's not told in the normal narrative form, but rather in a collection of documents - emails, transcripts of interviews, classified reports, files, and more - that are gathered in a dossier that has been put together by the Illuminae group who has been hired to find out all they can about the incidents and people in question. I've never read a book done in this style before and I absolutely adored every single second of it. I think the use of this style created an air of mystery and suspense - and it had me devouring each page as fast as I was able, so I could find out what was going to happen next. I'll be eagerly and impatiently awaiting the next installment in the trilogy to be released, and I know I'll be re-reading it several times in the interim. I honestly can't recommend this book highly enough to everyone - regardless of your normal genre preferences. This is truly a breath of fresh air not only to science fiction and dystopian novels, but to the entire YA genre as a whole.
One of the best books I've ever read - a new all time favorite!
Author Links:
http://www.amiekaufman.com/
http://www.twitter.com/AmieKaufman
https://www.facebook.com/AmieKaufmanAuthor
http://amiekaufman.tumblr.com/
http://instagram.com/amiekaufmanauthor
http://www.pinterest.com/amiekaufman/
Giveaway:
(1) Finished Hardcover Copy of Illuminae - Open to US/CAN only!
a Rafflecopter giveaway