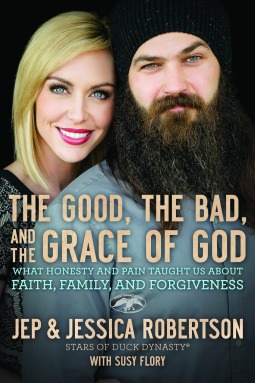 The Good, the Bad, and the Grace of God: What Honesty and Pain Taught Us About Faith, Family, and Forgiveness
Authors: Jep Robertson and Jessica Robertson with Susy Flory
Genre: Nonfiction/Biography/Memoir/Christianity
Release Date: June 23, 2015
Publisher: Thomas Nelson
Description:
A Moving Story of Redemption and Second Chances
Jep Robertson, the youngest son of Duck Commander Phil Robertson, and his wife, Jessica, open up about their personal trials, their early years together, and the challenges that might have destroyed them both had the grace of God not intervened. Jep describes being molested as a child and his reluctance to tell anyone until only a few years ago, his downward spiral into drug and alcohol abuse, and the eventual intervention of his family.
Jessica shares about the difficult failure of her first marriage while still a teenager and the hurt that came along with it, much of it from the church. Her insecurities spun out of control as she wondered whether she would ever be good enough or pretty enough. This book is their love story but, more importantly, their love story for God.

"We are desperate to let people know that no matter what you've done; no matter what you've lived through, you can come out of it. You can be washed clean. You are redeemed."
The Good, the Bad, and the Grace of God is a very personal look inside the lives of TV celebrities Jep and Jessica Robertson, who are known from Duck Dynasty. If you've ever seen the show or read any of the other books that other members of the Robertson clan have written, you know that they aren't shy about their Christian faith. In this memoir, the youngest of the Robertson brothers - Jep - and his wife - Jessica - speak about some of the hard life lessons they've had to learn throughout the years and how even these tough situations brought them closer to their family and to God.

The book is told in a very natural, laid-back manner - which allows the reader to easily identify with Jep and Jessica from early on. It also reminds us that these 'larger than life' celebrities are just normal people like us, who have struggled with several common issues and who are still learning and growing as they go through life. Being a woman, I found it easier to identify with Jessica's stories - especially the ones dealing with her insecurities. Jep's stories were intriguing and showed me a side of his life I never would have guessed about. Hearing about the horrific events he had to go through - like being molested as a child and keeping it inside for so many years - as well as his drug and alcohol issues - made my heart break a little bit. I haven't been through these situations myself, but having Jep tell his story made me realize how lucky I am and how much worse other people's lives are without you even knowing it. Overall, this was an engaging memoir on Jep and Jessica's trials and suffering, along with their faith in each other and in God. As a fan of the show, I like knowing more about them and now I'll remember what they've gone through and overcome. I definitely recommend this to fans of Christianity nonfiction, biographies, and memoirs, along with fans of the Duck Dynasty franchise.



*I received a copy of the book from the BookLook Bloggers Program in exchange for an honest review.*