Tell Me Three Things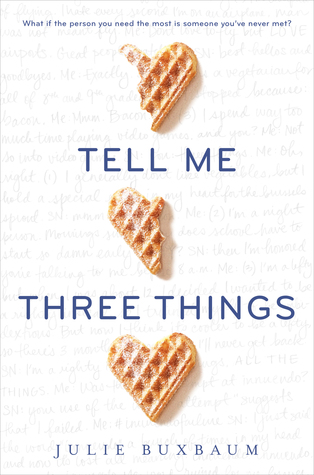 Author: Julie Buxbaum
Genre: YA Contemporary Romance
Release Date: April 5, 2016
Publisher: Delacorte Press

Description:

What if the person you need the most is someone you've never met?

Everything about Jessie is wrong. At least, that's what it feels like during her first week of junior year at her new ultra-intimidating prep school in Los Angeles. Just when she's thinking about hightailing it back to Chicago, she gets an email from a person calling themselves Somebody/Nobody (SN for short), offering to help her navigate the wilds of Wood Valley High School. Is it an elaborate hoax? Or can she rely on SN for some much-needed help?

It's been barely two years since her mother's death, and because her father eloped with a woman he met online, Jessie has been forced to move across the country to live with her stepmonster and her pretentious teenage son.

In a leap of faith—or an act of complete desperation—Jessie begins to rely on SN, and SN quickly becomes her lifeline and closest ally. Jessie can't help wanting to meet SN in person. But are some mysteries better left unsolved?
Tell Me Three Things
is a solid young adult contemporary romance novel. It follows main character Jessie as she begins her junior year of high school after moving across the country. She quickly realizes that she doesn't fit in at this school - one that's full of rich and privileged kids, and seems to be on a new level of terrible from her old one. Soon after arriving, Jessie gets an email from someone named SN (Somebody

/

Nobody) offering to give her the ins and outs of Wood Valley High School. Jessie isn't sure if she can trust this person or if it's a hoax to

humiliate

her in some way. As things get progr

essively worse at both school and her home, Jessie turns to the only person who's always there to listen - SN.
I'm not a very big fan of YA contemporary romance, mostly because they all seem basically the same to me. It's like there's a template for the genre, and then each author fills in the assorted blanks - characters, issues/problems, and their plot. Other than those details, I find almost all of the genre so similar - almost generic - that I really don't read many of them. This book is pretty much the usual YA contemporary that one has come to expect. Jessie's a good character for the book. She's down to earth, insecure, smart, shy, and dealing with a lot of big changes in her life in a short period of time. Her character is realistic and the reader can easily identify with her from the beginning. We've all been through similar situations (the terrible experience of high school, popularity, family issues, etc.) and since the story is told from Jessie's perspective, we get a very intimate look inside her mind - allowing us access to her feelings, fears, hopes and dreams, memories, insecurities, inner thoughts, and so much more. I'm a big advocate for the first person point of view because it allows the reader to connect with the narrator on such a deeper level than any other style. It was the best choice for this novel and I'm so glad the author used it. Another thing that stood out to me was the inclusion of emails, text messages, and IM messages inside the narrative. I think they broke the monotony of the story and gave it a little something extra to make it stand out from the rest of the books out there. In a quick summary: the characters were decently well rounded, if not cliched at times; the high school setting and the experiences that Jessie have are very realistic; the plot was solid, but a bit too predictable for my tastes; the writing itself was well done with a natural pace and an easy flow so the reader can get sucked into the story. It's a good story - fans of the genre will probably love it. Please remember that this isn't my usual genre or one of my preferred ones, which is why there are some mediocre comments. It does not reflect the book itself - only my personal experience and opinions. Fans of the genre should definitely give

it a try!
Author Links:
http://www.juliebuxbaum.com/
http://www.twitter.com/juliebux
http://www.facebook.com/JulieBuxbaumNovelist