2016 Marks 35 Years Since Nora Roberts' First Published Novel in 1981
Roberts has more than 500 million copies of her books in print
Over the last 30 years, an average of 27 Nora Roberts books were sold every minute
Brotherhood in Death (In Death #42)
Author: J.D. Robb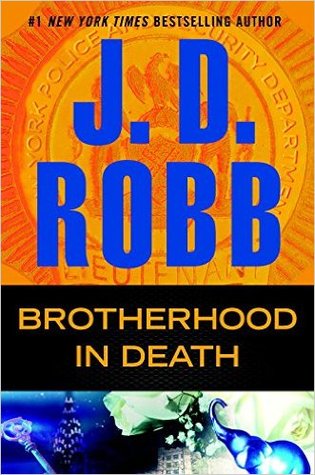 Genre: Crime/Police Procedural/Mystery
Release Date: February 2, 2016
Publisher: Berkley
Description:
Sometimes brotherhood can be another word for conspiracy...

Dennis Mira just had two unpleasant surprises. First he learned that his cousin Edward was secretly meeting with a real estate agent about their late grandfather's magnificent West Village brownstone, despite the promise they both made to keep it in the family. Then, when he went to the house to confront Edward about it, he got a blunt object to the back of the head.

Luckily Dennis is married to Charlotte Mira, the NYPSD's top profiler and a good friend of Lieutenant Eve Dallas. When the two arrive on the scene, he explains that the last thing he saw was Edward in a chair, bruised and bloody. When he came to, his cousin was gone. With the mess cleaned up and the security disks removed, there's nothing left behind but a few traces for forensics to analyze.

As a former lawyer, judge, and senator, Edward Mira mingled with the elite and crossed paths with criminals, making enemies on a regular basis. Like so many politicians, he also made some very close friends behind closed—and locked—doors. But a badge and a billionaire husband can get you into places others can't go, and Eve intends to shine some light on the dirty deals and dark motives behind the disappearance of a powerful man, the family discord over a multimillion-dollar piece of real estate...and a new case that no one saw coming.
Brotherhood in Death is the forty-second installment in the wildly popular and bestselling 'In Death' series. In this book, a prominent former politician is kidnapped with no explanation and barely any evidence left behind. The number of people who could be involved is staggering - especially when a key piece of information about a multi-million dollar piece of real estate comes to light. Eve Dallas goes along with her good friend Charlotte Mira - who's husband Dennis is cousins with the victim - in order to figure out the truth behind the disappearance and who's behind it all. Little does she know that the kidnapping is the just tip of the iceberg and there's a whole lot of surprises nobody ever saw coming.
This is actually the first book I've read by the author and I wasn't quite sure what to expect. I knew that this series was insanely popular and that it revolved around crimes and mysteries, but that was about it. After reading the novel, I can definitely see why the series is a bestselling sensation. After only a few paragraphs into the book, I could tell that the author was incredibly talented and a seasoned storyteller. Every aspect about the book was done with precision - from the story line itself to all of the many characters, and even the various settings throughout the novel. The flow was natural and didn't feel rushed or too slow - it was just about perfect. The pace of the story started off normal and then continued to speed up until the pinnacle of the plot - which had me reading as quickly as I could to find out what really happened and what might happen next. I love trying to figure out the mystery before the characters do in these kind of books, but there were so many twists and turns that I never saw coming - and I would get knocked back to square one over and over. It's pretty rare when an author can trick me and I can't figure everything out before the truth comes out in the book, but that's exactly what happened with this one. Whenever this happens, I know I've come across a truly talented writer who excels in their craft - which is definitely the case with this novel. I really can't think of anything negative to say about the book - everything was incredibly well written and detailed. The only thing that might have been a drawback was the fact that I haven't read any of the other books in the series, so some references and details were confusing to me - but not enough to really detriment my reading experience. I would suggest reading the series beforehand - or at least reading a summary of the series so you know the backstories of characters and other references made during the book. Very highly recommended for fans of police procedurals, crime novels, mysteries, and anyone looking for a fantastic story by one of today's greatest authors.
J. D. Robb/Nora Roberts is the bestselling author of more than 200 novels with more than 500 million copies of her books in print worldwide. Every Nora Roberts and J. D. Robb title released in 2015 hit the New York Times bestseller list, keeping up a streak started in 1999. You can find Robb on the web at www.jdrobb.com or join the discussion on Facebook (jdrobbauthor) with her 133,000+ fans.