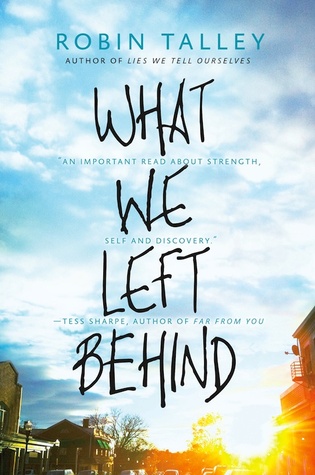 What We Left Behind
Author: Robin Talley
Genre: YA Contemporary Romance
Release Date: October 27, 2015
Publisher: Harlequin Teen
Description:
From the critically acclaimed author of Lies We Tell Ourselves comes an emotional, empowering story of what happens when love may not be enough to conquer all.

Toni and Gretchen are the couple everyone envied in high school. They've been together forever. They never fight. They're deeply, hopelessly in love. When they separate for their first year at college—Toni to Harvard and Gretchen to NYU—they're sure they'll be fine. Where other long-distance relationships have fallen apart, theirs is bound to stay rock-solid.

The reality of being apart, though, is very different than they expected. Toni, who identifies as genderqueer, meets a group of transgender upperclassmen and immediately finds a sense of belonging that has always been missing, but Gretchen struggles to remember who she is outside their relationship.

While Toni worries that Gretchen won't understand Toni's new world, Gretchen begins to wonder where she fits in Toni's life. As distance and Toni's shifting gender identity begins to wear on their relationship, the couple must decide—have they grown apart for good, or is love enough to keep them together?
What We Left Behind
is an emotional young adult contemporary romance that deals with a transgender/genderqueer couple, Toni and Gretchen, and how their relationship struggles during their first year apart at college. Toni and Gretchen have been together for what seems like forever and they're still hopelessly in love, even after all these years. It's almost a picture perfect relationship - until they have to go their separate ways for college. Toni finds a group of transgender students that gives a sense of belonging in a crazy world. Gretchen is trying to figure out who she is without Toni by her side - and if she'll even fit into Toni's new life. Soon the time apart and Toni's shifting identity begin to take a toll on their relationship, and they're forced to face a tough decision - whether they should go their separate ways or if their love is worth fighting for.
YA contemporary isn't one of my favorite genres, so I don't tend to read many books of that nature. A lot of them seem to be taken from the same generic template and given some detail changes - and that's it. Most of the books seem to be basically the same story to me, which is part of the reason why I don't read much of them. Please note that this has nothing to do with the books or authors themselves. These are my personal thoughts and opinions, and other readers are sure to feel differently about it. The story itself was full of emotion as well as hard topics that some couples must face - like long distance relationships and growing apart. The fact that the couple is transgender/transqueer is not surprising to me due to the large trend that's happening in the YA fiction genre right now. I think it's great that authors are writing about these different kinds of couples and loves - it was always seen as taboo in society (much like mental illness, which is also a big trend right now) and addressing it through books is a fantastic way to shed light on the subject. Toni and Gretchen were both great characters and I could empathize with them easily. Their story seemed a bit worn and overdone, so I didn't find it very exciting or different. The emotions that the characters go through during the book were intense and realistic - definitely mirroring real life experiences. I liked the book; however, it just didn't stand out for me in the genre or in my reading history. It kind of fades into the huge mass of titles out there and doesn't have anything to really set it apart (for me). I'm sure that others readers will love this book - especially fans of YA contemporary fiction and romance - and I definitely recommend that you give it a try.
Robin Talley, author of Lies We Tell Ourselves (September 2014) and What We Left Behind (October 2015), grew up in Roanoke, Virginia. A Lambda Literary Fellow, Robin now lives in Washington, D.C., with her wife, plus an antisocial cat and a goofy hound dog. When Robin's not writing, she's often planning communication strategies at organizations fighting for equal rights and social justice. You can find her on the web at

www.robintalley.com

or on Twitter at

@robin_talley

.