Hey everyone! Welcome to my stop on the RIDERS blog tour! Today I have a great guest post by the author to share with you - she gives us a fantastic introduction to Marcus (aka Death) from the book. Enjoy!
Riders (Riders #1)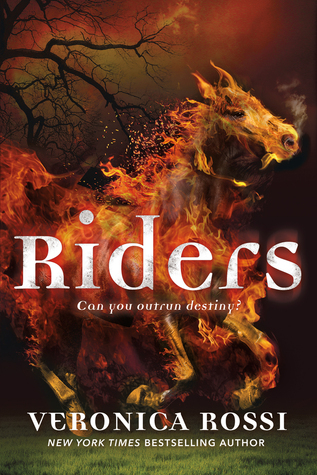 Author: Veronica Rossi
Genre: YA Science Fiction/Fantasy
Release Date: February 16, 2016
Publisher: Tor Teen
Description:
For eighteen-year-old Gideon Blake, nothing but death can keep him from achieving his goal of becoming a U.S. Army Ranger. As it turns out, it does.

Recovering from the accident that most definitely killed him, Gideon finds himself with strange new powers and a bizarre cuff he can't remove. His death has brought to life his real destiny. He has become War, one of the legendary four horsemen of the apocalypse.

Over the coming weeks, he and the other horsemen--Conquest, Famine, and Death--are brought together by a beautiful but frustratingly secretive girl to help save humanity from an ancient evil on the emergence.

They fail.

Now--bound, bloodied, and drugged--Gideon is interrogated by the authorities about his role in a battle that has become an international incident. If he stands any chance of saving his friends and the girl he's fallen for--not to mention all of humankind--he needs to convince the skeptical government officials the world is in imminent danger.

But will anyone believe him?
Meet Marcus Walker, aka Death, of RIDERS

One of the things that drew me to write RIDERS was the opportunity to work with the four horsemen – Conquest, War, Famine, Death – as metaphors. I kept asking myself: What would a character who embodies Death be like?

We've seen memorable treatments of Death in novels such as Marcus Zusak's magnificent THE BOOK THIEF, Neil Gaiman's brilliant AMERICAN GODS, and, perhaps my favorite, Piers Anthony's hilarious ON A PALE HORSE, to name a few. I would approach Death from a different angle. He wouldn't be the omniscient narrator, or the protagonist, or an anecdotal character in a larger work. He'd be part of a team. One quarter of a team, to be precise.

Once I decided I would tell RIDERS from Gideon's (War) point-of-view, I did a lot of thinking about the relationship between War and Death. It seemed to me they'd be inseparable, but I didn't want to make things too easy on them. Gideon is extroverted. A little combative, as War, but you expected that, right? He's also fiercely loyal and sarcastic, but not to the point of being mean-spirited. He's the type of person who hides very little, and who you can't help but notice when he's in a room.

Death, aka Marcus, is very different in many respects. He's quiet, reticent, and almost "unknowable." Death is the other side. Behind the curtain, so to speak. Metaphorically it felt right Marcus would be mysterious. He has an outer wall of defense. Only the fortunate get past it but once they do, they've got Marcus in their corner for life. He's brave, quick-thinking, and extremely perceptive, as is so often the case with people who spend more time listening than speaking. That isn't to say he's dry or serious. Marcus is hilarious – but unless you're really tight with him, you probably wouldn't know it.

This character fascinates me, and he has a big place in my heart. I can't wait for you to meet him in RIDERS!
VERONICA ROSSI is a New York Times bestselling author of fiction for young adults. She completed undergraduate studies at UCLA and then went on to study fine art at the California College of the Arts in San Francisco. She lives in Northern California with her husband and two sons. When not writing, she enjoys reading, painting, and counting down the minutes until she can get back to making up stories about imaginary people.
Author Links:
http://www.veronicarossi.com/
http://www.twitter.com/rossibooks
https://www.instagram.com/rossibooks/
https://www.facebook.com/pages/Veronica-Rossi-Author/139136976179726
https://www.goodreads.com/author/show/4637369.Veronica_Rossi