Welcome to my stop on the DARK ENERGY blog tour! Today I'll be sharing my review of the book with you - and don't forget to enter the giveaway! To follow the rest of the tour, click on the banner above.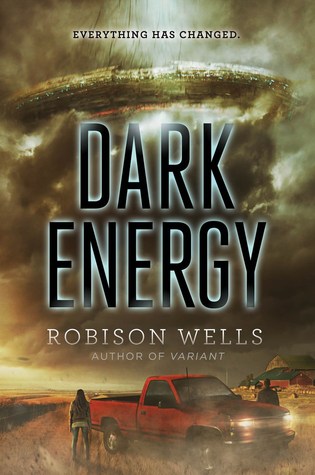 Dark Energy
Genre: YA Science Fiction
Release Date: March 29, 2016
Description:
We are not alone. They are here. And there's no going back. Perfect for fans of The Fifth Wave and the I Am Number Four series, Dark Energy is a thrilling stand-alone science fiction adventure from Robison Wells, critically acclaimed author of Variant and Blackout.

Five days ago, a massive UFO crashed in the Midwest. Since then, nothing—or no one—has come out.

If it were up to Alice, she'd be watching the fallout on the news. But her dad is director of special projects at NASA, so she's been forced to enroll in a boarding school not far from the crash site. Alice is right in the middle of the action, but even she isn't sure what to expect when the aliens finally emerge. Only one thing is clear: everything has changed.
Dark Energy
is an interesting new young adult science fiction novel that revolves around the landing of a UFO in the Midwestern states of the U.S. At the beginning of the book, our main character - Alice - is moving to her new boarding school in Minnesota, and not by her choice. Her father is the director of the special projects department at NASA, which means that the UFO will be the center of his life for quite a long time. The story talks about all the different theories and ideas people have about the UFO and the possibility of aliens. When the aliens finally emerge from their ship - nobody has any idea what to expect, let alone what to do. This is one of the biggest moments in world history - and Alice is right in the middle of it all. She's not sure what to think about the whole ordeal - she just knows that everything on Earth has changed forever.
Alice's character was well written, but seemed a little flat at times. She's a great representation of the common teenage girl of our time - all of her quips, jokes, and attitude match today's youth almost perfectly. The other characters in the book seemed to be a little cliched and didn't have much depth. It didn't really effect my reading experience, but it would have been great to have more rounded characters to identify with. The plot itself isn't anything wholly original - plenty of novels have been written about the arrival of UFOs and aliens over the years. One great aspect of science fiction is that each author can make their story unique and you never quite know what you're going to get until you dive into the book. That's definitely what happened for me in this case. I wasn't sure what to expect because the description was incredibly vague when it came to the actual aliens and what happens after they come out of their ship. I also haven't read much of the genre, so basically anything that happened would be new to me. Although I wasn't blown away by the entire story line, the author did a fantastic job when it came to the writing. There was a lot of detailed descriptions and imagery that allowed the story to come to life in my mind - which isn't an easy feat, especially when it comes to things that I've never experienced before. Another aspect of the writing that I really loved was the use of the first person point of view. I'm almost always a huge advocate for this writing style because it allows the reader to get to know the narrator on a very personal level - one that you can't achieve with any other perspective. Alice was a good main character and narrator for the book. I liked getting to know her and seeing her reactions and thoughts about the entire UFO/alien landing and what came after. As I mentioned before, I think Alice's character could have been a bit more complex - which would have made the book a lot more interesting for me personally. What really saved this story for me was the author's writing style and use of the first person POV. Overall, this was an interesting take on aliens landing on Earth and what would happen afterwards. Fans of YA science fiction and aliens should definitely pick this one up!
Robison Wells is the author of Blackout, Deadzone, Variant, Feedback, Dark Energy, and Airships of Camelot. Variant was a Publishers Weekly Best Book, a YALSA Quick Pick for Reluctant Readers and a Bestseller. Robison lives in the Rocky Mountains in a house not too far from elk pastures. His wife, Erin, is a better person than he will ever be, and their three kids cause mischief and/or joy.
Robison has an MBA in Marketing, and a BS in Political Science, with an emphasis in International Relations of the Middle East.
Robison suffers from five mental illnesses (panic disorder, OCD, agoraphobia, depression and dermatillomania) and is an outspoken advocate for those with mental illnesses.
His books have been published in nine different languages, and he is the winner of many awards both in and out of the United States.
(1) Winner will receive a finished copy of DARK ENERGY - US Only!