Welcome to my stop on the blog tour for EXILE FOR DREAMERS! I have a fantastic guest post by the author to share with you today - and don't forget to enter the giveaway! To follow the rest of the tour, check out the schedule at the end of the post.
Exile for Dreamers (Stranje House #2)
Genre: YA Historical Fantasy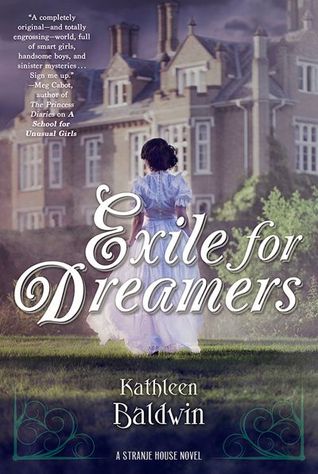 Release Date: May 24, 2016
Description:
It's 1814. Napoleon has escaped his imprisonment on Elba. Europe is in shambles. Britain is at war on four fronts. And at Stranje House, a School for Unusual Girls, five young ladies are secretly being trained for a world of spies, diplomacy, and war.

Tess Aubreyson can't run far enough or fast enough to escape the prophetic dreams that haunt her. Dreams bring nothing but death and grief, and Tess refuses to accept that she may be destined for the same madness that destroyed her mother. Until her disturbing dreams become the only means of saving Lord Ravencross, the man she loves, and her fellow students at Stranje House. Tess's old friend, the traitorous Lady Daneska, and Ghost, the ruthless leader of the Iron Crown, have returned to England, intent on paving the way for Napoleon's invasion. Can the young ladies of Stranje House prevail once more? Or is England destined to fall into the hands of the power-mad dictator?
TOP 10 THINGS YOU DIDN'T KNOW ABOUT:
EXILE FOR DREAMERS & THE STRANJE HOUSE SERIES
1. There really were female spies all throughout history. In fact, they've just discovered a ring of more than 70 female spies active during the 1700's. They would send messages in hollowed out eggs, and all sorts of fun ways.
2. Tess's prophetic dreams are loosely based on my own experience with dreams.
3. Madame Cho was a pirate before she came to Stranje House. If I'm ever able to write a spin-off or a back story of any of the characters it would be of Madame Cho and/or Miss Stranje, because they both have unique & fascinating lives that let them to head up a "finishing school for female spies…"
4. The black wolf-dog hybrids, Phobos & Tromos, were a real breed of dog.
5. Some of the characters in are real people in history: obviously Napoleon, Lord Castlereagh and his wife, Lady Castlereagh, and of course, Robert Fulton.
6. My inspiration for Tess's ability to scale multi-story walls is personal. Growing up in the mountains, I was an avid rock-climber, (and these were not indoor gym climbing walls mind you, and we didn't have the cool equipment available today).
7. In A School for Unusual Girls, the invisible ink is based on an actual real formula that George Washington used during the Revolutionary war, minus an ingredient or two because I didn't want to give away the real formula, which I actually found in my research, but then I noticed it was removed from the internet… WEIRD?!?! I believe it is still protected by our government - so, I was very careful not to describe the exact formula; I didn't want to giveaway any State secrets ;)
8. Our intriguing American friend, the quirky Mr. Sinclair has an uncle, Robert Fulton, who is, of course, a real person from history. The devices discussed and built are based on actual
inventions. Robert Fulton did actually try to sell his submarine and steamship prototypes first to Napoleon, and then to Britain. The submarine test voyage Alexander talks about did take place in that time period.
9. Tess speaks a unique language with the animals she interacts with, whether the black wolf-dogs, horses, or others. This language is actually an ancient Welsh dialect that is nearly lost. " 'Distewi,' I warned Phobos and Tromos in a hushed voice."
10. The first spark of inspiration for writing the Stranje House novels came from my 11 year-old nephew, who told me he wanted me to write a book about "a school of girls being trained to be warriors!" And the rest is history…
"I love adventure in books and in real life. I've roamed the Rocky Mountains, wandered the desert, enjoyed way too many classes in college, was stalked by a mountain lion, lost an argument with a rattlesnake, fell in love at least a dozen times, finally met and married my very own hero, and together we've raised four free-spirited children."
Award-winning author - Kensington published four of Kathleen's Regency romantic comedies, including MISTAKEN KISS, a Holt Medallion finalist. DIARY OF A TEENAGE FAIRY GODMOTHER, was a Golden Quill
finalist. Her upcoming Historical YA series with
TorTeen
, A SCHOOL FOR UNUSUAL GIRLS, is a Junior Library Guild Selection and won a Marlene.
News and more at: www.Kathleenbaldwin.com
(3) Winners will receive a finished copy of EXILE FOR DREAMERS - Open to US/CAN only!
a Rafflecopter giveaway
Week One:
6/2/2016- 
BookHounds
YA
-
 Interview