Secondhand Souls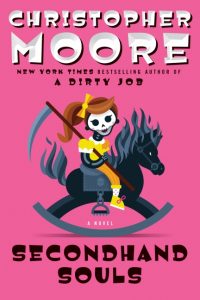 Author: Christopher Moore
Release Date: May 10, 2016 (Paperback Reprint)
Publisher: William Morrow Paperbacks
368 pages
Description:
In San Francisco, the souls of the dead are mysteriously disappearing—and you know that can't be good—in this delightfully weird and funny sequel to the New York Times bestseller A Dirty Job.
It seems like only yesterday that Charlie Asher took on a very dirty job—collecting souls and keeping the Forces of Darkness at bay. The new gig came with the Big Book of the Dead and a host of other oddities: creatures under the streets, an evil trinity of raven-like Celtic death goddesses, and one very bad Underworld dude attempting to conquer humanity. Along with a cohort of other oddballs, Charlie faced off against these denizens of darkness—and met his own end. But thanks to Audrey, his Buddhist-nun boo, his soul is still alive...inside a fourteen-inch-high body made from lunchmeat and spare animal parts. Waiting for Audrey to find him a suitable new body to play host, Charlie has squirreled himself away from everyone, including his adorable seven-year-old daughter, Sophie, who enjoys dressing up like a princess, playing with her glitter ponies, and—being the Luminatus—spouting off about her power over the Underworld and her dominion over Death.
Just when Charlie and company thought the world was safe, some really freaky stuff hits San Francisco. People are dying, but their souls are not being collected. Someone—or something—is stealing them and no one knows where they are going, or why, but it has something to do with that big orange bridge. Then there's the Taser-wielding banshee keening about doom who's suddenly appeared while Sophie's guardian hellhounds, Alvin and Mohammed, have mysteriously vanished.
Charlie is just as flummoxed as everyone else. To get to the bottom of this abomination, he and a motley crew of heroes will band together: the seven-foot-tall, two-hundred-and-seventy-five-pounds-of-lean-heartache Death Merchant Minty Fresh; the retired policeman-turned-bookseller Alphonse Rivera; the lunatic Emperor of San Francisco and his dogs, Bummer and Lazarus; Mike Sullivan, a bridge painter in love with a ghost; a gentle French-speaking janitor named Jean-Pierre Baptiste; and former Goth girl Lily Darquewillow Elventhing Severo, now a part-time suicide hotline counselor.
With little Sophie babbling about the coming battle for the very soul of humankind, time is definitely not on their side...
Irresistibly zany, rich in humor, heart, and spirit, Secondhand Souls is vintage Christopher Moore.

Secondhand Souls
is the sequel to the hugely popular novel A Dirty Job. It picks up where the first book left off - with Charlie Asher dying in order to save the world, only to have his soul transferred into a makeshift body by his Buddhist girlfriend. The rest of the world seems to continue on as if nothing has happened - until people start dying and their souls aren't being collected like they should be. In fact, someone or something is stealing them for reasons unknown - except that it has something to do with a bridge. It seems that Charlie has to save the world - again - in a strange little body that's a mix of animal parts and lunchmeat. If Charlie and his misfit group of heroes can't stop what's coming - fear and chaos will reign over the entire world.
I want to note now that I didn't know that this was a sequel, and I didn't read the first book before reading this one. I very highly recommend reading the first book - A Dirty Job - before starting this novel. I wish I would've read it beforehand - a lot of the backstory, references, and other little things throughout the book would have made perfect sense, instead of me just sort of going along with it and trying to guess and fill things in as I read. So - definitely read the first book before this one - you'll have an easier time understanding the story and will have a much better reading experience.
For those of you who have never read any of the author's other books before, it's almost impossible to describe what they're like. You basically have to experience them for yourself in order to get it. There's a ton of stuff going on throughout the entire book - and most of it is crazy and completely off-the-wall, but that's one of the best attributes of the novel and of the author's writing style in general. I had no idea what to expect before beginning the book (which now seems like a blessing), so I was pretty blown away and caught off guard from the first sentence until the very last. The author creates an entirely unique world full of strange people, weird places, and even crazier plots. Somehow they all seem to blend together to make a highly addicting book stuffed with dark humor. It's definitely not going to be for everyone - I have a feeling that this is one of those books (and authors) where there's no middle ground. You either love it or hate it - no gray area in between. I quickly fell into the "loving it" category and eagerly devoured each page as fast as I could. I absolutely adored the author's writing style - the disturbing characters and events that filled the pages were outrageously fun and the use of dark humor was right up my alley.
This book falls into the category of titles that you love so much, but there's no way you can explain why - let alone attempt to write a coherent review of it. Few books earn a place on that list for me - and this is definitely one of them. I adored every single aspect of it, and the only thing that bothered me was the fact that I didn't read the first book beforehand - so I missed out on a lot of references and humor that would've only made the story better. So that's on me - not the book or the author. And I'll certainly be reading the first book followed by this one again to get the whole experience, which I know will be well worth it. One interesting fact for me was the author's use of point of view. If you've read any of my other reviews, you know that I almost always prefer the first person POV for several reasons. This book, however, is told in the third person and from numerous perspectives. Surprisingly, this didn't bother me in the least - I actually think the author did a fantastic job using this style of writing. If it was done in another way, it would have been overwhelming and confusing at best - but with it written in this manner, we're able to take on several crazy story lines at once (which then intertwine to create one heck of a book). I can't really say anything else about this novel - I'm basically just rambling now anyways. Overall, I personally loved this book and fully intend on reading every other book the author has written - and I very highly recommend that everyone give it a shot (if it sounds even remotely appealing). Like I said before - not everyone will enjoy this novel. But it's worth it to give it a chance in case you're blown away like I was - you won't regret it either way.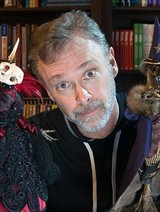 Photo by Charlee Moore
Christopher Moore is the author of fourteen previous novels, including Lamb, The Stupidest Angel, Fool, Sacré Bleu, A Dirty Job, and The Serpent of Venice. Find out more about Christopher at his website, connect with him on Facebook, and follow him on Twitter.
Tuesday, May 10th: BookNAround
Wednesday, May 11th: 5 Minutes For Books
Thursday, May 12th: The Book Chick
Monday, May 16th: Buried Under Books
Thursday, May 19th: Luxury Reading
Thursday, May 19th: No More Grumpy Bookseller
Monday, May 23rd: The Reader's Hollow
Tuesday, May 24th: Gspotsylvania: Ramblings from a Reading Writer Who Rescues Birds and Beasts
Wednesday, May 25th: Beauty in Ruins
Thursday, May 26th: Back Porchervations
Monday, May 30th: A Dream Within a Dream
Monday, June 6th: Queen of All She Reads
Tuesday, June 7th: Wall-to-Wall Books