Withering Rose (Once Upon a Curse #2)


Author:

Kaitlyn Davis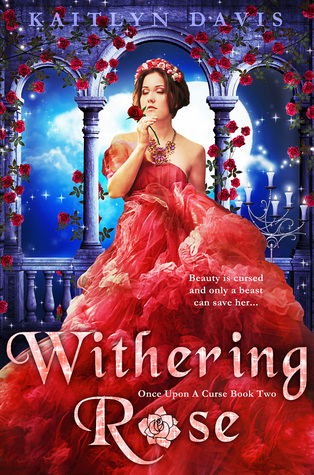 Genre: YA

Fantasy/Fairy Tale Retelling
Release Date: May 17

,

2016

Summary:
**A USA Today Recommended Series!**
What if

Beauty was cursed, and the Beast was the only one who could save

her? Don't miss WITHERING ROSE, a dystopian romance from bestselling author Kaitlyn

Davis that reimagines the classic fairy tale of

Beauty & The Beast. This is

the second book in

Once Upon A Curse, a series of

interconnected stand-alone novels all set in

the same fantasy

universe.

"As the heat finally disappeared, I felt the bloom blossom in

the very core of my

soul, a rose just like my

name

—

a ticking clock hidden behind a façade of beauty. From that moment on, my

life would become a countdown, and all I could do was wait and watch as the petals of time

slowly started to

fall."

Omorose Bouchene has a secret

—

magic. There's only one problem. At

the age of seven, an

earthquake struck, catapulting her into a new world. A land made of

skyscrapers and cell phones. Fast cars and fluorescent lights. A land where magic isn't supposed t

o

exist and anyone who wields it

is

the enemy.

But after ten years of

hiding, she's desperate to

find a place where she can be

free. Because all magic comes with a curse, and her curse is

time

—

every ounce of

power she uses strips days off of

her life. The clock is

winding down, and the only option left is

to

escape to

the realm ruled by a man known only as

the Beast. But the king of

monsters isn't what he

seems. And the more Omorose opens her heart, the more she comes to

realize that the only person she may need to

fear is

herself.

Inspiration Boards – Cole
One of my favorite things to do when working on a new book is to create an inspiration
board on Pinterest! First, because I'm obsessed with photography and art, so I love incorporating that passion into my writing process. And second, because it's a great initial
way to outline the mood I want throughout the story, the characters I hope to portray, and
the settings I'm trying to visualize.

So, of course, Withering Rose got its own inspiration board! The first few guest posts of my blog tour are diving into the different images that inspired my story, and right now we're taking a closer look at the second main character, Cole, our elusive beast.

Cole
In the beginning of the story, Cole is just the unnamed, mysterious King of Beasts — a
fellow magic-user who Omorose hopes will offer her safe haven from the soldiers looking to destroy everyone with power. Needless to say, not everything is as it seems.
And since I don't want to give the story away, let's just leave it at that!

Just like the beast in the classic fairy tale, he's supposed to be a lonely, dangerous figure who is shrouded in secrets! So hopefully these inspirational images offer just enough intrigue to make you wanted to discover more!
Gathering Frost (Once Upon a Curse #1)
RAVE REVIEWS for Gathering Frost
:
"My favorite thing about this book is the action. Jade isn't a sleeping princess. She's the best fighter and so fierce in her "empty" state. I felt like

this was an urban fantasy with all the

steam of a romance, and it was almost perfect for me." - Jessie Potts, USA

TODAY Happy Ever After Blog

"Davis writes with confidence and poise, and the story's many twists and turns

stave off

predictability and allow readers to become immersed in a starkly magical world

filled with last hopes." - Publisher's Weekly

"Gathering Frost is just awesome in every way. Beautiful prose, lots of heart-wrenching

emotio

n

, action and romance, a great, unstoppable villain, and a smart, tough heroine

who

will fight for what she wants." - Geeks in High School

"The writing is flawless as always and I must say, way to take a classic and make such a

creative and wonderful twist to it...It's well thought out and it unbelievably magnificent. I

seriously couldn't put it down. Wait I never actually put it down. I started and finished in

one sitting because it's just that good. This one is a MUST READ." - Happy Tails and Tales Blog
Buy Links: Amazon│Barnes and

Noble│Kobo│iBooks│Smashwords│Google Play
Bestselling author Kaitlyn Davis writes young adult fantasy novels under the name Kaitlyn

Davis and contemporary romance novels under the name Kay Marie.

Always blessed with an overactive imagination, Kaitlyn has

been writing ever since she picked up her first crayon and is overjoyed to share her work with the world. When she's not

daydreaming, typing stories, or getting lost in fictional worlds, Kaitlyn can be found

indulging in some puppy videos, watching a little too much television, or spending time with her family.
If you have any questions for her

--

about her books, about scheduling an event,

or just in general

--

you may contact her at: KaitlynDavisBooks@gmail.com

To stay up-to-date with all of Kaitlyn's new releases, sign up for her new release newsletter here: TinyLetter.com/KaitlynDavisBooks