Hey everyone! I wanted to spotlight some fantastic titles that are releasing this month from Disney-Hyperion and Freeform. If you don't already have them on your TBR list - check them out!
Author: Jennifer Lynn Barnes
Genre: YA Contemporary Mystery/Thriller
Release Date: November 6, 2018
Description:
"I'm not saying this is Sawyer's fault," the prim and proper one said delicately. "But."

Eighteen-year-old auto mechanic Sawyer Taft did not expect her estranged grandmother to show up at her apartment door and offer her a six-figure contract to participate in debutante season. And she definitely never imagined she would accept. But when she realizes that immersing herself in her grandmother's "society" might mean discovering the answer to the biggest mystery of her life-her father's identity-she signs on the dotted line and braces herself for a year of makeovers, big dresses, bigger egos, and a whole lot of bless your heart. The one thing she doesn't expect to find is friendship, but as she's drawn into a group of debutantes with scandalous, dangerous secrets of their own, Sawyer quickly discovers that her family isn't the only mainstay of high society with skeletons in their closet. There are people in her grandmother's glittering world who are not what they appear, and no one wants Sawyer poking her nose into the past. As she navigates the twisted relationships between her new friends and their powerful parents, Sawyer's search for the truth about her own origins is just the beginning.

Set in the world of debutante balls, grand estates and rolling green hills, Little White Lies combines a charming setting, a classic fish-out-of-water story, and the sort of layered mystery only author Jennifer Lynn Barnes can pull off.
Last Seen (The Amateurs #3)
Genre: YA Mystery/Thriller
Release Date: November 6, 2018
Description:
The stakes are higher than ever in this third installment of The Amatuers, as Aerin finds herself kidnapped by the killer she knows all too well, and her friends must work to solve a puzzle laid out by the villain in order to save her.

At first, the mystery they're tasked with seems to have nothing to do with Aerin or her kidnapper. But as Seneca, Maddox, and Madison hit the Jersey Shore to gather clues, they begin to uncover the true background of the killer and the horrors that shaped him into who he is. The scavenger hunt leads them to the family of a recently kidnapped boy, a serial child-snatcher, and dark secrets they could never have seen coming. As Aerin struggles to play nice with the person who killed her sister in order to buy herself time, her friends work feverishly against the ticking clock that could mean her life, and every clue they uncover leads Seneca to suspect she's more connected to the killer's history than she ever realized.

With nail-biting suspense, twisted secrets, and non-stop action, this final installment in #1 New York Times best-selling author Sara Shepard's The Amateurs series will shock even the savviest of readers with its big reveal.
Release Date: November 6, 2018
Publisher: Disney-Hyperion
Description:
The mission was a failure. Even though Zivah and Dineas discovered a secret that could bring down the empire, their information is useless without proof. Now, with their cover blown and their quest abandoned, their only remaining hope is to get home before Ampara brings the full might of its armies against their peoples.

As Shidadi and Dara alike prepare for war, Zivah and Dineas grapple with the toll of their time in the capital. After fighting alongside the Amparans against his own kin, can Dineas convince the Shidadi—and himself—where his loyalties lie? After betraying her healer's vows in Sehmar City, can Zivah find a way to redeem herself—especially when the Dara ask her to do the unthinkable? And after reluctantly falling in love, what will the two do with their lingering feelings, now that the Dineas from Sehmar City is gone forever? Time is running out for all of them, but especially Zivah whose plague symptoms surface once again. Now, she must decide how she'll define the life she has left.

Together, healer and warrior must find the courage to save their people, expose the truth, and face the devastating consequences headed their way.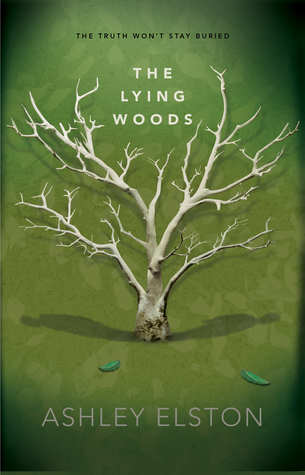 The Lying Woods
Author: Ashley Elston
Genre: YA Mystery/Thriller
Release Date: November 13, 2018
Publisher: Disney-Hyperion
Description:
Owen Foster has never wanted for anything. Then his mother shows up at his elite New Orleans boarding school cradling a bombshell: his privileged life has been funded by stolen money. After using the family business, the single largest employer in his small Louisiana town, to embezzle millions and drain the employees' retirement accounts, Owen's father vanished without a trace, leaving Owen and his mother to deal with the fallout.

Owen returns to Lake Cane to finish his senior year, where people he can barely remember despise him for his father's crimes. It's bad enough dealing with muttered insults and glares, but when Owen and his mother receive increasingly frightening threats from someone out for revenge, he knows he must get to the bottom of what really happened at Louisiana Frac--and the cryptic note his father sent him at his boarding school days before disappearing.

Owen's only refuge is the sprawling, isolated pecan orchard he works at after school, owned by a man named Gus who has his own secrets--and in some ways seems to know Owen better than he knows himself. As Owen uncovers a terrible injustice that looms over the same Preacher Woods he's claimed as his own, he must face a shocking truth about his own past--and write a better future.