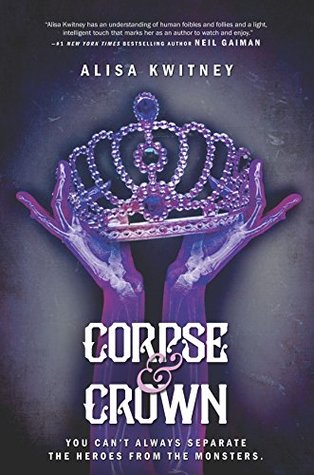 Corpse & Crown (Cadaver & Queen #2)
Author: Alisa Kwitney
Genre: YA Historical Fantasy/Retelling
Release Date: February 12, 2019
Publisher: Inkyard Press
Description:
Agatha DeLacey's family isn't rich or titled, so studying nursing at Ingold's East End hospital in London is a rare opportunity for her. Despite the school's focus on the innovative Bio-Mechanical program, Aggie cares more about the desperately poor human patients who flood the hospital, even if that means providing unauthorized treatment after-hours…and trusting a charming, endlessly resourceful thief.
But the Artful Dodger is barely a step ahead of his underworld rivals, the menacing Bill Sykes and mercurial Oliver Twist, and Aggie's association with him soon leads her into danger. When a brutal attack leaves her blind, she and the Dodger find themselves at the mercy of an experimental Bio-Mech surgery. Though the procedure restores Aggie's sight, her new eyes come at an unnerving cost, and the changes in Dodger are even more alarming—instead of seeing Aggie as the girl he fancies, he now views her as a potential threat.
As war between England and Germany brews on the horizon and a sinister medical conspiracy threatens to shatter the uneasy peace in Europe, Aggie and the Dodger must find a way to work together so they can protect their friends and expose the truth…even if it means risking their own survival.
Corpse & Crown is the thrilling second book in a young adult series that blends together historical fantasy with retellings of classic novels. In this case, the author gives us a retelling of Charles Dickens' Oliver Twist. The world building really caught my attention, as it brought the historical setting to life in front of my eyes. I was pulled into Aggie's world right from the beginning and it felt as if I was right there beside her during the entire story.

Aggie was a great main character for the novel. She's smart, strong, has high morals and ethics, and is determined to do what is ultimately right - even if that might mean breaking some rules or laws along the way. I liked watching her character grow, change and mature throughout the story. It made her character all the more realistic and easy to identify with. The other major characters were well rounded and I enjoyed seeing how Aggie interacted with them along with how their interpersonal relationships developed and changed over time. Sadly, I haven't read Oliver Twist, so I can't compare the book's plot to the classic novel. You obviously don't have to read the original to understand or get into this story, but I'm sure it would've been cool to see where the two stories lined up and what the author included from the original story. I definitely recommend this book to fans of YA fiction, historical fiction, fantasy, science fiction, and even romance.

(1) lucky winner will win both books in the series - Cadaver & Queen and Corpse & Crown - Open to US residents only!
To enter the giveaway, leave a meaningful comment and a way for me to contact you if you're selected as the winner. Good luck!
Alisa Kwitney's TLC Book Tours TOUR STOPS: