Welcome to my stop on the Remnants: Season of Fire blog tour! Today I have a great excerpt from the book to share with you - and don't forget to enter the giveaway! To follow the rest of the tour, click on the banner above.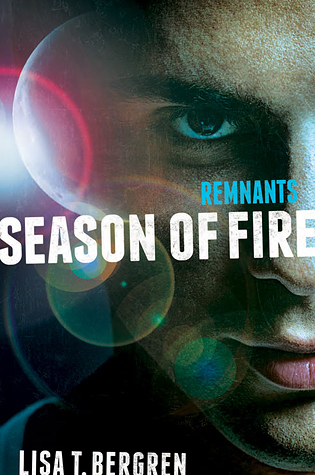 Season of Fire (Remnants #2)
Genre: YA Science Fiction/Dystopia
Release Date: March 3, 2015
Description:
After tackling her first mission and coming to terms with her power of empathy, Andriana discovers her first battles were only a taste of what is to come. She and her Knight, Ronan, have admitted their feelings for one another, but their bonds are tested when Keallach appears following the Remnants' attempt to free his imprisoned twin brother, Kapriel. Andriana is sure Keallach can be convinced to follow the Maker's plan, but her decision leaves her separated from her fellow Remnants and could drive a wedge between her and Ronan that proves impossible to overcome.
FROM CHAPTER ONE:
I dared to look Keallach's way. I detected no malice in him. Only curiosity. Longing. Hope. It was so obvious in contrast with Sethos's seething hatred. Even Keallach's small niceties toward us were agitating the dark master.
"I suspect," Keallach said, glancing down to his boot and kicking at a clump of grass growing among rotting, tar-laced boards, "that you didn't intend to board a ship bound across the sea." His eyes moved again to meet mine, and I fought the urge to shift nervously. "I suspect you were instead trying to board this ship to Catal," he said, nodding behind me.
"Catal?" I asked, feigning ignorance.
The hint of a smile teased the corners of his full lips. "Catal, the island prison. Where my brother Kapriel is held."
I tried to swallow, but my mouth was dry. I stared back at him for a long moment, deciding.
"Yes," Ronan broke in. "We wanted to see Kapriel."
"And free him?" he asked, cocking his head. I felt the arrow of pain, of betrayal, when he thought of his brother. Why could I read him so well tonight when I could not in Wadi Qelt? It was as if he'd decided to let me in. He looked away from us, to the side, to the sea, glittering in the moonlight.
"Possibly," I said, knowing that saying anything else would be a known lie. The men all around us erupted in jeering laughter but Keallach's face remained sober.
"I can allow you to see Kapriel," he said softly to me, his tone edged in pain. "But you will spend the journey, to and from, in my cabin so that you can hear what I have to say too. And when we leave Catal, Kapriel will remain behind us."
"I don't think — " Ronan began.
"You are in no position to negotiate, Knight," Keallach interrupted, with a flick of his fingers. All along, he kept his eyes on me. "Do we have a deal, Andriana?"
I sighed, contemplating our options. Really, we had none. And perhaps if Ronan and I distracted these men, they wouldn't search the Far North for our companions. Perhaps this was all in the Maker's design . . . the perfect distraction for our enemy.
The word stuck in my mind. Despite what had happened at the winter palace, Keallach
didn't feel like an enemy. Not really. He was surrounded by the fallen, chiefly the loathsome Sethos, but maybe I could reach him, influence him. Each of the brothers, Kapriel and Keallach, was a force — I'd gathered that much. But together?
With both of them on our side, the Ailith would be unstoppable.
Lisa T. Bergren is the best-selling, award-winning author of over 40 books, with more than 2.5 million copies sold. Her most recent works includes a YA series called River of Time (Waterfall, Cascade, Torrent, Bourne & Tributary), God Gave Us Angels, and the Grand Tour Series (Glamorous Illusions, Grave Consequences, and Glittering Promises). She's currently at work on the third in her Remnants trilogy, coming out in 2016. Lisa's time is split between managing home base, writing, and working on fence post ducks with her husband, Tim (RMrustic.com). They have three kids–Olivia (19), Emma (16) and Jack (11).

The Bergrens make their home in Colorado Springs, Colorado.
(5) Winners will receive a copy of Season of Fire by Lisa T. Bergren
Must be 13+ to Enter / International Giveaway
To enter the giveaway, click on the tour banner at the top of the post or click HERE.