Hey everyone! Welcome to my stop on the blog tour for We'll Never Be Apart! Today I'll be sharing a guest post by the author with you - and don't forget to enter the awesome giveaway! To follow the rest of the tour, check out the schedule at the bottom of the post.
We'll Never Be Apart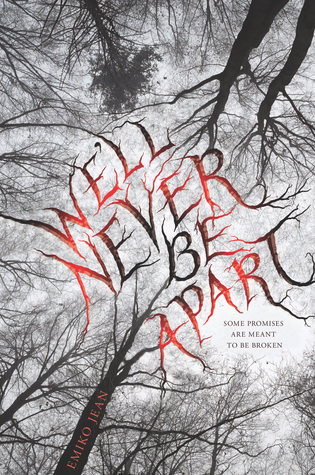 Author: Emiko Jean
Genre: YA Mystery/Thriller
Release Date: October 6, 2015
Publisher: HMH Books for Young Readers
Formats: Hardcover; ebook
Description:
Murder.

Fire.

Revenge.

That's all seventeen-year-old Alice Monroe thinks about. Committed to a mental ward at Savage Isle, Alice is haunted by memories of the fire that killed her boyfriend, Jason. A blaze her twin sister Cellie set. But when Chase, a mysterious, charismatic patient, agrees to help her seek vengeance, Alice begins to rethink everything. Writing out the story of her troubled past in a journal, she must confront hidden truths.

Is the one person she trusts only telling her half the story? Nothing is as it seems in this edge-of-your-seat psychological thriller from the debut author Emiko Jean.
Top 10 Favorite Books/Authors
In no particular order …
1. The Handmaid's Tale by Margaret Atwood
2. Tiny Beautiful Things by Cheryl Strayed
3. The Giver by Lois Lowry
4. The Sirens of Titan by Kurt Vonnegut
5. The Alchemist by Paulo Coelho
6. The Velveteen Rabbit by Margery Williams
7. I'll Give You the Sun by Jandy Nelson
8. The Hitchhiker's Guide to the Galaxy by Douglas Adams
9. Anything by Shel Silverstein
Emiko Jean is an elementary school math teacher, whose work with children in foster care inspired her debut novel, We'll Never Be Apart. Aside from reading, writing, and teaching, Emiko is passionate about bugs. She can often be found in the remote forests of the Pacific Northwest, where she lives with her husband, hunting giant moths and cataloguing rare insect colonies.
(3) Winners will receive a finished copy of WE'LL NEVER BE APART - US Only!
Tour Schedule:
Week 1:
9/28/2015- Bookish Lifestyle- Interview
9/29/2015- Curling Up With A Good Book- Review
9/30/2015- Paranormal Book Club- Excerpt
10/1/2015- The Candid Cover-Review
10/2/2015- A Dream Within A Dream- Guest Post
Week 2:
10/5/2015- YA Book Madness- Review
10/6/2015- The Cover Contessa- Interview
10/7/2015- Falling For YA- Review
10/8/2015- Fangirlish- Guest Post
10/9/2015- Literary Meanderings- Review